Stormy Daniels, Alleged Trump Mistress, Hits Back at 'Crazy Feminists' Who Thought Kimmel Interview Was Sexist: 'I Suck Dick for a Living'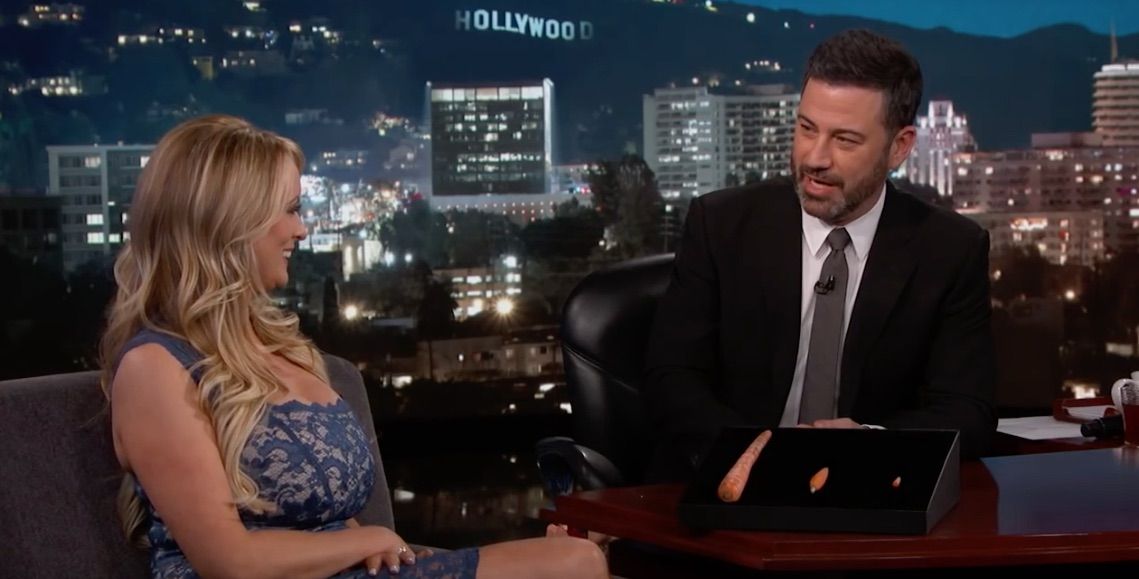 Porn star Stormy Daniels, the woman who has said she had an affair with President Donald Trump in 2006, is hitting out at people who thought her interview with Jimmy Kimmel Tuesday was sexist.
Daniels—real name Stephanie Clifford—joined Kimmel directly after Trump's State of the Union address Tuesday night and the segment included a salacious game in which Kimmel asked Daniels to identify which of three different-sized carrots most resembled Trump's genitalia.
Daniels, however, says she was totally in on the humor and does not feel Kimmel went beyond the pale. "I would have walked out [if I was uncomfortable]. I wasn't tied to that chair," she said in a radio appearance on The Johnny Dare Morning Show on 98.9 The Rock FM, a Kansas City radio station, Thursday.
"He [Kimmel] told me some of his jokes beforehand," she added.
Daniels said she received numerous tweets from women who felt the nature of Kimmel's questioning was lurid and derogatory toward her.
But the porn star said: "A whole bunch of these crazy feminists were talking about how he owes me an apology and that his interview was sexual harassment and his jokes were sexist. I'm like, do you realize what I do for a living? It's my job to be objectified. I'm sort of offended if someone doesn't.
"I think it's funny when people try to twist everything. No one has a sense of humor about anything anymore."
On Twitter Thursday, Daniels similarly fired back at some critics of the Kimmel interview.
Another tweet read:
Daniels's comments about the Kimmel interview are more than she offered about her alleged sexual relationship with Trump during the televised sitdown Tuesday. The Wall Street Journal reported in January that the porn star was paid $130,000 to keep quiet about the affair in October 2016, a month before Trump was elected president.