Video: Donald Trump and Stormy Daniels 'Sex Tape' Released By Jimmy Kimmel and, Oh My God, You're Going to Want to Vomit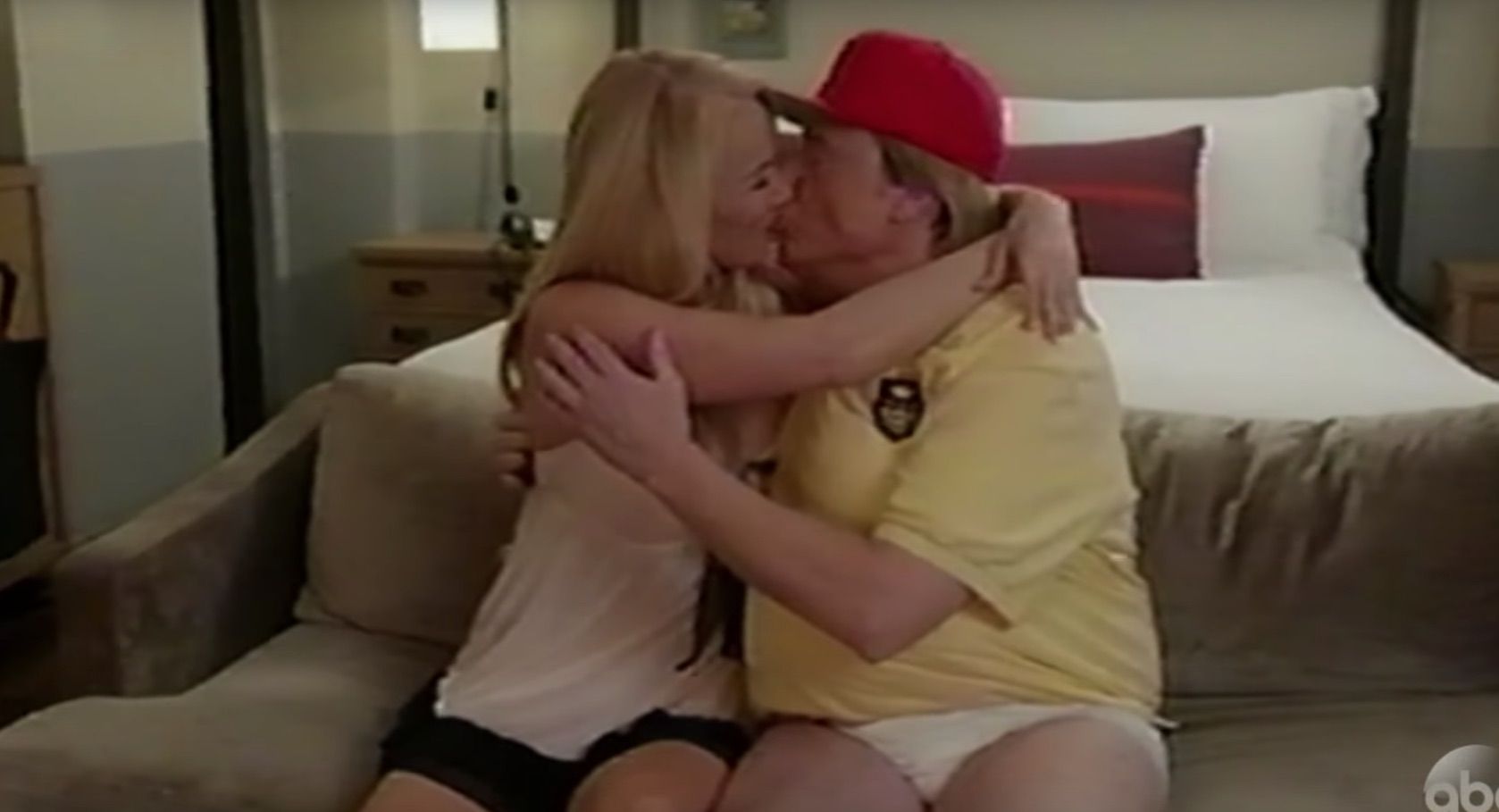 Yes, Jimmy Kimmel Live went there.
In a parody that seems like it was manifested from the worst nightmares of, well, everyone, Jimmy Kimmel presented a sex tape depicting the alleged hotel room rendezvous between President Donald Trump and adult film star Stormy Daniels in 2006 on Wednesday night. You know, the sexual encounter that Trump's lawyer Michael Cohen denied ever took place.
The frankly vomit-inducing footage, styled like a bad '80s porno complete with grainy camera quality, is titled, Hoe in One, and features Trump, fresh from the golf course, visiting Daniels—clad in just lingerie—in her hotel room. If nothing else, Kimmel gets points for some historical accuracy: Trump and Daniels met at a celebrity golf tournament near Lake Tahoe, Nevada, in July 2006 and Trump's clothing in the clip matches the unsightly yellow golf attire he was pictured in at the said event.
In Kimmel's version of events, Trump pulls down his pants as soon as he enters the room to reveal his tighty-whities. But before he and Daniels can get down to business, they are interrupted by his "dumb son"/golf caddy, Eric Trump.
"What did I tell you about being around during daddy's dirty time? Now, get in the closet," Trump instructs his son.
Eric continues to disrupt the encounter between Trump and Daniels, but that doesn't deter Trump from moving things from the couch to the bed. "This is gonna be good, so great," he tells Daniels as he struggles to migrate his hefty body onto the bed. Very seductive.
"Oh, Stormy," says Trump as a baby-sized hand caresses her face, because—get it?— Trump apparently has small hands.
After the briefest of foreplays, Trump declares: "Now I'm going to do sex to you, OK?" Oh boy.
"And a one, and a two, and I'm done," Trump says three seconds later.
Trump then says, "That was far and away the greatest sex you've ever had," before pulling out a cheeseburger, because—get it?—Trump allegedly eats cheeseburgers in bed.
OK, this may have been a step too far, Jimmy.
The Wall Street Journal was first to report January 12 that Trump's lawyer, Cohen, facilitated a $130,000 payout to Daniels to keep quiet about their sexual encounter in October 2016—a month before the presidential election. Cohen and Daniels are quoted in the piece denying the tryst took place and Daniels—real name Stephanie Clifford—is quoted denying receiving "hush money."
But on Wednesday, In Touch published an interview conducted with Daniels in 2011 detailing her hotel room encounter with Trump. She described the sex as "textbook generic" and said Trump told her she "was someone to be reckoned with, beautiful, smart, just like his daughter," Ivanka Trump.