The Story of Putin's 'Miracle' Cross in His Own Words
Russian President Vladimir Putin's feelings about religion have come under scrutiny since Pope Francis revealed in a recent interview that he had requested to meet with the leader weeks into the Ukraine war but hasn't heard back.
In addition, tensions between Francis and the Russian Orthodox Church have flared following other comments the pontiff made in the interview, in which he urged the church's head, Patriarch Kirill, to stop being "Putin's altar boy."
But Putin's apparent unwillingness to meet with the head of the Catholic Church and the controversy surrounding Kirill, a longtime ally, do not necessarily indicate whether he is religious or not. What is known is that he quite literally keeps a reminder of some kind of belief close to his chest.
In an excerpt of a years-old interview published on the website Patheos, Putin explained the story of his "miracle" cross and how it survived a fire. CNN conducted the interview, but the interview transcript was no longer on the news outlet's website at publication time.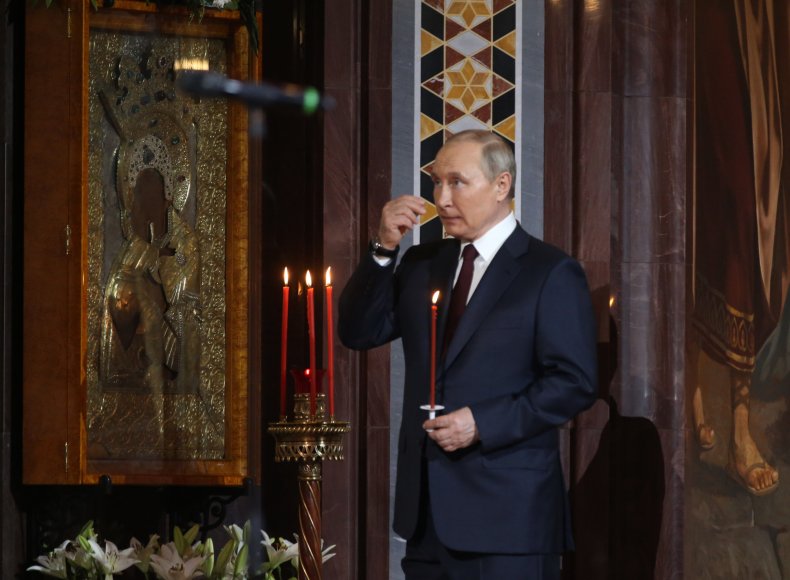 During the 2017 interview, Putin refrained from detailing the extent of his religious beliefs when the interviewer asked about them.
"I would prefer not to develop on that subject in detail. I think such things are sacred for everybody. Everybody's belief is not to be shown off, it's inside a man's heart," he said, according to the translated excerpt.
But he did open up about how he came to possess and wear a cross.
"As regards to wearing cross, earlier I never had it. Once my mother gave it to me, and when I visited Israel. I was there two times. First on an official invitation of the minister of foreign affairs of that country. The second time, I liked the country, and I traveled there with my family as a tourist," Putin said.
"So my mother gave it to me to have a blessing there at the Tomb of Lord. I did so, and now it's with me always," he added.
Putin said one story in particular about the cross drove him to keep it on his body at all times. He was at a dacha, a summer or second home, near St. Petersburg when a fire broke out after something went wrong with a sauna he was using, he said.
"Prior to entering the sauna, I took off the cross before entering the sauna, and then with my friend we jumped out naked since it was so unexpected. And I cherish that cross very much. It was my mother's cross, and the fire was really in earnest at the time. So I was thinking about whether perhaps it could get even remnants of it. It was an aluminum-made cross, a very simple thing," he said.
Putin said he was "surprised completely" when a worker was sifting through ashes from the fire and found the cross, which was still intact.
"That was a surprise, a miracle, and therefore I always now keep the cross with me," he said.
While the extent of Putin's religious beliefs remains unclear despite this experience, religion has come up during the Russia-Ukraine war. On Wednesday, the European Commission included Kirill in its newest package of proposed sanctions.
A European External Action Service document obtained by Politico described Kirill as "one of the most prominent supporters of the Russian military aggression against Ukraine," as well as someone who has helped boost Putin's rhetoric about the war.
Newsweek reached out to the Kremlin and the Vatican for comment.