Student Loan Forgiveness Plan Sparks Anger Over Who Will Pay Bill
Republicans have hit out at President Joe Biden's student debt forgiveness plan, questioning who will pay for the scheme which could cost the average taxpayer over $2,000 according to one estimate.
Under Biden's proposals, all former U.S. students earning less than $125,000 a year with an outstanding loan will be entitled to as much as $10,000 in debt forgiveness, and Pell Grant recipients will be entitled to up to $20,000.
Republican Representative from Texas Troy Nehls tweeted on Wednesday: "Nothing is free, and someone is ALWAYS footing the bill. This time it's 87% of Americans without student loans."
Ohio GOP Representative Jim Jordan wrote: "Who will ultimately pay the price of Joe Biden's student loan handout? The 87% of Americans who don't have student loans!"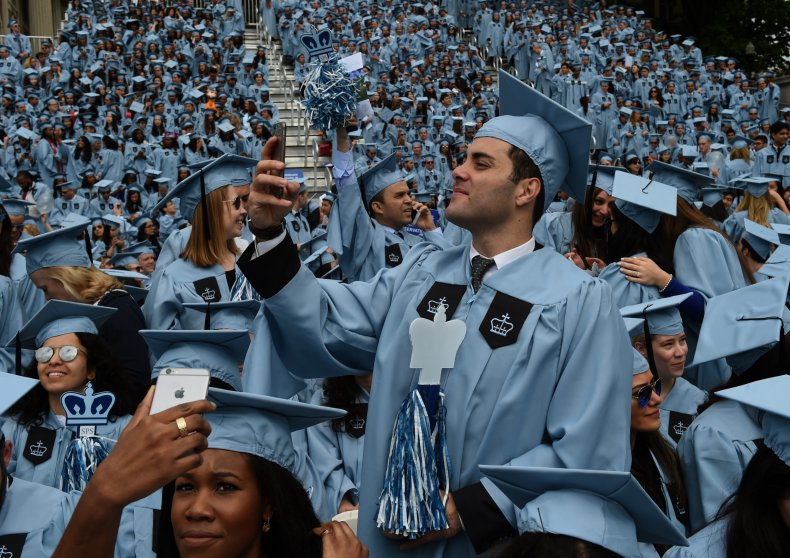 These statements echo a tweet from Harvard professor of the practice of economic policy Jason Furman who said on August 19—before Biden's proposals were announced—that the plan was "not free," and would be paid for by "the 87% of Americans who do not benefit but lose out from inflation" and "future spending cuts & tax increases."
At a press briefing on Wednesday, White House press secretary Karine Jean-Pierre was asked by Fox News correspondent Peter Doocy: "Who is paying for this?".
She said Biden had reduced the U.S. deficit by $1.7 trillion, providing fiscal headroom for the student debt forgiveness.
Jean-Pierre also said that ending the pause on student loan repayments, which is due to happen at the close of 2022, will "offset a lot of what we're doing".
The pause, introduced in March 2020 in response to the COVID-19 pandemic, was extended "one final time" to December 31 by Biden on Wednesday.
A study by the University of Pennsylvania's Wharton School said canceling $10,000 of student debt for those earning less than $125,000 would have a cost of about $300 billion, or around "$330 billion if the program is continued over the standard 10-year budget window."
The study also found that 69 to 73 percent of debt being forgiven would benefit households in the top 60 percent of the U.S. income distribution.
Based on these figures, the conservative-leaning National Taxpayers Union (NTU) calculated the policy would cost about $2,085 per taxpayer to implement in full.
It is worth noting that the figures produced by Penn Wharton and the NTU were made before the final policy announcement, and thus do not include the debt forgiveness proposal for those who received Pell Grants.
Pell Grant recipients account for more than 60 percent of the borrower population.
Federal Pell Grants are awarded to undergraduate students who "display exceptional financial need" and do not need to repaid like loans do, according to the Department of Education (DOE). Nearly every recipient comes from a family that makes less than $60,000 a year, with more than 65 percent of recipients coming from families with incomes of $30,000 or less. The DOE estimates that the $20,000 debt cancellation for Pell Grant recipients would provide relief to roughly 27 million borrowers.
Speaking to Fox News, Andrew Lautz, director of federal policy at the National Taxpayers Union, commented: "There's a transfer of wealth from the society at large to people who borrowed to go to college right now.
"That has consequences for consumers. It has consequences for taxpayers."
Founder opinion poll analysis website FiveThirtyEight Nate Silver said on Twitter on Wednesday: "The thing about student loan debt relief is that, while other policies would be more economically progressive, it fairly efficiently redistributes well-being toward people in the Democratic coalition. Youngish, middle-class-ish college/grad school attendees = a *very* D group.
"So it's a very 'transactional' piece of public policy, directly serving the interests of the people who elected you. That's extremely common, though, in the same way that, say, the Trump tax cuts were."
Donald Trump Jr. condemned the debt relief plan on Twitter, saying it would transfer money from blue-collar workers to wealthy graduates.
Addressing Harvard Law School professor Laurence Tribe, who backed Biden's proposal, he said: "Yes because thousands of Harvard Law grads need hard working blue collar workers to help them pay off their loans for them. Insane and disgusting."
Donald Trump Jr. also tweeted: "Why is there so much student debt? Because leftwing universities keep on raising tuition, while graduating kids with worthless degrees.
"That's why any solution to student debt that doesn't touch the billions of dollars sitting in the university endowments is an absolute scam!"
When asked if the plan was unfair toward "people who paid their student loans or chose not to take out loans."
He replied: "Is it fair to people who in fact do not own multibillion-dollar businesses to see one of these guys getting all the tax credits? Is that fair? What do you think?"
The White House, in a fact sheet advocating for the policy, added: "President Biden believes that a post-high school education should be a ticket to a middle-class life, but for too many, the cost of borrowing for college is a lifelong burden that deprives them of that opportunity.
"Since 1980, the total cost of both four-year public and four-year private college has nearly tripled, even after accounting for inflation. Federal support has not kept up: Pell Grants once covered nearly 80 percent of the cost of a four-year public college degree for students from working families, but now only cover a third.
"For the most vulnerable borrowers, the effects of debt are even more crushing. Nearly one-third of borrowers have debt but no degree, according to an analysis by the Department of Education of a recent cohort of undergraduates."