Students Accuse UCLA of Downplaying Mass Shooting Threat
Students at the University of California Los Angeles have criticized school officials, accusing them of downplaying threats made by a former lecturer that included references to a mass shooting.
Matthew Harris, a former postdoctoral fellow in philosophy at UCLA, sent some members of the philosophy department a link to a YouTube video with the title "UCLA PHILOSOPHY (MASS SHOOTING)" and an 800-page manifesto with "specific threats" on Monday, according to emails that members of the philosophy department sent to students.
However, it wasn't until late on Monday night that UCLA issued a statement, saying only that the university's police department is "aware of a concerning email and posting" that was sent to some members of the UCLA community and "actively engaged with out-of-state law enforcement and federal agencies."
UCLA later said all classes would be remote on Tuesday.
"We do not have specific information that this individual is in CA," the university said in a tweet in the early hours of Tuesday. "Out of an abundance of caution, all classes will be held remotely Feb 1. We will keep you updated."
UCLA spokesperson Steve Ritea told Newsweek on Tuesday that "out-of-state law enforcement has confirmed the person who made threats to UCLA is under observation and not in California." He said that classes would remain remote on Tuesday.
It came after several UCLA students took to Twitter to criticize the university for not alerting students sooner, with many writing that they had found out about the threat on social media and in group chats earlier on Monday.
Some accused the university of minimizing a "very serious" threat to a "concerning email," while others said they had been in and around Dodd Hall, where the philosophy department is located, on Monday when the school had been made aware of the threat.
Molly Thompson, a third year sociology student, told Newsweek she was in Dodd Hall on Monday afternoon.
"I was sitting in Dodd 121 which is the first room you see when you open the doors," she said. "UCLA knew there was a credible threat made by a UCLA lecturer and did not know his whereabouts at this time. He could've easily been in Los Angeles or even on campus."
Thompson said UCLA had handled the situation "very poorly."
"Their dishonesty and lack of communication only stirred chat forums more and more, and myself and many others layed awake all last night fearing for our lives," she said. "No class is worth risking your life over."
Another student who wanted to be identified only as Kaitlyn told Newsweek that it was "unacceptable" that UCLA took so long to inform students through official channels.
She added: "The first 'updates' they gave were vague and completely dismissed very serious shooting threats as a 'concerning email.'
"It makes me and many other students feel unsafe and disrespected to not get any information about such a big threat."
She added: "I'm doubtful that UCLA would've said anything about the situation if all the students didn't find out about it through social media and called them out for not making a statement. It's really disheartening that I have to scroll through Twitter and Reddit to find any ounce of information because my school won't say anything."
Another student, who asked to remain anonymous, told Newsweek that it was "really scary" because the lack of communication from school officials "makes it hard to know what the truth is."
"They canceled classes at midnight which is irresponsible considering they have had this information all day," she said. "I feel really disappointed that UCLA doesn't feel obligated to inform its students about a very serious threat to their safety and only seemed to respond after word starting spreading among students.
"The only reason people found out was because of the professors in philosophy department who emailed their students about the threat against them. It seems like if those emails didn't go out to students, they would not have told us."
Other students raised similar concerns on Twitter, with one tweeting that UCLA had posted a "vague tweet" that minimized the situation to a "concerning email" hours after information about the threat was circulating among students.
Another wrote: "The 'concerning' email was a mass shooting threat by a former UCLA employee who has very real anger towards specific members on campus. Protect your students and give more specific info instead of sending out a vague message only after students saw a screenshot of admin emails."
A scathing editorial published by the Daily Bruin student newspaper's editorial board at around 1 a.m. on Tuesday accused UCLA of putting "lives in danger through failure to communicate timely amid threats."
It noted that BruinAlert, the university's primary means of communicating information about emergencies and threats, didn't issue an alert until around 12 a.m. Tuesday.
Harris was placed on leave in the spring of last year while UCLA officials investigated reports that he sent a video with pornographic content to a student, according to the Bruin.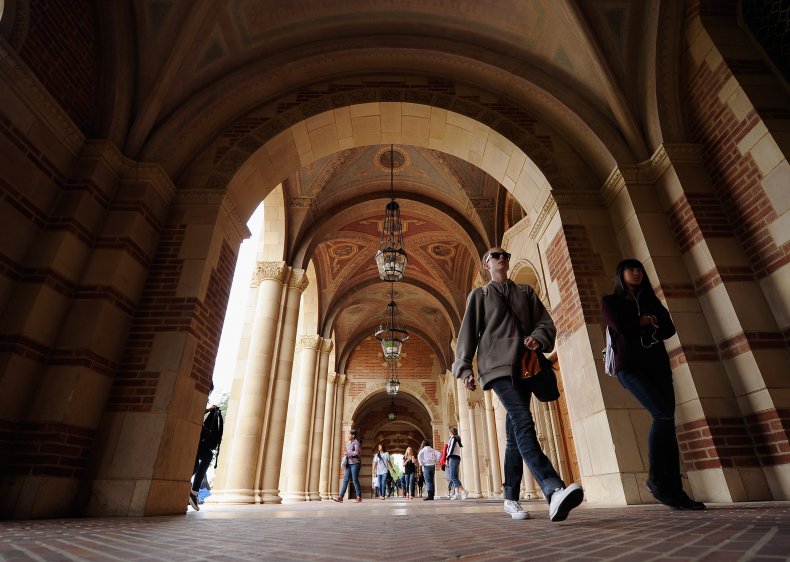 "After these threats and problematic actions toward UCLA community members, it is reasonable to expect the university to quickly provide students some semblance of safety or initiative," the editorial board added.
"Instead, UCLA announced hours after the initial news broke that classes will be online Tuesday. Some professors even neglected to change teaching plans before the announcement, expecting students to carry on without concern.
"Make no mistake: This is a legitimate threat to campus. It is impossible to justify in-person activities when the risk of a mass shooting exists."
The editorial added that students "should not have to scour the internet for information on what is or isn't safe during an emergency. It's not often that someone threatens to cause harm on such a massive scale—but when it happens, the university must rise to the occasion. UCLA has done anything but."
Update 2/01/22, 10:00 a.m. ET: This article has been updated with a comment from a UCLA spokesperson.
Update 2/02/22, 4:00 a.m. ET: This article has been updated with a comment from Molly Thompson.