'Stuffed Behind Bars': Police Found Alleged Car Thief Hiding in Teddy Bear
A British teenager suspected of stealing a car in May was recently discovered by Manchester police after hiding in an unassuming spot: inside a large teddy bear in his home.
Joshua Dobson, 18, of Rochdale, England, was suspected of stealing a car and fuel from a gas station on the same day back in May.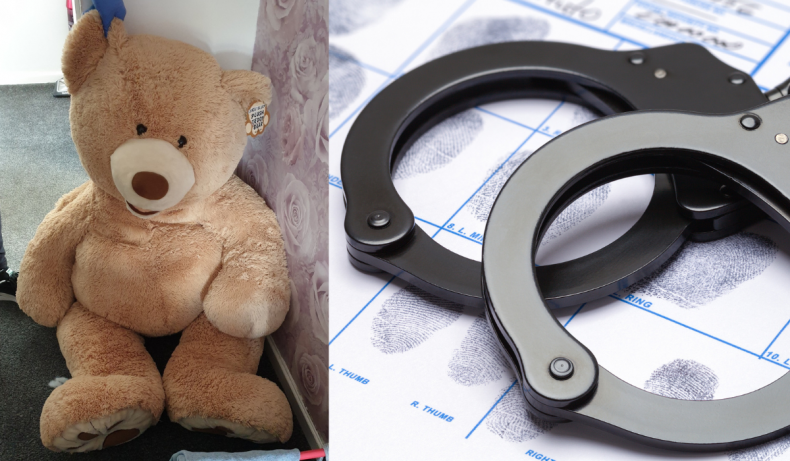 Car thefts are on the rise in the UK, according to Sky News, and they say it could be linked to a shortage of car parts, like computer chips, that have been in short supply and high demand since the pandemic began.
Data published in June suggested an average of 244 cars a day stolen in the country.
Motor vehicle thefts are the third most common property crime in the United States and the most reported property crime in 2020, according to the Department of Justice's Bureau of Justice Statistics.
In 2020, the FBI reported an estimated 810,400 vehicles stolen, with $7.4 billion lost to motor vehicle theft that year, averaging about $9,166 per vehicle.
The FBI includes not only trucks and automobiles as motor vehicles, but also trucks, buses, motorcycles, scooters, and snowmobiles.
The Alleged Crime
When officers arrived at Dobson's residence in July, they "noticed a large bear breathing" at Dobson's address, according to a police statement.
Officers inspecting the teddy bear discovered Dobson hidden inside, police said.
"He's now stuffed behind bars after being sentenced last week for theft of a motor vehicle, driving while disqualified, and making off from a petrol station without payment," police said on Facebook.
According to a statement from Greater Manchester Police, Dobson was sentenced to nine months behind bars.
"Hopefully he has a bearable time inside..." police said.
Newsweek reached out to the Greater Manchester Police for comment.
Other Strange Crime Stories
Back in 2019, a suspect hiding from Missouri police was discovered after he "passed gas so loud" it gave up his hiding spot.
"If you've got a felony warrant for your arrest, the cops are looking for you and you pass gas so loud it gives up your hiding spot, you're definitely having a [poop emoji] day," the department wrote.
More recently, a man allegedly tried to evade police in Maine by hiding under a sheet while seated in a chair in front of a hotel.
In March, a suspect had better luck when police were unsuccessful in locating them behind a car. Aerial footage from the search went viral as police ran past the individual who was squatting behind a vehicle.
"Come on, guys! He's right there!" Sky Fox news helicopter reporter Stu Mundel said in the video. "Going right by him! They are going right by him!"