Styx's Tommy Shaw Blasts Off to Mars, Pluto, 'Paradise' With Newsweek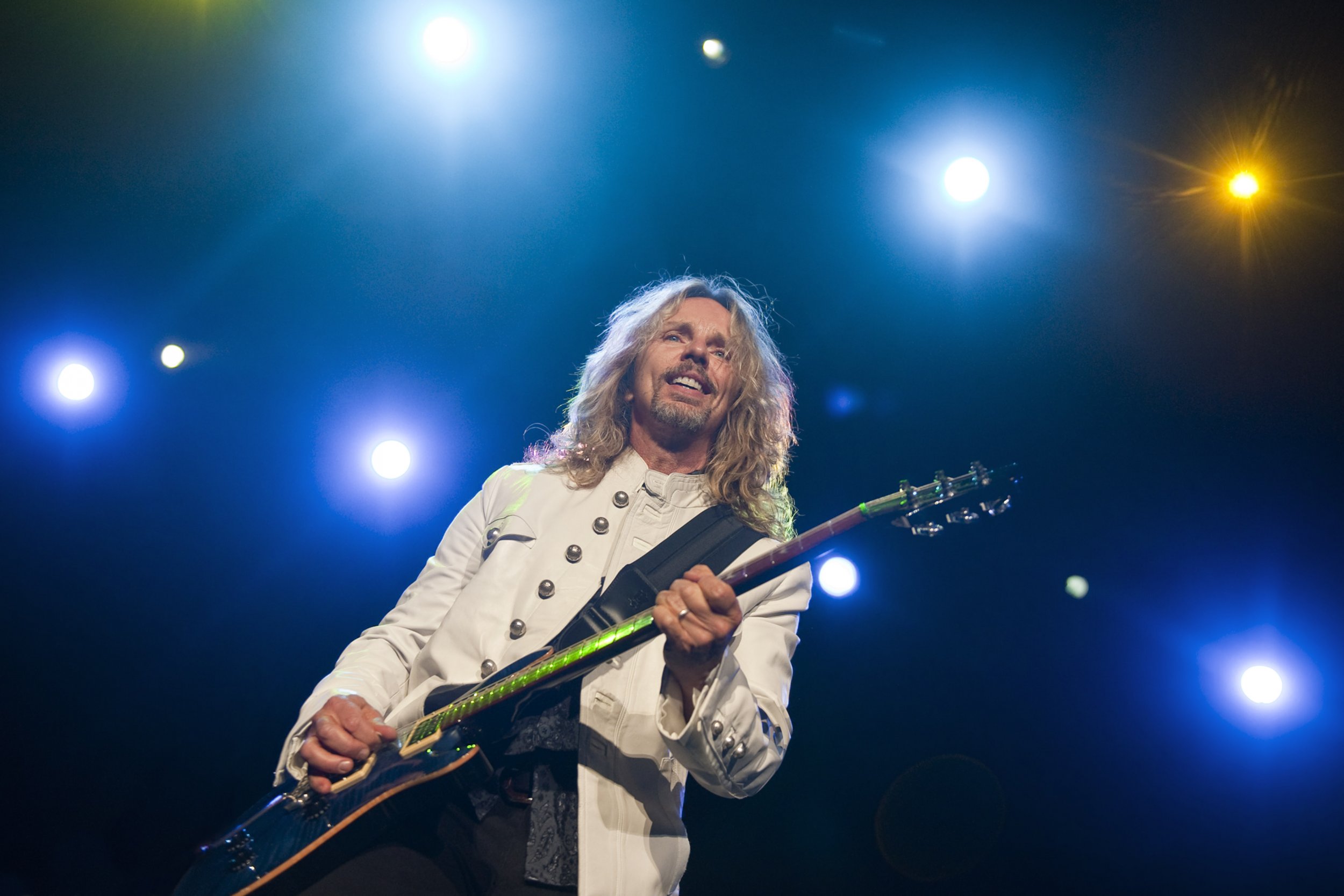 For the past two years, the members of Styx have had Mars on their minds. Audiences might not have known it, but when the chart-topping rock/prog group changed the "walk-on" music at their concerts, to the instrumental piece "Overture," they were thinking it would make a good leadoff track for The Mission, their first new studio album in 14 years.
Released last month (and landing at No. 6 on Billboard's Top Rock Albums chart), the adventurous concept album tells the story of a first manned mission to Mars. A six-person crew makes the trip in 2033, while aboard a nuclear-powered spaceship called Khedive.
"There's going to be human beings that strap themselves into that rocket and blast off to the unknown and maybe never return," Styx guitarist and vocalist Tommy Shaw tells Newsweek. "They're leaving everything and everyone behind. To me, that was the story that Styx could tell."
The album's interplanetary theme, especially its human factor, kicks into high gear during the second track, the bluesy hard-rocker "Locomotive." "I saw it as this is the guy's dad who's standing on the shore looking up into the starry sky, and his son has gone on this mission to Mars. They never got back together and got over the rift between them. Now he's looking up at the stars and going, 'Are you out there? I'm trying to get a message to you.'"
Also providing inspiration for The Mission was the band's real-life connection to another planet, Pluto, and its smallest moon, Styx, which was discovered in 2012. Three years after the spotting of Styx by the Hubble Space Telescope, the unmanned space probe New Horizons flew by Pluto and took some eye-popping photos. In July 2015, Shaw, singer/keyboardist Lawrence Gowan and drummer Todd Sucherman viewed those photos when they met members of NASA's Horizon team in Maryland. The moon wasn't named after the band, but the name choice certainly had Shaw and his bandmates stoked about the meeting.
"They've helped us as a resource, and they helped in refining the [Mission] story and feel comfortable with it," Shaw says. "Since then, we've become friends with other people at NASA, so we've realized we've got Styx fans that are grown up and in these incredible positions now."
But perhaps what connects best with the record's theme is Styx's otherworldly progressive rock leanings, a keyboard-quenched approach that's been a major part of the band's sound since its formation in the early 1970s in Chicago. Styx recorded several ambitious albums throughout the '70s and early '80s, including Equinox, The Grand Illusion, Pieces of Eight and Paradise Theatre, and became a platinum-selling arena act along the way.
These days, unfortunately, many who grew up listening to Styx and their contemporaries are now at an age when hearing loss has become more prevalent. Aware of this, Styx hooked up with hearing-aid company Oticon for a live concert that will be presented directly to fans across the U.S. who wear the Oticon Opn Internet-connected hearing aid. The show, the final date of Styx's summer tour (many of the concerts have been with REO Speedwagon), will take place at PNC Bank Arts Center in Holmdel, New Jersey, on August 22. Click here for the tour's itinerary.
In a wide-ranging interview with Newsweek, Shaw discusses the making of The Mission, which was recorded using the same type of analog recording technology that gave Styx its unique sonics on albums like The Grand Illusion and Pieces of Eight; his earliest experiences onstage; and performing at this year's Stanley Cup finals.
How did The Mission's voyage to Mars theme come to fruition?
It was kind of starting over from scratch because our longtime engineer, Gary Loizzo, had passed away in January of last year, so we weren't ready to be in the studio recording yet.… Will Evankovich and I have been working together since he became the third guy in the Shaw Blades project that Jack Blades and I did. He would be the glue holding it all together. Will introduced me to the albums that he'd made as American Drag, and I heard all these classic rock influences. They were all fresh and so well organized and recorded that I was thinking, How can I get some of this influence in Styx?
Related: Metallica's Lars Ulrich on WorldWired's hottest show on earth, Lady Gaga, thrash roots, tennis
One night about three years ago in Catalina Island I wrote this little piece of music. Like I usually do, I took my iPhone down and I recorded it. While I was playing it back, I played some chords with it. I said, "Well, now I gotta record that." So I recorded those things together, took them home and embellished it a little bit. Then I had to write some words so I could sing it to make a demo… and what came out was [sings] "Now I can say in less than a day/We'll be underway on our Mission to Mars." No one was probably more surprised to see that than I was. It was like, Where'd this come from? But then it was like, Well, let's write some more.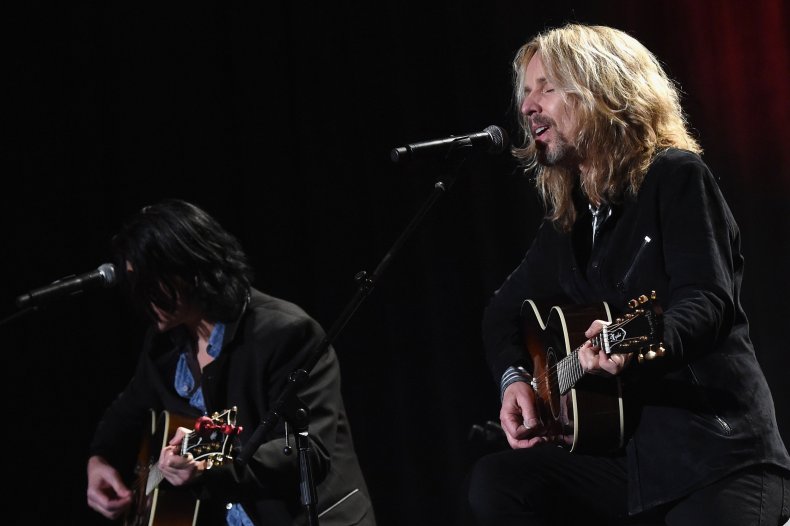 How far along into the making of The Mission were Styx when you and your bandmates met up with the guys from NASA?
We were deep in it. But it was so nice because we were still refining the story. I sat down with Alan one day, Dr. Alan Stern, who was the principal investigator [of the New Horizons mission to Pluto]. After we met them, it was like, Well, we're not just going to Mars; if we survive that, we're going to go to Pluto and then beyond. We've learned about hydraulic fuel and hydrazine and all these things, and would it be possible to have a nuclear ship that did that?
I said, "Well, what if the moon Styx turned out to be rich in nutrients that you could create soil and grow food so they could stop there and refuel, get enough food to continue on their mission?" He was going, "If you don't have the truth and the reality to back your story up, create your own mythology. Because a lot of times, the mythology is what drives someone to actually make something become real."
The record really is an adventure; it's a journey. It's best listened to all in one sitting, and we've made it easy to do that because the songs lead you into each other. There never seems to be a period. There's just maybe a comma, and you want to hear what's next.
And if you get a chance, put the headphones on. Because if you listen to our albums, there was always stuff panning around and things being on the left side and right side. You will experience the full stereo spectrum, and there's a ton of that on this record.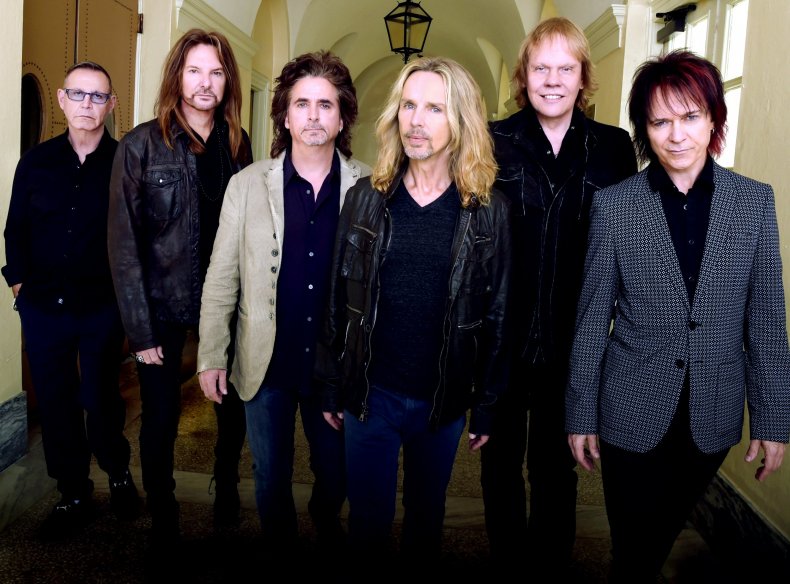 Styx tell a futuristic tale on The Mission, but as far as the recording of the album, you guys went decidedly old school, with analog recording and production.
Absolutely. Everything hit tape. We didn't use a single digital plug-in. We used an analog Neve console. In fact, it's the same one that Donald Fagen [of Steely Dan] recorded Aja on.
The musicianship on the album shows a Styx lineup that sounds tight and truly revved up. What goes through your mind when you listen to The Mission now?
It's such a gift for us to have this new music, and it reflects who everybody in the band is. When I hear Ricky Phillips playing bass on "Locomotive," that's the Ricky Phillips playing in the dressing room for years. When I hear James Young playing "Gone Gone Gone" [see it performed here], playing that riff, that's the James Young I've been hearing warming up on his guitar. Todd Sucherman [on drums], when I hear what he plays on "Red Storm," it's the kind of stuff he plays every night. Lawrence Gowan, he plays [keyboards] and sings that stuff every night, and Chuck Panozzo [on bass] comes out and sounds exactly like Chuck Panozzo.
To have this music for everybody to imprint who they are on it right now and still honor the sound of the band—it's been a treat. I'm still pinching myself that everybody's embracing it.
Anything get in the way?
As you're going along and you're trying new things, you're always looking for a signpost or something along the way telling you, "Do not go any further. Turn around and go back, that's just no, no, no, no." But instead, every step along the way things kept happening, saying, "Keep going, you're on the right path."
You started working on the album around the time you moved from Los Angeles to Nashville. How did the move ultimately affect the outcome of the new album?
I'd been hearing about Blackbird Studios in Nashville. A friend, Alison Krauss, recorded there, and it had this reputation as being this magical destination studio. When we moved here [Nashville], we were seven minutes away from it. One day I went over, and John McBride, the owner, gave me the tour. He showed me that Neve room. Once this started going down the path of this is going to be a Styx record, Will and I were going, "We've gotta record this at Blackbird in that Neve room."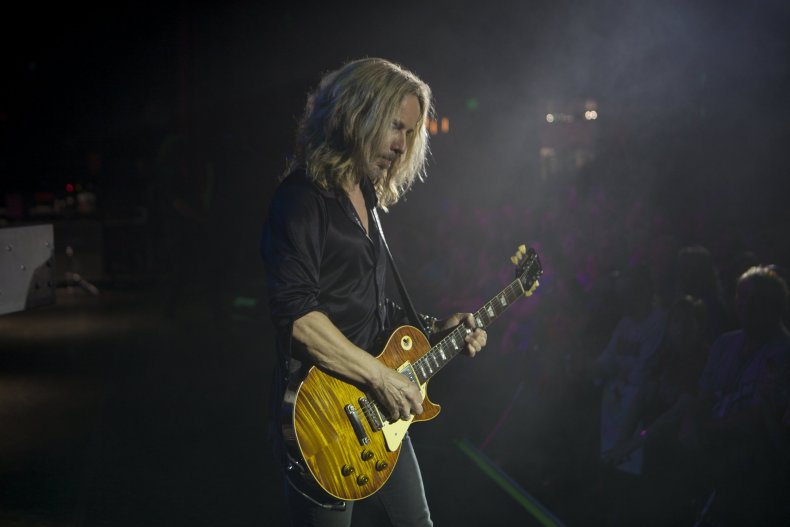 What previous Styx album do you think The Mission compares to most?
Well, our target was to have it to be like the missing album right after Pieces of Eight. That's what we went for. And we thought, Because we're going all analog, let's have it sound like five or six guys. Like the way the Beatles did. You can listen to their music and you don't have to see the video; you can go, Well, there's George, and there's John, and there's Paul. I could hear John and George, or I could hear Paul and George singing background while John sings, and it's enough to fill up the spectrum.
The new album has that scientific and technical angle. Meanwhile, your bandmate James Young does have considerable scientific and technical know-how.
We have a rocket scientist in the band. James Young has a degree in aeronautical engineering and mechanical engineering, so he's always been that guy that we wrote about in the songs. He's skeptical of the designers of things, of the builders, so that's why you don't see him going on a ski tram or riding in a convertible. He is like Spock. He really is otherworldly not only in his aeronautical engineering skills but his guitar skills.
The Mission, like several previous Styx albums, shows how you're able to combine elements of prog rock, especially with the keyboards, with blues-rock and pop music, in an interesting way.
Well, it was always the combination of our influences, and that's one of the things that attracted me early on to be in the band. Because you had James Young, who was just far out there with Jimi Hendrix and prog land. John Panozzo, who could play anything. When you put him on drums, it gave it all a cohesive sound. And all of us liked Crosby, Stills, Nash and Young, and Yes, so we had those as our guideposts for our vocals. We loved the Who. We loved that kind of drumming [Keith Moon's] and those kind of influences.
What influences did you, specifically, have?
I'm from the South, so I had all that Allman Brothers kind of influence. And just like anybody else, [let's say] you listen to the Stones—I saw the other day Howlin' Wolf sitting on a stool and playing with his band. It's like, That sounds like the Rolling Stones. And just the opposite, as they were doing him. You listen to Eric Clapton, and then you listen to J.J. Cale, and you go, "I think Clapton's a J.J. Cale fan."
Do you have a favorite Styx album?
OK, If I get two, I'll go with Equinox and Pieces of Eight.
How do you think Styx progressed after you joined the band?
Well, Crystal Ball [1976] was my introductory album. I loved that album. There's a real innocence to it, it's like a coming-of-age album for us as we get to know each other. But when we get to The Grand Illusion, we've all had these life experiences where we realize things were changing, that we are about to move up as long as we don't screw it up. I remember when we recorded The Grand Illusion, I just kept thinking, Everybody look both ways before you cross the street, for goodness' sake, this is going to change our lives. Just survive long enough, and we did and it did change our lives.
It was amazing because our fans all felt it. They heard it in the music. They realized something really clicked. I think The Grand Illusion got called a concept album because it was all our shared experiences being poured into each other's songs. Didn't matter whose name was on it, it had the influence of the whole band. Then our lives did change, but we still had that esprit de corps leading into Pieces of Eight. Everybody came with their best stuff. Everybody jumped in and helped out on each other's songs. But you can only keep that kind of a honeymoon period with the band for so long, and then life starts to interfere. There's all these temptations, and they start tugging away at the spirit of the band.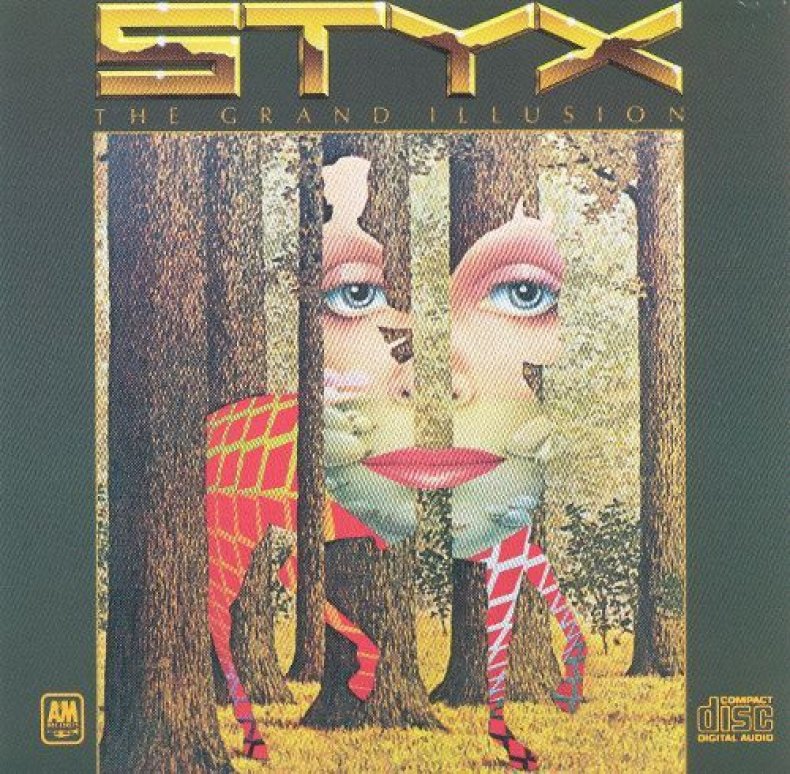 How did your lives change at that point?
There was a little bit of success, but there hadn't been much of a physical payoff for it. With The Grand Illusion, we started reaping the rewards for it, so our lives started to change with all that. We were noticing it. We were looking around and going, "Who are we going to be when we have this success? We still feel the same; people's views of us are changing. How do we deal with this?" It really is a grand illusion because deep inside, we're still those same people.
While working on Pieces of Eight, the song "Renegade" ended up different from the version you first brought in. How did that happen?
It was more of an Alan Parsons-like dark, slow dirge, and it was harmony all the way through until it got to "the jig is up" part. But Styx, being the rock band that it is, was like, Let's crank up the energy. As soon as we did that, it went to another level.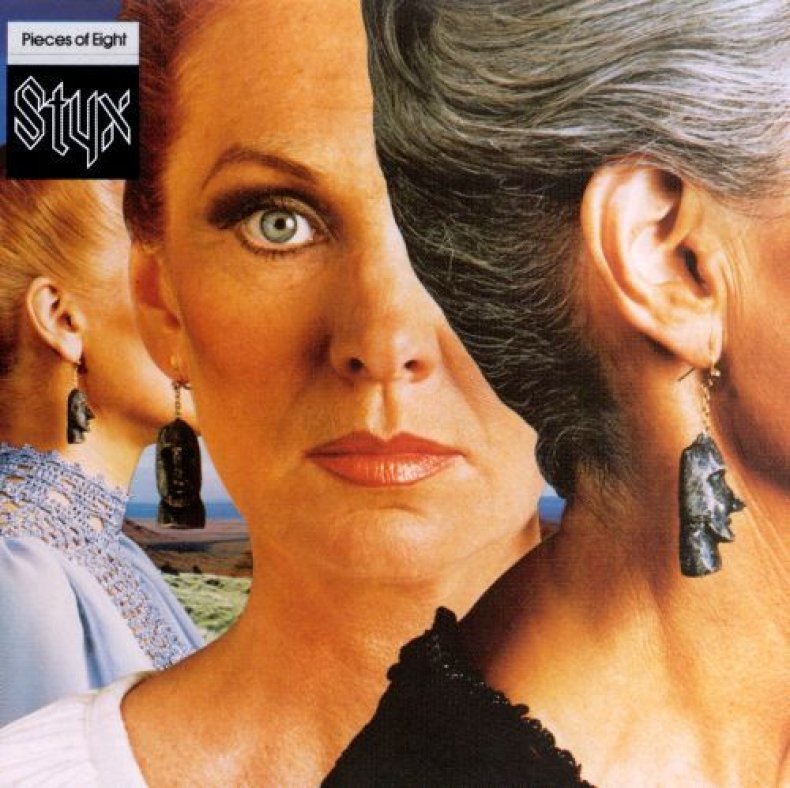 The records that followed Pieces of Eight—Cornerstone and Paradise Theatre—were commercially, and musically, successful. Cornerstone had the song "Babe," which showed Styx heading in a pop direction.
There started to be some tearing apart at the seams of the band, but it was hard to argue with it because "Babe" was our only No. 1 single. But it was the first time that we had an influence that wasn't consistent with everyone. Dennis [DeYoung] had it, but the rest of us didn't, so it became a real dilemma. We had to do the song, but none of us knew what to do in it. Typical Styx is, you're up there firing on all cylinders, and now suddenly we're just standing there waiting for the chorus.
It was hard for us, and it really was a crossroads. It was a dilemma, it was kind of death by chocolate, because it was so successful for Dennis. You can't blame him for wanting to do more of that. That whole young band thing, the all of us drinking from the same cup and all pulling for each other—that started to really be tested.
How did that one for all, all for one ethos hold up when Styx recorded Paradise Theatre?
We pulled it all together again for Paradise Theatre. It was like, We're moving forward, and other songs came along that didn't have that kind of "Babe" thing that was so confusing for all of us. The one thing for me: I had not come up with my rock song to sing right up to the last day of production rehearsal before we went in the studio. I lived in Michigan, which is about 60 miles away, so I would drive in every day to rehearsals.
That last day I'm thinking, Well, I guess I'm just not going to have that song on this album. About, I don't know, 10 miles or so before I got to the rehearsal hall, I started hearing [briefly hums the melody of "Too Much Time on My Hands"]. I didn't have a phone or anything to record it with, so it's like, Oh God, I got to remember this. Then the rest of the song just started playing in my head.
Wow.
And then "Too much time on my hands." [He sings.] All that's playing in my head, so now I'm stepping on the gas. I pulled into the place, and I ran inside. I said, "Chuck, come here, come here." I played [he sings]. Then I had everybody else just play an A chord. Then I just kept calling out chords, and then I played [he sings]. We roughed it out right there before I forgot it, and it just squeaked in under the wire.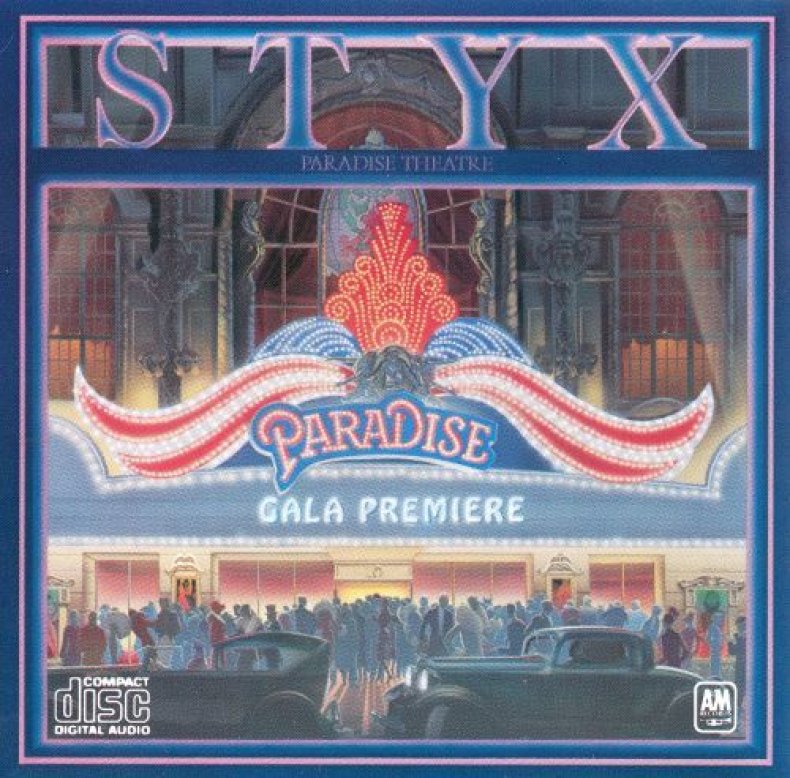 That's a terrific song, on a well-rounded album that also features "Snowblind" and "Half-Penny, Two-Penny."
"Snowblind" was one of those where J.Y. [James Young] was supposed to sing. It got to the chorus, and we're in there. I'm waiting for J.Y. to go out and sing the chorus, and he said, "Well, I haven't written any words, and I think you should sing it, so go out there and sing it." I go, "Well, OK. Give me a piece of paper." I went out there and I wrote the words, and I sang it right then and there. It's still one of my favorite Styx songs.
You performed with the house band at Game 3 of the Stanley Cup Finals games in Nashville. Are you a big hockey fan?
I have become one because of [Styx singer] Lawrence Gowan. He's taught us how you enjoy hockey, so the last couple of Stanley Cups we've been on the bus flipping out. As this progressed, because we moved to Nashville in 2012, we went to see the Predators game a couple years ago. It was a season game, but you saw the fan appreciation. Then when we [the Predators] started coming up in the playoffs, it was this big crescendo. It was unbelievable…. You can imagine my dilemma, because I've always been a Pittsburgh fan.
Who are some of your main influences as a singer?
Well, God, there's so many. There's Jon Anderson [of Yes], there's Roger Daltrey [of the Who]. There's John Lennon and Paul McCartney. There's Gladys Knight.
What about guitarists?
It would be, like, the Allman Brothers, Eric Clapton but also George Harrison.
You mention Jon Anderson. What aspects of Yes influenced Styx?
They had this classical vibe about them. Their keyboard players were so talented, and they had these massive, wonderful analog sounds. They were so dramatic in their arrangements. They were bold as hell. When I heard that first Yes album, I never thought rock music could sound like this. It was like from something out of this world. And the vocal things that they would do, they were just so amazing.
Related: An interview with progressive rock band Yes's Jon Anderson
Looking back further, what kind of music did you first perform?
When I was a teenager, I was taken in by a music director who lived around the corner from me, who had a college dance band. He played three-piece lounge music. He was really big on the Four Freshmen, which, if you're a Beach Boys fan, if you go back and listen to the Four Freshmen or the Highlights, that's where the Beach Boys got their inspiration from. When I was in junior high school, I would play these shows. My voice had just changed, so I would be singing the bass part on "Brahms's Lullaby" by the Four Freshmen [he sings]. I can't even do it anymore.
All my friends were doing Led Zeppelin, but I was playing standards.... I really was never in a true rock band until I joined Styx. I had a great soul band when I was in my last couple of years in high school. I got a guy on a Fender Rhodes electric piano, a guy on a B3 organ that played foot pedals and a drummer. We were badass, but it was all soul.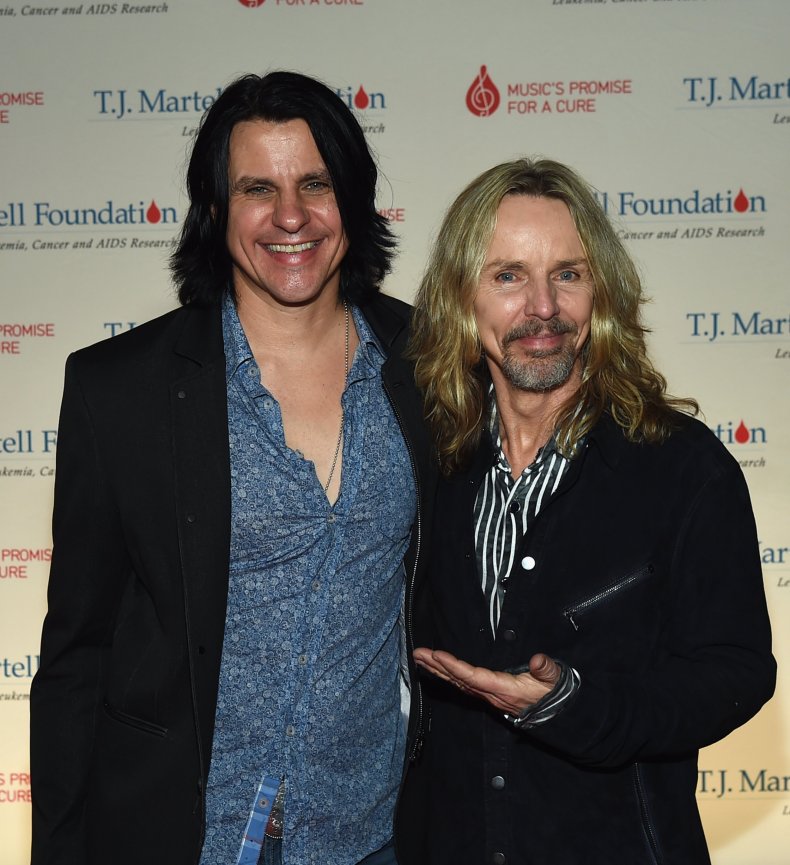 Styx is on tour with REO Speedwagon and Don Felder, formerly of the Eagles. How's everything going in concert?
It always winds up being good for everybody because we've found that our fans generally like the other two bands and their music, REO Speedwagon and the Eagles. It might be out there on the fringe of what some of the hardcore Styx fans like. Conversely, we're on the fringe of what some of the Eagles fans like, but it all melds together. Then we're all friends, so usually somebody's going to run out there and sit in on something.