Trump's Russia Ambassador Nominee: Asking Foreign Government To Investigate Political Rival Not 'In Accord With Our Values'
President Donald Trump's nominee to be the next U.S. ambassador to Russia John Sullivan deviated from the White House's rhetoric in his Senate confirmation hearing on Wednesday, stating that "soliciting" a foreign government to investigate a political opponent would not "be in accord" with American values.
Trump and his personal lawyer Rudy Giuliani, as well as diplomats Trump appointed, repeatedly pressured Ukrainian leaders to open investigations into debunked claims against Democratic presidential candidate Joe Biden and the Democratic National Committee. The president has publicly stated that he encouraged the Ukrainians to open probes, arguing that this was appropriate and further calling on China to take similar action. The president's Acting Chief of Staff Mick Mulvaney has also argued that such efforts are normal in foreign policy.
During the confirmation hearing, Senator Bob Menendez of New Jersey, the top Democrat on the Senate Foreign Relations Committee, asked Sullivan, who currently serves as a deputy to the Secretary of State, whether he believed such actions by the president were appropriate.
"Soliciting investigations into a domestic political opponent—I don't think that would be in accord with our values," Sullivan asserted in response.
Menendez then asked if Sullivan, in his State Department role, was aware of any other efforts by the president's administration to "encourage, suggest or request that a foreign government investigate one of the president's political rivals?"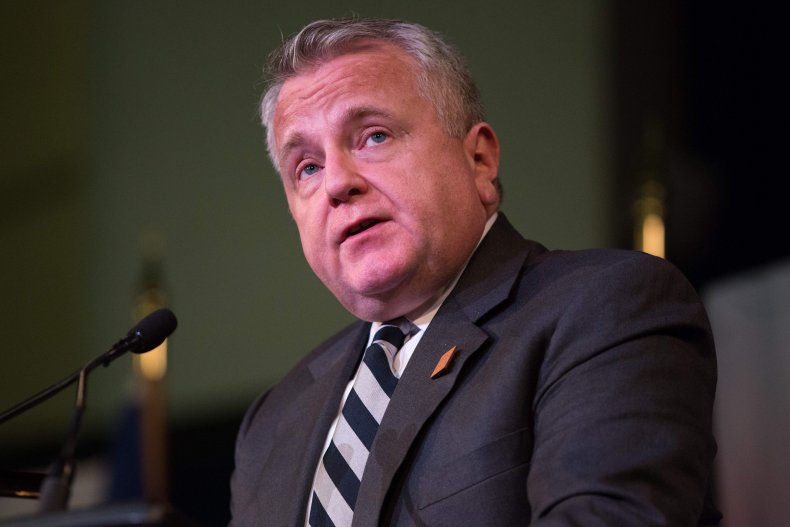 "I'm not aware of any such [actions], Senator," the diplomat responded.
"Not to [Chinese] President Xi [Jinping]?" the senator from New Jersey asked.
"No," Sullivan said firmly. He also said specifically that he was not "aware" of the president making a similar request of the former British Prime Minister Theresa May.
The president's efforts to pressure Ukrainian leaders to investigate his Democratic opponent is at the center of a fast-moving impeachment inquiry launched by Democrats at the end of September. It is illegal under federal election law to solicit, request or receive anything of value from a foreigner to aid a campaign.
Witness testimony from key diplomats, including the acting Ambassador to Ukraine Bill Taylor and U.S. Ambassador to the European Union Gordon Sondland, has alleged that the president not only pressured Ukraine to launch investigations, but he also temporarily withheld nearly $400 million in military aid to the country as a quid pro quo. That aid had been approved with strong bipartisan support in Congress, as Ukraine is viewed as a key U.S. ally to counter Russia's expansionist plays. As a result, Trump's critics have argued that the president's actions were not only counter to federal election law, but also comprised U.S. national security.
Another key element of Trump's efforts to leverage the Eastern European nation was the removal of career diplomat and former Ambassador to Ukraine Marie Yovanovitch. In testimony to congressional investigators earlier this month about her ouster, she said that the administration's policy in Ukraine worked to benefit "private interests" in addition to "unfounded and false claims by people with clearly questionable motives."
Sullivan acknowledged on Wednesday that Giuliani had waged a campaign against Yovanovitch, who did not act improperly in her role despite being removed by the president, according to State Department officials. "My knowledge ... about any involvement of Mr. Giuliani was in connection with a campaign against our ambassador to Ukraine," he said. The Trump nominee asserted that he believed Giuliani was involved directly with the effort to "smear" the diplomat's reputation.