Sumner Stroh's Past Posts Scrutinized Amid Adam Levine DMs
The name Sumner Stroh has been discussed frequently in the last two days after she claimed to have been in a year-long affair with Adam Levine, and now, internet sleuths are digging up past posts on her social media for more information on the alleged affair.
The Instagram model made a viral TikTok on Monday claiming that she had been seeing Levine for a year, sharing several screenshots of alleged text messages of the singer flirting with her and asking if he could name his next baby after her.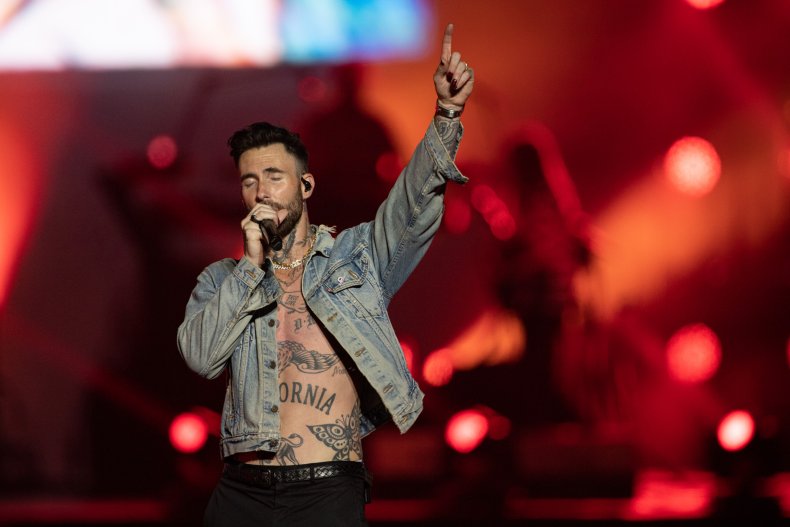 While Levine, who is married to model Behati Prinsloo and has two children with a third on the way, denied having an affair on Tuesday over social media, he admitted that he "crossed the line" in his relationship with Sumner, which the model responded to by saying on her Instagram, "Someone get this man a dictionary."
The internet was taken aback by the cheating controversy, and some decided to do some digging into Stroh's past, criticizing older TikToks that she posted during the time that she and Levine were allegedly having the affair.
One Twitter user posted one of Stroh's videos, writing, "NOT THE GIRL WHO HAD AN AFFAIR W ADAM LEVINE POSTING THIS DURING THEIR ALLEGED AFFAIR."
The video showed Stroh smiling to "Beautiful Mistakes" by Maroon 5, and the text on the video said, "I look at my life and just laugh sometimes."
Another user posted other videos from Stroh's TikTok, writing, "Not people also finding these on her page during the affair....ICK."
In one of the videos, Stroh is seen singing along to Olivia Rodrigo's "Driver's License," where the lyrics sing, "And you're probably with that blonde girl," before the audio changes to a voice saying, "Uh, I think the f**k not!"
The video was posted in March of last year, but some users on TikTok commented that it seemed to be a veiled dig at Prinsloo, who is blonde.
"Blonde girl? huh sounds familiar. maybe Victoria's Secret model Behati?" one commenter wrote.
Another user on Twitter even dug up some past knowledge of Stroh from personal experience. They wrote, "Sumner Stroh getting dragged years after bullying me is bringing me life rn idk if that's the sag in me but karma is a b**ch."
In a thread, they shared several photos of the Instagram model and YouTuber that showed her when she was younger. She wrote in another tweet, "I have people that can back me up on this but basically her and a few other girls would get up on me or ignore me bc I was 'too positive' or 'too nice'. she's influence people to bully me."
Another user tweeted something similar, writing, "When a mean girl from middle school exposed herself as a home wrecker that f**ked Adam Levine...not surprised in the slightest."
Stroh was heavily criticized online after posting the confessional video, with many arguing that she was playing a victim by saying that she had been "manipulated" by Levine. In a follow-up video posted Monday night, she said, "In no way was I trying to gain sympathy, and I fully realize I'm not the victim in this. I'm not the one who's really getting hurt here, it's Behati and her children, and for that, I'm so, so sorry."
Stroh's representative told Newsweek that her response on Instagram was the only comment she will be releasing at this time.