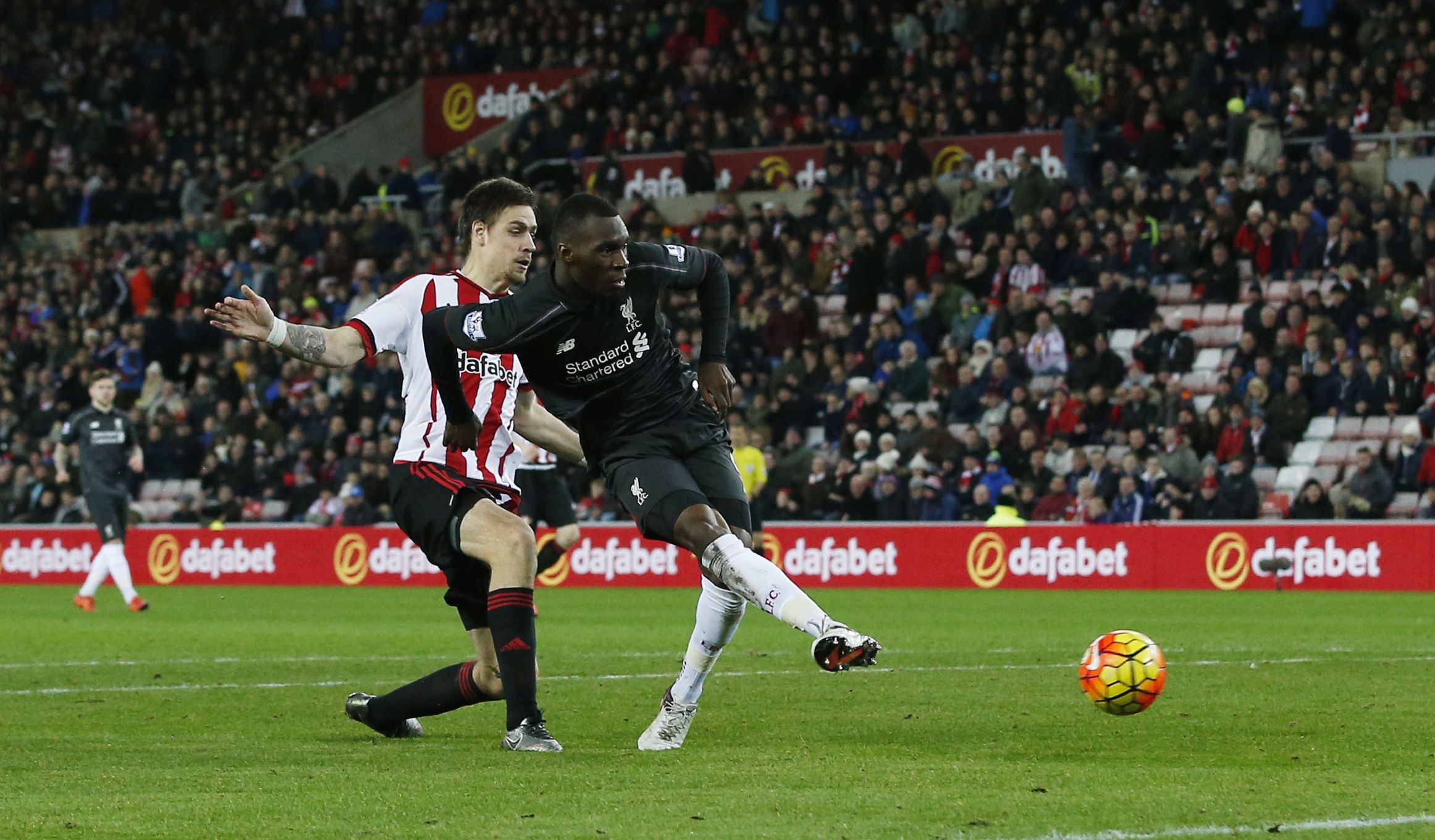 Liverpool climbed to seventh in the English Premier League on Wednesday night, with a 1-0 victory over Sunderland at the Stadium of Light, Sunderland's ground.
But it was by no means an easy victory against the relegation strugglers. Striker Christian Benteke scored the winning goal, 22 seconds into the second half, though Liverpool still lies nine points behind the league's joint leader, Leicester City, which drew with Manchester City on Tuesday night. There were a lot of things we learned over the course of Wednesday's Premier League game—here are 13 of them:
1. One Liverpool fan didn't hold out much hope for defender Wes Brown, who used to play for Manchester United, Liverpool's great rival. Remember former Newcastle United defender Titus Bramble? Or Jean-Alain Boumsong, another former Newcastle defender with a history of calamitous mistakes? There's nothing like football fandom for hyperbole. Sunderland could do far worse than Brown, who was solid in the early part of the first half.
2. But John Cross, The Mirror's chief football writer, was less than impressed by Sebastian Coates, Brown's partner in the center of the Sunderland defence, who made a horrible error in the first ten minutes that allowed Liverpool forward Philippe Coutinho a chance at goal (which he missed). Coates was a Liverpool player for four years, between 2011 and 2015, though he only made 12 appearances. And now we know why.
3. Speaking of Coutinho… the little Brazilian had two efforts in the opening 20 minutes, one a long-range shot and one a free kick. But both went wide and neither matched up to this effort back in August, when the Premier League grass was unmuddied and Brendan Rodgers was still Liverpool manager:
4. Liverpool's other Brazilian, Roberto Firmino, has been out of form of late, ever since he starred in Liverpool's 4-1 victory at Etihad Stadium, the home of Manchester City, on November 21. He came alive in the first half on Wednesday, though, with this thunderous effort. The talent is certainly there—Firmino just needs the consistency to go with it.
5.
So said Sunderland fan mad4snow, seconds before Johnson curled a free kick several yards over the bar, having tried to lift it over the head of Christian Benteke, one of the tallest players on the pitch. It's sad to have to say, but it seems Johnson is never going to fulfill the early promise he showed at Middlesbrough and then Manchester City.
6. Meanwhile in a galaxy far, far away (well, Spain), a certain Lionel Messi was scoring in his 400th game for Barcelona. How would Messi have done on a wet Wednesday night in Sunderland? We're probably never going to find out.
7. Though we won't ever see Messi in the English Premier League, we can console ourselves with arcane Messi-related stats:
8. Phil Babb, the former Liverpool defender, said he wanted to see more from striker Benteke in the second half. It took Benteke—who signed from Aston Villa in the summer transfer window—22 seconds to deliver, running onto midfielder Adam Lallana's pass and sweeping home. Perhaps Babb should exhort more often.
9. This statistic from Twitter user Squawka shows us why Aston Villa is struggling so much without Benteke—and why Liverpool paid £32 million for him:
10. This is the treatment you get for being a former Liverpool player—in the 57th minute, Emre Can clattering into the back of Fabio Borini to bring him down and concede a free kick.
Like Coates, Borini had a spell at Liverpool, playing for the club between 2012 and 2015. He scored just twice in that time. Liverpool captain Jordan Henderson made the transfer the opposite way in 2011, and as such he received a standing ovation from both Sunderland and Liverpool supporters when he came off on Wednesday.
11. Dave Chisnall, the professional darts player, is from St. Helens, near Liverpool, which means he's a Liverpool fan. Unfortunately for Chisnall, he couldn't match his team's success at Sunderland with victory on the oche, losing in the last 16 of the PDC World Darts Championship, 4-3 in sets, to Peter Wright. Liverpool, and Chisnall, will both hope for better fortunes in 2016.
12. Though Liverpool played solidly on Wednesday night, the club still appears to be missing a world class talent in attack. It's a pity Luis Suarez, who scored the third Barcelona goal in its dismantling of Real Betis on Wednesday night at the Nou Camp, Barcelona's home stadium, left Liverpool for a cool £75 million ($110 million) in July 2014. He's been pretty good in Spain...
13. Liverpool held on to that one goal by Benteke to win, though the striker missed a fantastic chance in injury time to make the victory more comfortable when he ran through on goal unchallenged, only for Sunderland goalkeeper Vito Mannone to foil him. Liverpool is now one step closer to the top of the table, while Sunderland remains mired in relegation trouble in 19th place, seven points from safety. For Sunderland, a long, hard second half of the season awaits.
Uncommon Knowledge
Newsweek is committed to challenging conventional wisdom and finding connections in the search for common ground.
Newsweek is committed to challenging conventional wisdom and finding connections in the search for common ground.
About the writer
Sportswriter at Newsweek.