Super Bloom 2019: Where and When to See the 'showstopping' Wildflower Displays in California and Arizona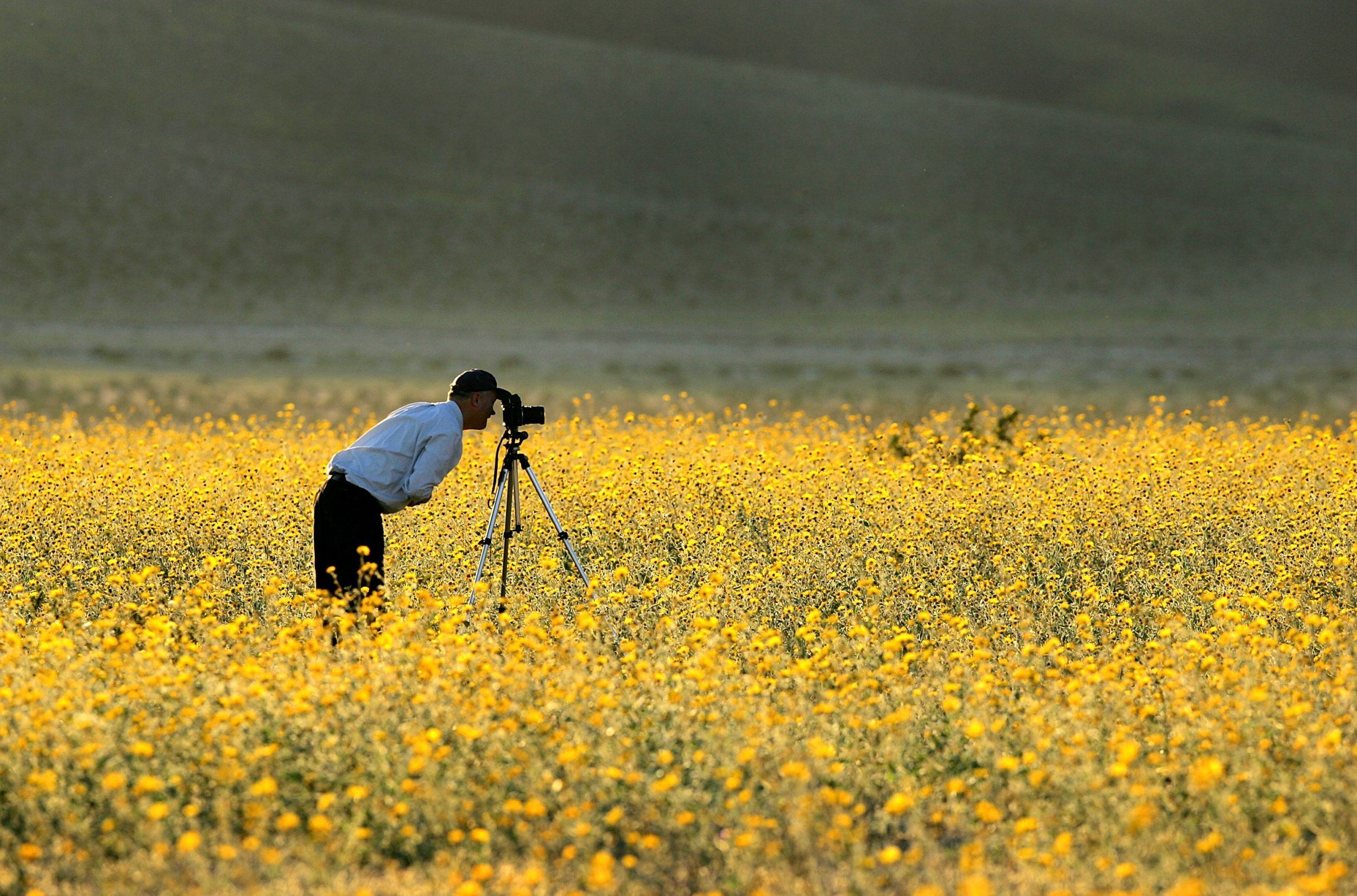 Flourishes of wildflowers are starting to spring up in California and Arizona, as experts cross their fingers that a spectacular "super bloom" to rival that seen in spring 2017 could be weeks away.
Each year as winter winds down and spring ushers in warmer temperatures, the national parks of the neighboring western states can become dotted with colorful plants. But this spring, the conditions left behind in the wake of last year's devastating wildfires in southern California and uncharacteristically heavy rainfall could create the perfect storm for a super bloom.
The wet season, which stretches from November to March, has ushered in the steady yet not-too-heavy rainfall that encourages flowers to bloom, Mark Mendelsohn, biologist with the National Park Service's Santa Monica Mountains National Recreation Area, told Newsweek.
And over the weekend, "remarkable" levels of rain covered areas that host wildflowers in southern California, Professor Richard Minnich, an expert in the state's vegetation at University of California, Riverside, told Newsweek.
"Many deserts are soaked and there is now a much greater chance for a 'super bloom,' especially those areas that received high rainfall totals," he said. That includes the Coachella Valley, Anza Borrego State Park, and the Joshua Tree National Park. Already, the hillsides close to Riverside are resplendent with orange poppies.
Mendelsohn continued: "Add fire and ample rains together, and you get a one-two punch of germination stimulation!" Wildfires, he explained, can prime the ground for impressive wildflower displays because the heat and smoke can causes seeds to germinate.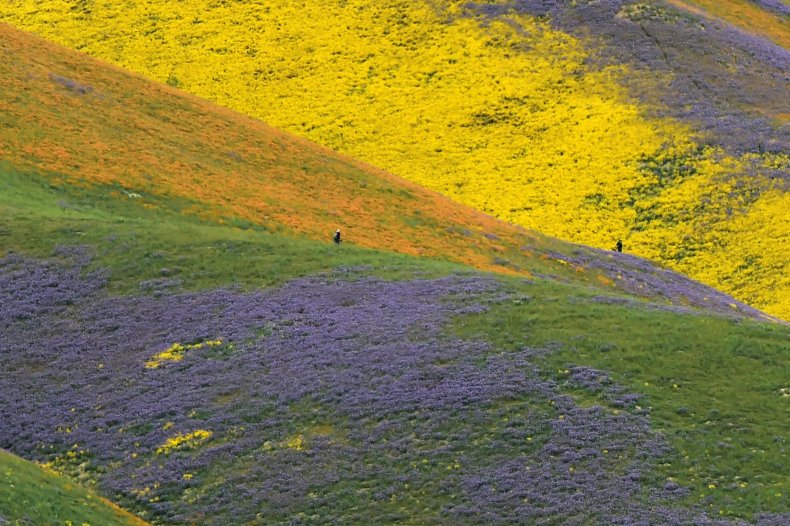 Typically following a fire, blankets of the lupine, phacelia, poppy, popcorn-flower, lily, snapdragon, and sunflower groups of plants as well as carpets of morning glory and wild cucumber can appear in the spring, according to Mendelsohn. By the end of March and April, they should be thriving: particularly in canyons where fires burned most intensely, as well as the burned rolling hills and flat grasslands. Promisingly, the slopes and fields of the Santa Monica Mountains are currently seeing a "green-up," he said.
"We can't yet say for sure, but everything is lining up for that! [a super bloom]," Mendelsohn said, adding the Santa Monica Mountains could see some plant types that haven't been spotted in some years. "We hope that we'll have a desert super bloom like we did in 2017," he said. That year, the spread of flowers across Southern California was so dense they could be seen from space, and prompted thousands of visitors to flock to national parks.
Thanks to similar weather conditions in Arizona and after the remnants of tropical storms caused intense rain in the fall, wildflowers have also been given a head start in the deserts near the Colorado River where there is an unseasonably "strong bloom" according to Minnich.
Michelle Thompson chief of Communications at the Arizona State Parks and Trails told Newsweek the park manager at Picacho Peak State Park has spotted blooms better than most seen at the park over the past 15 years. As the "showstopping" sights unfold, first bladderpods, Mexican poppies, chuparosa, globemallow, and brittlebush will appear, followed by cacti species, according to a statement by the Arizona State Parks and Trails.
Jim Bremner, who runs the DesertUSA.com website which celebrates the plants and animals which inhabit the country's natural barren landscapes, thinks conditions at parks and lakes, particularly in the Phoenix and Tucson area, are looking good this year when it comes to the blossoming of wildflowers.
But even if there is a spread of flowers worthy of the term superbloom—although Mendelsohn says there is no exact definition—catching the peak is another game of educated guesswork.
In many areas, flowers are at their most impressive in March and April, depending on the altitude, says Minnich. But the shows in the Santa Monica Mountains, for instance, last longer than the desert which can die away after a week or two, said Mendelsohn. Spreads in Arizona can even run into June.
And excited flower fans shouldn't lace up their hiking boots and pick up their cameras just yet, warned Bremner. "The weather can change everything," he said. "A cold spell, a hot spell or a dry spell can stop a bloom in its tracks."
If you do head out, be careful and stick to official trails. The California Department of Parks and Recreation, for example, urges visitors to the Antelope Valley California Poppy Preserve to avoid walking among and trampling the delicate organisms. Doing so "leaves a scar for years to come," it warns. Look after yourself, too, by drinking plenty of water and wearing hiking shoes.
California
Santa Monica Mountains
According to Mendelsohn, the Paramount Ranch; Cheeseboro and Palo Comado Canyons; and Upper Las Virgenes Canyon Open Space Preserve are some of the best spots for wildflower-watching in the Santa Monica Mountains. But as an area which saw its share of destruction from the Woolsey Fire, head to Malibu Creek State Park park— considered the jewel of the Santa Monica Mountains—for the "crème de la crème display of flowers," he said.
Anza-Borrego Desert State Park
Already, some of the 92 different plant families which inhabit the 600,000 park in southeastern California have popped up, according to the Anza-Borrego Foundation conversation non-profit. By the second week of March they should be in full bloom.
Antelope Valley California Poppy Preserve
When conditions are right at the Antelope Valley California Poppy Preserve to the west of Antelope Valley to the north of Los Angeles county, the area is carpeted with the state's flower, according to The California Department of Parks and Recreation.
So-called belly flowers like slender keep fruit and forget-me-nots are opening up to the park's east. But remember, selfies and photos in the flowers are banned to protect the tiny inhabitants. And be sure to check the forecast before heading out as it can be changeable and windy during the spring. Once in bloom mid-morning before retreating again in the late afternoon and evening, or when it's cold.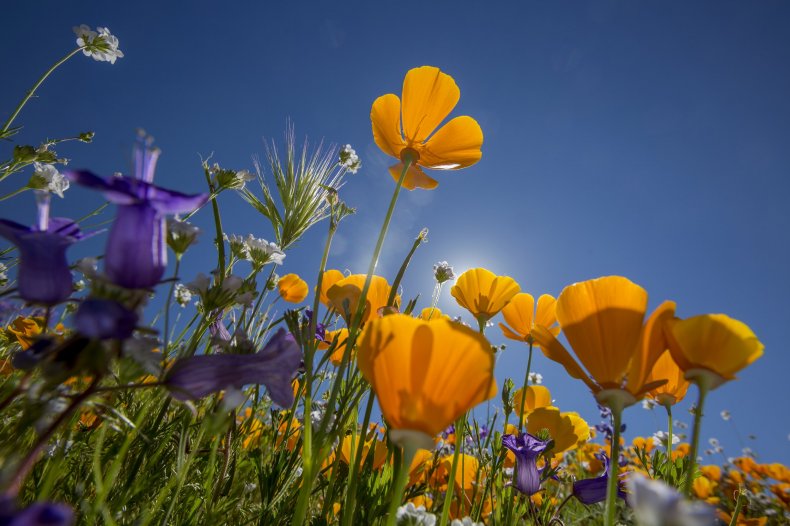 Mojave Trails
"The unique geography of Mojave Trails and numerous micro-climates within the monument support a variety of different plant life," explained Samantha Storms of the spot in San Bernadrino County. Due to the rain in fall and winter, the Bureau of Land Management has already noticed more vegetation in the area. Storms predicts "a potentially amazing spring wildflower bloom."
Joshua Tree National Park and Death Valley National Park
If it doesn't get too hot before April, according to Bremner, Joshua Tree National Park and Death Valley National Park could have a modest display. An update on the Death Valley website on February 3 warned it is "very unlikely" there will be a superbloom this year, but there will be colourful plants in lower elevations.
Carrizo Plain
Storms said this spot in southeastern San Luis Obispo County is popular among wildflower enthusiasts, and Bremner believes the plain could see a large bloom rivalling the sumptuous displays of the past.
Arizona
Picacho Peak State Park, Lost Dutchman State Park, and Catalina State Park
In late February and early March, these are the best state parks to spot bursts of yellow, red, orange, blue, or purple flowers, according to Thompson. At Picacho Peak State Park, one of the best locations in the state, the mountainsides will blush with Mexican poppies, purple lupine, pink globemallow, and yellow brittlebush. And the sight in Lost Dutchman is set to be "phenomenal," according to Arizona State Parks and Trails. Catalina often has the latest blooms of a variety of plants, from flowers to shrubs and cacti.
Alamo Lake State Park, Red Rock State Park, and Oracle State Park
As the season progresses, Thompson recommends visiting these state parks. Head to Alamo for brittlebrush flowers skirting hills and lakes, while higher elevated Red Rock will be dotted with wildflowers as late as May and June.