'Super Mario 3D World + Bowser's Fury' Release Date Time: When Can You Download?
The first big Nintendo Switch exclusive is Super Mario 3D World + Bowser's Fury, a re-release of the 2013 Wii U classic that comes with an extra added bonus.
Bowser's Fury will bring the 3D platforming goodness from the original game, but with an extra story titled, well, Bowser's Fury. You may have already seen the epic trailer that dropped in January that it gives players full 3D control of Mario and lets you take on a powered-up Bowser.
This Bowser is so bad and frightening that even Bowser Jr. is asking Mario for help. Use your special cat powers, especially that Super Saiyan-esque transformation, to take down Bowser.
If you're wondering when and how to download the upcoming Mario game, you can head over to your local Burger King or continue reading.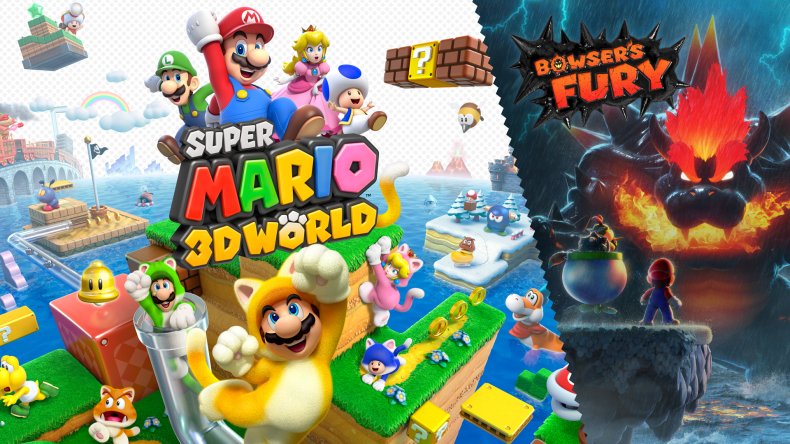 WHEN CAN YOU DOWNLOAD BOWSER'S FURY?
Super Mario 3D World + Bowser's Fury will be released Friday, February 12, but as with past Nintendo titles, the exact timing can be difficult to pinpoint.
According to the official Nintendo support page, certain games will be available to play starting at 12 a.m. ET on the game's release date. It also states that some third-party titles won't be available until 3 a.m. ET on their release dates.
Super Mario 3D World + Bowser's Fury is a first-party title, so it should appear in the Nintendo eShop as soon as possible. However, certain releases have not been readily available at exactly 12 a.m. ET. We suggest being patient, as it will usually appear not long after midnight.
We'll update this section if we get confirmation or more information on the exact timing of the release.
HOW TO DOWNLOAD BOWSER'S FURY
To download any Nintendo title, including Super Mario 3D World + Bowser's Fury, players must enter the Nintendo eShop with a strong internet connection. Usually, new titles are featured on the front page, but buyers can manually search for the title as well.
Once you've purchased, you will be able to download the game promptly onto your Nintendo Switch.
WHAT'S NEW IN BOWSER'S FURY?
Since Bowser's Fury is a re-release, Nintendo has given the title some upgrades for players to enjoy.
In the original Super Mario 3D World part of the game, characters move faster and the dash powers up more quickly. Both adventures support the new Snapshot Mode where players can pause the action to get the perfect shot, apply filters, and decorate with stamps.
As for the Bowser's Fury portion of the game, players will become Mario as he arrives on Lake Lapcat and is confronted with a rampaging Bowser. They will join forces with Bowser Jr. and venture through an interconnected cat-themed world. Players can also team-up with a friend as Bowser Jr. to help take down big Bowser.
Super Mario 3D World + Bowser's Fury will be available exclusively on Nintendo Switch starting Friday, February 12.
Are you excited about the release of this game? Let us know your favorite Mario game in the comments section.