'Super Mario Bros. 35' Release Time: When You Can Download New Battle Royale Game
When Nintendo announced what it would be offering for Mario's 35th anniversary no one expected a battle royale game featuring the famous plumber.
Yea we got the announcement of the Super Mario 3D All Stars collection featuring three of Mario's greatest adventures from the N64, and Gamecube eras, and Nintendo's attempt to make Mario Kart a toy/video game hybrid, but being able to compete against others in Super Mario Bros. stages is something that has fans intrigued.
Super Mario Bros. 35 is similar to the popular Tetris 99 in a lot of ways. Players will be matched up with 34 others to compete to see who is the last Mario standing. Enemies defeated will be sent to other players' courses and vice-versa. Players can also activate special items to try and outpace their opponents.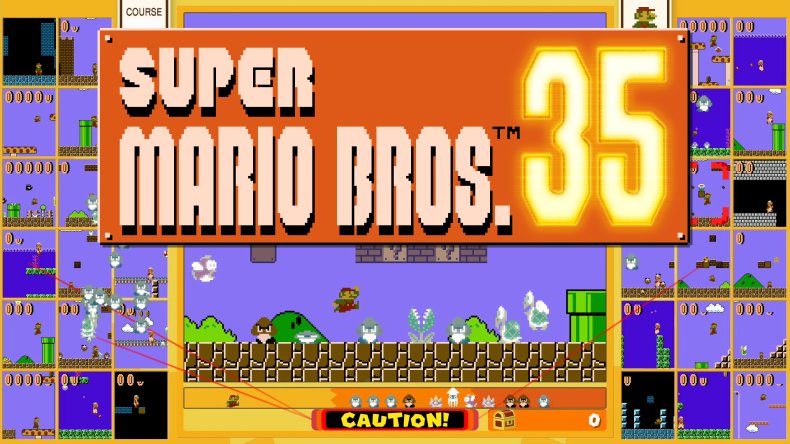 WHAT TIME WILL PLAYERS BE ABLE TO DOWNLOAD SUPER MARIO BROS. 35
Super Mario Bros. 35 is available starting Thursday, October 1. According to Nintendo's official support page, games show up on the eShop varies on the publisher, but since this title is coming directly from Nintendo fans can expect it as soon as possible.
So when is that? Well, the support page states that digital-only games will "usually be available at 12 p.m. EDT on the day of release."
That means don't worry about staying up to midnight on the release date to try and download this Mario battle royale game, it likely won't be available.
However, it should be noted that this digital-only title will be available only until March 31, 2021 for Nintendo Switch Online members so if you're not a subscriber you may want to consider it.
HOW TO SIGN UP FOR NINTENDO SWITCH ONLINE
To sign up for Nintendo Switch Online, gamers will need to go to the official Nintendo site and log-in using your account.
Select "sign up" and you'll be asked to choose your membership options: $3.99/month, $7.99 for three months or $19.99 for a year. Nintendo offers a free seven-day trial, but will need you to input a payment method as this service has an auto-renewal feature.
After you've done that, you'll be signed up for Nintendo Switch Online. You'll also want to download the official app in the Nintendo eShop to gain access to NES/SNES games as well as other goodies.
Are you excited to play Super Mario Bros. 35? Let us know your thoughts on this new game in the comments section.