'Super Smash Bros. Ultimate:' Sakurai Explains Why Kirby Survives
When the World of Light Adventure Mode was announced for Super Smash Bros. Ultimate, fans were perplexed by Kirby's ability to avoid being taken by the enemy when the other Smash fighters couldn't.
There's plenty of theories out there, but series producer Masahiro Sakurai confirmed why he and his team selected the pink puffball to survive the attack and be players first character in Super Smash Bros. Ultimate 's adventure mode.
In a Famitsu column - via Nintendo Everything - Sakurai admitted he is a bit biased towards Kirby as he was the one who created the IP. However, the Smash team went through a process of elimination to figure out from a planning and story standpoint who would be the sole survivor.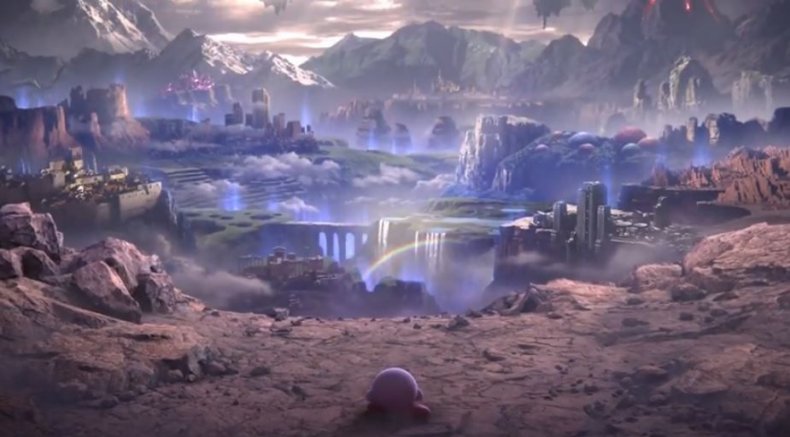 Sakurai said that the sole survivor had to have a means to escape that the others didn't. Trying to outrun the attack wouldn't be enough, and even teleportation wouldn't work. However, Kirby's Warp Star has the ability to warp, allowing the character to cover the greatest distance in the shortest amount of time.
If you were wondering why characters like Palutena and Bayonetta couldn't survive the attack, considering their heavenly/witch powers, Sakurai has an explanation for that too. In the case of Bayonetta, she couldn't escape into Purgatorio as the attack also reached that realm and turned everyone there into Spirits. Palutena couldn't call upon her abilities as Hades and the other deities of Kid Icarus had also become Spirits.
Sakurai also took into account Kirby's low character difficulty. Characters like Bayonetta and Palutena are tough to learn, especially if Super Smash Bros. Ultimate is a player's first time playing a Smash game.
The producer also confirmed that physical versions of Super Smash Bros. Ultimate will need to download a day one update. It's unclear what the update will include but there's mention in the column of replays de-syncing.
Super Smash Bros. Ultimate is set to release Dec. 7 for Nintendo Switch.
What do you think of Sakurai's comments on Kirby? Who will be your main when Smash Ultimate comes out? Let us know in the comments section below.