'Super Smash. Bros Ultimate': 'Halo's' Master Chief Ruled Out As Game's Last Fighter
The final DLC for Super Smash Bros. Ultimate will be unveiled later today and fans are eagerly waiting to find out which franchise will be crossing over with the popular game next. While there are many viable possibilities, the team behind Halo have claimed that you will not be seeing Master Chief wading into the fray on this occasion.
For context, Super Smash Bros. Ultimate is a fighting game in which characters from various different franchises go toe-to-toe. At launch in 2018, players could choose from 74 unique fighters, including the likes Mario, Pikachu, Kirby and Samus.
Over time, additional characters have been added to the roster via a steady stream of DLC packs. For instance, Sephiroth from Final Fantasy VII made his debut in December 2020, the Banjo-Kazooie duo were added in 2019 and even Steve from Minecraft has stepped into the arena.
These incremental add-ons have increased the number of playable fighters in Super Smash Bros. Ultimate to a staggering 81, but there is still room for one more. On that note, Nintendo has announced that the last DLC character for the game will be confirmed later today (October 5), via a livestream broadcast.
Master Chief Ruled Out As Last 'Super Smash Bros. Ultimate' Fighter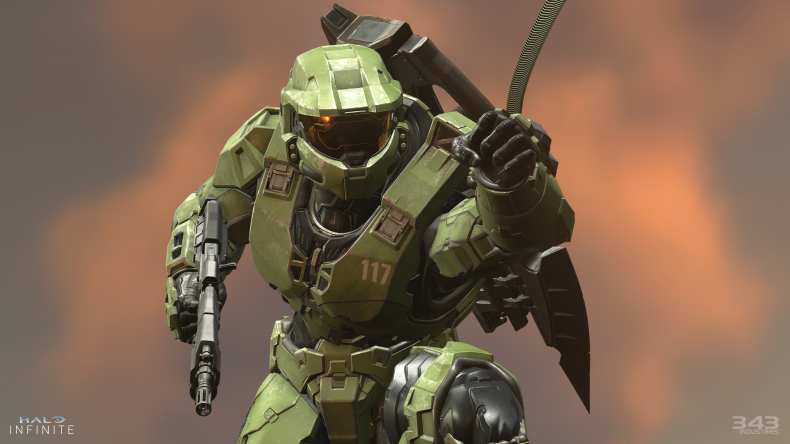 With this being the grand finale, many are hoping that the upcoming DLC will feature a character from a major video game property. Speculation is running rampant online, with fans guessing that it could be anyone from Sora (Kingdom Hearts) to Crash Bandicoot.
One character that we can seemingly rule out, however, is Master Chief. According to 343 Industries' community manager, John Junyszek, there is no planned Halo content on the cards for Super Smash Bros. Ultimate.
Junyszek recently shared a tweet that read: "The last Smash bros fighter is a character from the last game you played." His retweet was accompanied be the enigmatic caption "Maybe One Day," followed by "aka not happening, but would be sick."
Although Junyszek did not explicitly state that Master Chief will be a no-show today (after all, he didn't specify that Halo was even the last game he played) that is how it has been interpreted online.
Junyszek then provided further clarity in the associated thread and verified that he is unaware of any collaboration being in the works. He responded to one fan asking if he would really know about the existence of such DLC, and how much communication there is between Nintendo and Halo developer 343 Industries.
Junyszek's reply was as follows: "We do crossovers all the time (Sea of Thieves, Fortnite, etc.). With cool partnerships like these, both teams (us and them) work closely to ensure the crossovers fit naturally within their universe while staying true and respectful to the original designs."
While this seemingly puts the issue to bed, some fans have construed Junyszek's tweets as sly misdirects and are clinging to the hope that they may yet see Master Chief fighting alongside Donkey Kong and Yoshi.
How To Watch the Final 'Super Smash Bros. Ultimate' Fighter Reveal
You will not have to wait long to find out if Junyszek is withholding information, as Nintendo will be revealing the last DLC fighter for Super Smash Bros. Ultimate this morning.
The announcement will be made in a livestream broadcast at 10 a.m. ET. You can watch it on Nintendo's official YouTube account here.
After revealing the DLC character, the livestream will then proceed to give an overview of their moves and abilities, in an extensive video walkthrough.
Meanwhile, if you are really keen to step into the shoes of Master Chief again, rest assured that the Spartan commando will be returning in this year's Halo Infinite.