'Superstore' Canceled: Cast React As They Film Final Episode
Superstore will close its doors this month after six seasons, with its one-hour series finale set to air on Thursday, March 25. At the end of February, however, the show finished filming that finale, meaning that for the cast the show is already over.
The last few days have seen the cast say goodbye to Cloud 9 on social media, and well as paying tribute to the fans that have helped the show run for over 100 episodes.
Leading the tributes to the show was Jonah actor Ben Feldman, who actually released his goodbye message on the day before filming wrapped, alongside an image of him at a Zoom table read.
On Instagram, he wrote: "Tomorrow is the last day I'll play Jonah Simms. No hugs goodbye, no see you at the wrap party, no awkward drunk conversations at the bar. The past year has been a lonely time especially when you're celebrating, mourning, commemorating, saying goodbye.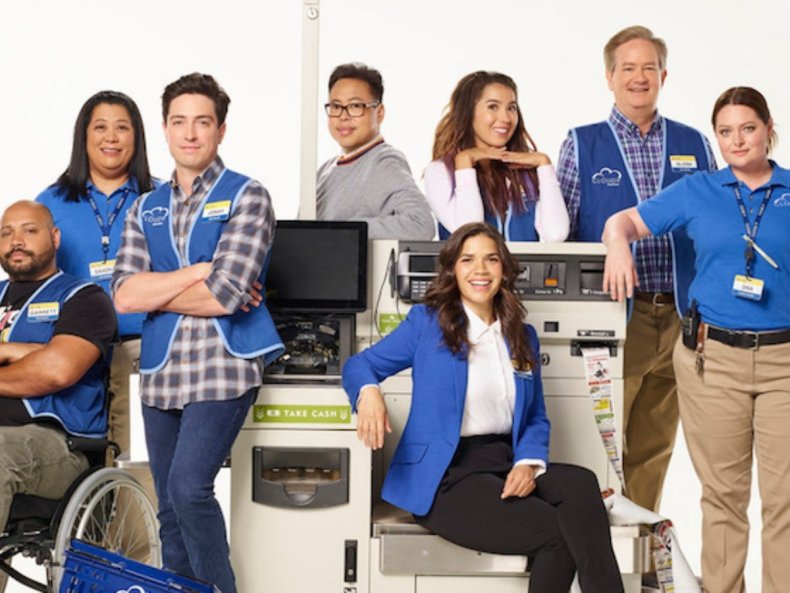 "I think we're all probably done taking other people for granted. It's almost as if other people are the only thing that actually matters. I like to think in the end, that's what Superstore was about.
"I'm gonna miss these other people dearly. But I know I'll see them again. In person. This is a picture of me in my trailer 'at' our final table read. When it was over, I clicked a button and everyone just disappeared."
Among those replying to his post was recurring star Steve Agee, who played Isaac in a dozen episodes of the NBC show. He too said it was strange ending a show in the pandemic, writing, "I hated wrapping in December and not being able to hug any of you. Congrats on a great run."
Dina actor Lauren Ash, meanwhile, wrote a long post to say goodbye to her fellow cast members. She wrote in part, "once in a very magical while, stars align, and you get the chance to be a part of something different.
What I learned in the past six years is that, with the right people, (the warm, genuine "non cold or fake" kind of people), the stability you can never truly find in this job, can actually be found within each other."
She also played tribute to many cast members by name, including star America Ferrera who left the show at the start of the season. She wrote, "It's Ben catching himself saying something he knows people are going to jump on him for. It's one of those times I get Mark [McKinney] to really laugh.
"It's the sparkle in Nico [Santos]' eye right when he's about to break in a scene. It's catching eyes with Kaliko [Kauahi] and communicating without a word. It's Colton [Dunn] and I planning the best prank of all time. It's Nichole [Sakura] always being an open ear for me when I'm going through it and offering such wisdom."
Sandra star Kaliko Kauahi, meanwhile, had a slightly less sentimental post on the final day of shoting. Alongside an image of the onset restrooms, she wrote, "Last day. I will miss this place."Colton Donn (who plays Garrett), meanwhile, wrote simply "Final shoot day."
Superstore Season 6 continues Fridays at 8 p.m. ET / 7 p.m. CT on NBC.