'Superstore' Series Finale: Why Did Amy Leave the NBC Show?
Superstore is coming to an end on NBC, with the network airing a two-part series finale on March 25. As teased in the previous episode, this finale will see the return of America Ferrera as Amy, who only left the show earlier in Season 6 but has returned to say goodbye to Cloud 9.
Previously, the plan had been for the finale of Season 5 to be Ferrera's exit from the show. However, when that season had to finish early due to the coronavirus, the Ugly Betty actor agreed to return to give her character a proper send-off. Now, just 13 episodes later, she is back to give the show a send-off.
A fortnight before the finale was scheduled to air, Ferrera revealed on her Instagram she was set to return. She wrote, "Surprise! Amy's back! So glad I got to play with my @nbcsuperstore family for the big series finale. It was a joyful and bittersweet goodbye that we can't wait to share with our amazing fans."
This came just five months after she had said her last goodbye to the show. In October 2020, she wrote on her Instagram, "The last five years on Superstore have been some of the most rewarding, enriching and enjoyable years of my career. Producing, directing and acting with this wonderful cast and crew has given me opportunities to grow as a person and storyteller.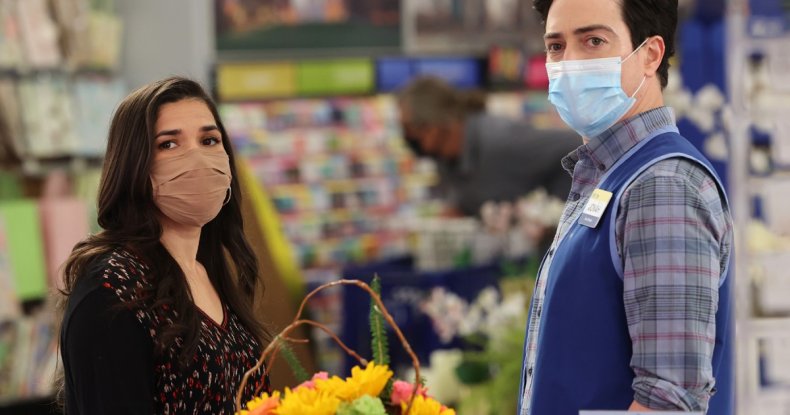 "I'm so grateful to my partners at NBC and Universal Television for the support and belief they have always placed in the show, and I'm most thankful to the brilliant Justin Spitzer for creating the funny, smart and relevant world of Superstore and inviting me to be a part of it."
She added: "As I start the next chapter for my family and career, I wish only the best, and much continued success, to my beloved Superstore family."
News of her exit first broke in March 2020, two months before she gave birth to her second child.
Ferrera's new chapter has already been a busy one for the Emmy and Golden Globe winner. The day before the finale of Superstore is set to air, she revealed that filming had wrapped on Season 2 of Netflix hit Gentefied has co-produced and directed. In February, it was also announced that she was set to make her film directing debut with I Am Not Your Perfect Mexican Daughter, also for Netflix.
As for why her character left within the show, she exited Cloud 9 after being offered a job at the store's parent company Zephra, meaning she had to move to Palo Alto.
In Superstore Season 6, Episode 13, meanwhile, the character was called by floor manager Cheyenne (Nichole Sakura) after she learned that Zephra may be planning to close the store.
Amy's return, of course, means that fans may get the romantic closure they want between Amy and Jonah (Ben Feldman). Executive producer Gabe Miller said of this in a TV Insider interview: "What you want to do in a series finale is let the viewers who have come to love and care about these characters know that they're going to be OK and [will stay] in each other's lives."
The Superstore series finale airs Thursday, March 25 at 8 p.m. ET / 7 p.m. on NBC. All six seasons are streaming now on Peacock and Hulu.