Support for Supreme Court Term Limits Grows, Survey Shows
Americans are increasingly more likely to say they support a term limit for justices on the U.S. Supreme Court over lifetime appointments, according to a C-SPAN survey released Tuesday.
The survey of more than 1,000 likely U.S. voters found 69 percent of respondents said they support 18-year terms for justices, including 38 percent who said they "strongly prefer" such a limit. Meanwhile, 17 percent said they favor the current lifetime appointments, with just 7 percent saying they "strongly prefer" it. C-SPAN conducted the poll with Pierrepont Analytics.
In a similar survey C-SPAN conducted with the consultancy firm PSB in 2018, 63 percent of respondents supported 18-year term limits, while 22 percent said they favored lifetime terms.
The survey comes ahead of Monday's expected start of confirmation hearings for Ketanji Brown Jackson, President Joe Biden's nominee to the Supreme Court. Since presidents tend to nominate justices for the Court who are young enough to serve many years on the bench, Jackson's age (51) is seen as an asset. She follows three recent additions to the court—Amy Coney Barrett (50), Brett Kavanaugh (57) and Neil Gorsuch (54)—who were about the same age as Jackson when they were confirmed.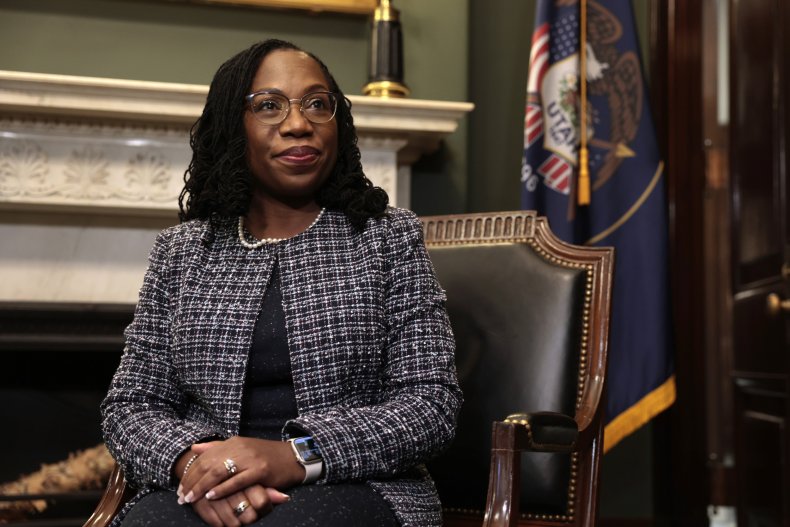 C-SPAN's new survey also had 84 percent of respondents saying Supreme Court decisions have an impact on their everyday lives as citizens. Eleven percent of respondents disagreed with that statement, while 5 percent said they don't know.
When quizzed about naming current Supreme Court justices, more respondents (24 percent) were able to name Clarence Thomas compared with any other judge. Twenty-two percent were able to name John Roberts, 17 percent identified Sonia Sotomayor, and 15 percent named Kavanaugh. Fewer respondents were able to name Barrett (13 percent), Stephen Breyer (11 percent), Elena Kagan (9 percent), Gorsuch (7 percent) and Samuel Alito (7 percent). A full 48 percent of respondents didn't respond to the survey question.
Roe v. Wade was by far the most popular answer when respondents were asked to name a case decided by the U.S. Supreme Court. Forty percent could name the case, in which the Court decided that the Constitution protected a woman's right to an abortion, while the second most identifiable case to respondents was Brown v. Board of Education, at 6 percent. In Brown, the Court ruled that state laws allowing racial segregation in public schools are unconstitutional. Forty-six percent answered "don't know" when asked to name a case.
When asked if they believe the court was a partisan institution, 46 percent of respondents said they feel it is "split into parties, similar to Republicans and Democrats in Congress." Meanwhile, 17 percent said the court acts "in a serious and constitutional manner."
A full 65 percent of the U.S. voters polled said the Supreme Court should allow television coverage of its oral arguments. Seventy percent of respondents agreed with the statement that allowing TV coverage would build trust in the Court's process and its rulings.
Only 46 percent of respondents were aware that the Supreme Court provides audio recordings of their oral arguments. Fifty-four percent incorrectly said audio recordings are not made available.
Sixty-one percent said they have closely followed news about Biden's nominee, though only 28 percent could identify Jackson. Another 15 percent reported that they knew the nominee is a Black female.
Newsweek contacted the Supreme Court's public information officer for comment but did not hear back in time for publication.