Black voters have become significantly more enthusiastic about the 2022 midterm elections after President Joe Biden nominated Judge Ketanji Brown Jackson to the Supreme Court last month, according to a new poll.
In a survey released this week by Morning Consult and Politico, 49 percent of Black voters said they are "extremely" or "very" enthusiastic about voting in the upcoming elections. That marks a 12 percent increase since early February, when only 37 percent of Black voters expressed election enthusiasm ahead of Biden's announcement.
The president officially nominated Judge Jackson to the Supreme Court on February 25, and if confirmed, she will become the first Black woman to ever serve on the high court.
"President Biden sought a candidate with exceptional credentials, unimpeachable character, and unwavering dedication to the rule of law. He also sought a nominee—much like Justice Breyer—who is wise, pragmatic, and has a deep understanding of the Constitution as an enduring charter of liberty," the White House said in a press release.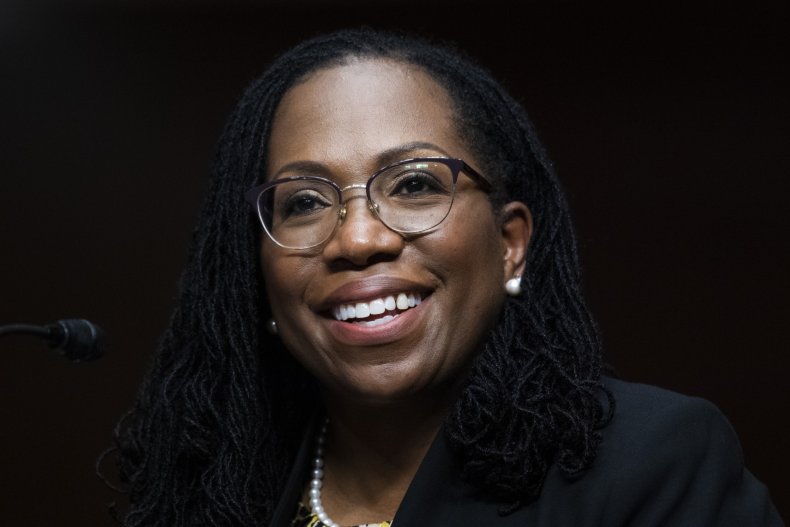 Biden previously vowed to nominate a Black woman to replace outgoing Justice Stephen Breyer, arguing that it's been "long overdue" for the court. Judge Jackson would only be the second Black justice to currently serve on the court, and the third in U.S. history.
She has had a notable history as a judge and currently serves on the U.S. Court of Appeals for the District of Columbia. Before that, she served for 8 and a half years as a district court judge in DC after being nominated by former President Barack Obama.
In one of her most well-known cases, she ruled that former White House counsel Donald F. McGahn II had to testify about Donald Trump's alleged attempt to sabotage Robert Mueller's investigation into Russian election interference, famously writing that "presidents are not kings."
Her nomination has been met with mixed reviews across party lines, with Democrats largely favoring her for the court, while Republicans have expressed skepticism. Overall, her nomination has appeared to bring excitement to Democratic voters.
According to the Morning Consult/Politico poll, 55 percent of all Democratic voters are now likely to be enthusiastic about the midterm elections, marking a rare 3 percent increase from Republican voters. Nearly 70 percent of Black voters also said they now approve of Biden's job performance, up 7 points since before Judge Jackson's nomination.
"With her exceptional qualifications and record of evenhandedness, Judge Ketanji Brown Jackson will be a Justice who will uphold the constitution and protect the rights of all Americans, including the voiceless and vulnerable," Democratic Senate Majority Leader Chuck Schumer said in a statement.
The latest poll was conducted on March 4 through 6 using a representative sample of 2,005 registered U.S. voters. The margin of sampling error is plus or minus 2 percentage points.