Supreme Court Lawyer Says Trump Will Be Impeached, Won't Even Be on 2020 Ballot
Thought leaders from the CEO of Wikipedia to Edward Snowden gathered in Lisbon, Portugal on Monday for the 2019 Web Summit, an annual tech conference that brings together experts from a variety of fields to discuss emerging innovations and current events. On Day 2 of the summit Tuesday, three of the assembled great minds debated the prospect of regime change in the United States, with former Acting Solicitor General of the United States Neal Katyal telling the audience, "I don't think Trump will be on the ballot next year, I think he will be impeached."
The lawyer's "strong words" received "huge applause" from the audience, summit attendee and DW News journalist Jordan Wildon noted in a tweet.
Katyal was speaking on a panel with Joe Pounder, CEO of Bullpen Strategy Group; Brittany Kaiser, co-founder of Own Your Data Foundation and Tim Alberta, the chief political correspondent for Politico. The panel, titled "One year out: Will Trump be re-elected?" was part of the summit's "Centre Stage" programming. Exactly one year ahead of the 2020 presidential election, panel members spoke on data, trends, and gut reactions to predict what is "dubbed by many as the election which will define a generation."
Wildon shared more panel highlights in a Twitter thread, where he noted that Pounder rebutted Katyal's claim, saying that "Trump will get re-elected." Pounder also argued that "A lot of the narratives are very much contained in the D.C. echo chamber." Katyal, a high-powered attorney who broke a record set by Thurgood Marshall for the largest number of cases argued before the Supreme Court, asserted that the president was caught red-handed "by soliciting foreign help."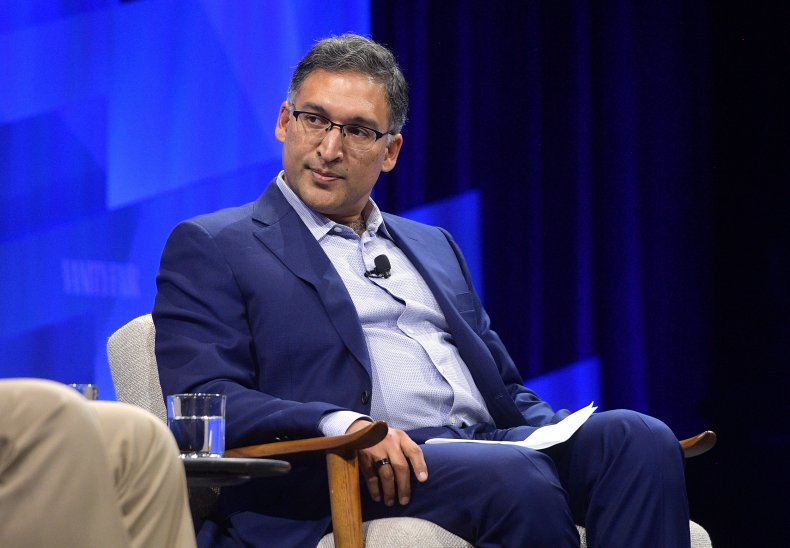 Katyal has vocally supported Trump's impeachment for a long time. On October 4, he tweeted that a text message exchange between U.S. Special Envoy to Ukraine Kurt Volker and Ukrainian government officials "shows impeachment is constitutionally required," calling the evidence brought forward against Trump, "Damning and sad."
According to Wildon, Kaiser, a former director at Cambridge Analytica's parent company, fell somewhere in the middle, asserting that Trump's re-election depends really on how many people actually get out and vote. Wildon tweeted that Kaiser "suggests that not many voters are sure if they're even going to vote."
The panel closed with each panelist making their predictions for 2020. Pounder and Katyal each stood by their original points. Pounder believed Trump would be re-elected, and Katyal said, "No, even if he's on the ballot." Kaiser tipped the scales, saying she also did not think the president would be re-elected.
Katyal and Pounder were also scheduled to speak at a later panel called, "Donald Trump has been a successful president." The summit schedule showed them in discussion with NBC TV Group Managing Editor for Politics Dafna Linzer to assess Trump's accomplishments. The event encourages attendees to "Come and hear two US political experts argue it out and then you can make up your own mind."