Surfside Building Collapse Death Toll Rises to 12, Mayor Announces New Body Found
The death toll in the Surfside building collapse has risen to 12, as Miami-Dade County Mayor Daniella Levine Cava announced on Tuesday that search-and-rescue workers located a new body in the rubble.
Crews have been working 24 hours a day for the last six days, Cava said, ever since the Champlain Towers South condominium building partially collapsed around 1:30 a.m. last Thursday morning. As of June 29, 149 individuals remain unaccounted for.
The mayor said that she, detectives and other officials have been auditing a full missing persons list. It has been difficult, she added, because information about missing individuals often comes from alternate sources, including friends, neighbors and family members, both in the U.S. and abroad. Some missing people also go by multiple names, adding to potential confusion.
Locals missing family members have begun providing DNA samples to help identify relatives found in the wreckage. Some family members have also gathered near the collapse site to shout messages in hopes that their relatives might hear them. However, the chances of finding survivors reduce with each day.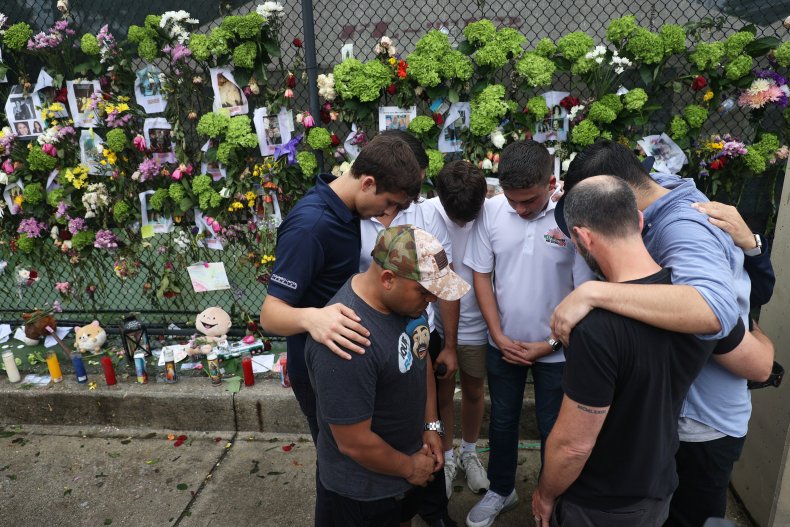 During a Tuesday press briefing, Cava said that 50 agencies with over 900 personnel were helping with search efforts and aiding loved ones. The agencies included departments of environmental resource management, public works, first responders from the local fire and police departments as well as the Federal Emergency Management Agency
Task force members from Israel and Mexico have also assisted in the efforts. The building and surrounding area have many South American, Central American, Spanish-speaking and Jewish residents, Cava explained.
Cava also added that over 20 different community organizations have helped provide services at an expanded Family Assistance Center near the collapse site. The site has three psycho-trauma therapists to help people affected by the collapse.
At least one scam site has appeared in an apparent attempt to steal funds from people looking to donate to local relief efforts, Florida Division of Emergency Management Director Kevin Guthrie said during Tuesday's briefing. Guthrie encouraged people to donate through local organizational websites or through the United Way of Miami-Dade.
Investigators still haven't determined the cause of the collapse. Democratic President Joe Biden has promised a federal probe into the cause. He is set to visit the collapse site on Thursday.
A 2018 report found that the building had "major structural damage." A former maintenance manager said he had previously reported concerns over saltwater in the building's garage, which can corrode concrete.
A 2015 lawsuit against the building's owner said that the owner "failed to repair or negligently repaired the common elements and the outside walls of the building."
Newsweek contacted Cava's office for comment.