Surfside Condo Demolished 10 Days After Collapse, 121 Still Missing
The remaining structure of a partially collapsed condominium building in Surfside, Florida, was demolished late Sunday night, just 10 days after the initial disaster and amid a grueling effort to search for more than 120 missing residents.
The upright portion of the Champlain Towers South building was intricately filled with detonated charges to bring the building down just after 10:30 p.m. ET on Independence Day. This was after parts of the building first collapsed in the middle of the night on June 24. The decision to demolish the rest of the building came quickly on Saturday, as authorities warned that strong winds from Tropical Storm Elsa would likely cause the structure to dangerously fall on its own in the coming days.
"The fear was that the hurricane may take the building down for us — and take it down in the wrong direction, on top of the pile where we have victims," Surfside Mayor Charles Burkett said on Saturday.
By Saturday evening, rescue teams paused their efforts to find survivors, as authorities rushed to take measurements of the standing structure, and demolition crews drilled holes to fit explosives into the concrete columns of the first and second floors. Miami-Dade Fire Chief of Operations Ray Jadallah said that the demolition would allow rescue workers to access new areas that have not been searched on the west side of the pile and in the underground garage.
Miami-Dade Mayor Daniella Levine Cava said that rescue efforts would continue Sunday as soon as the demolition site was deemed safe and clear. Authorities estimate that could take anywhere from 15 minutes to an hour.
"We will begin search and rescue on any sections that are safe to access as soon as we are cleared," Levine Cava said during a Saturday evening press briefing.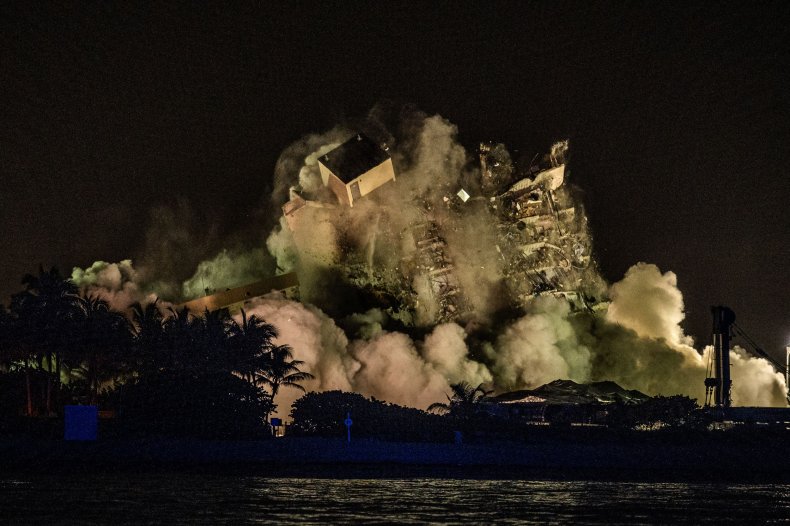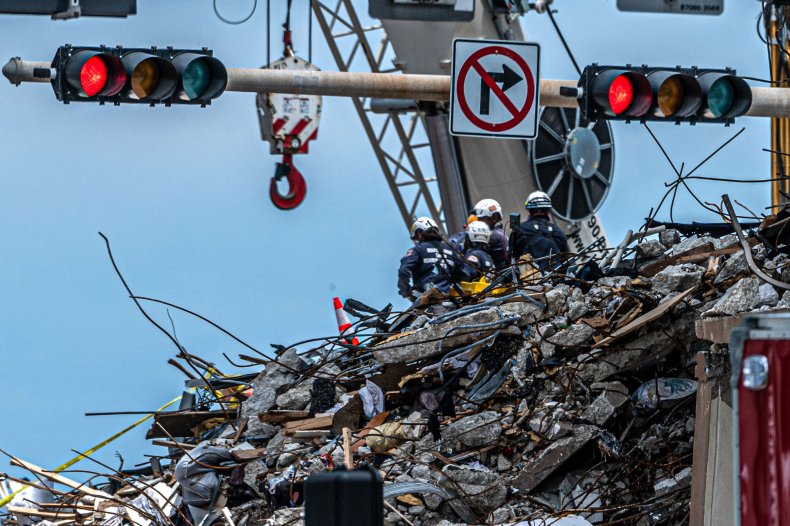 Over 350 first responders have tirelessly searched for survivors after the 12-story oceanfront condo came crashing down on June 24. So far, at least two dozen people have been confirmed dead from the incident while 121 residents still remain unaccounted for.
The dramatic rescue efforts have been complicated throughout the week by inclement weather, spontaneous fires and unstable conditions across the site. First responders have sifted through piles of concrete, steel and rubble in intense heat and rain as family members and friends of residents anxiously await the news for remaining survivors.
Most of the 188 people who have been accounted for and escaped the building alive grappled with the idea that they would never return to their former homes to retrieve their belongings as the remaining part of the building was destroyed.
"They are going to basically have to start all over again," Michael Capponi, the president of nonprofit Global Empowerment Mission, told the Associated Press. "Some of them don't have insurance, and they've lost everything they worked all their lives for."