Ukrainian Survivors Recount Horror of Russia's 'Genocidal' Deportation
Ukrainian survivors of forced deportation to Russia have told Newsweek of the confusion and terror of what leaders in Kyiv and international human rights groups have described as an ongoing campaign of genocide.
Up to 1.6 million Ukrainians are believed to have been forcibly deported from their homes by occupying Russian forces since February 24, according to the U.S. Ambassador to the United Nations Human Rights Council Michèle Taylor.
Among them are hundreds of thousands of children, according to figures from Russia's own defense ministry. Many, according to several reports and admissions from Russian officials, are being adopted by Russian families.
The "evacuations," as Russian authorities term the mass relocations, are ongoing, for example in southern Kherson as Ukrainian troops prepare to make a fresh push for the city.
Some 45,000 residents of the eastern port city of Mariupol were among the first to be forced through Russian "filtration camps" and out of Ukraine in the first weeks and months of Moscow's invasion.
The city was largely destroyed in the battle and subsequent siege. The ultimate civilian casualty remains unknown, but some estimates put the toll in the tens of thousands. Those living in Mariupol on February 24 found themselves thrust into the chaos of Europe's most intense conflict since World War II.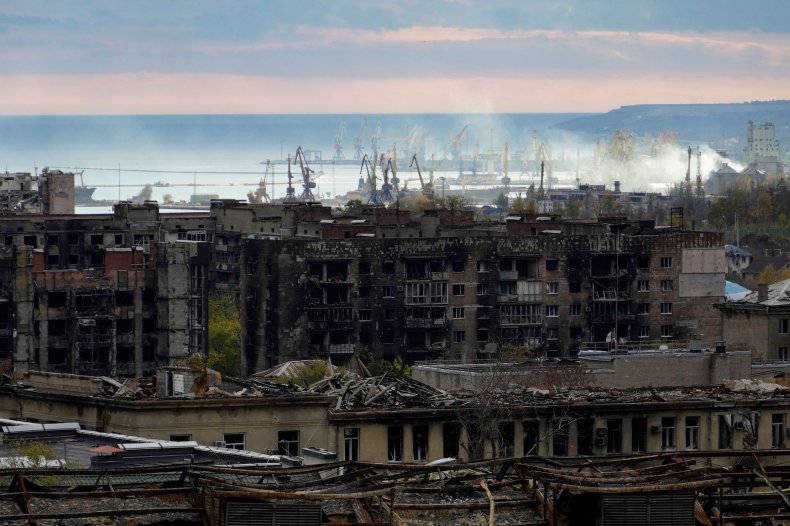 Vlad—a 25-year-old process engineer who did not wish to share his full name due to security concerns—had returned to Mariupol in late December 2021 from a stint working in the U.K. He had been renovating his newly purchased apartment in the city, waking early on February 24 to the sound of shelling. Later that day after realizing the danger, he left for the outskirts of the city.
"It was scary in the city, especially when planes were flying; there were a lot of them," Vlad told Newsweek from Germany, where he now lives. "It was not always possible even to smoke quietly on the street. The smell of the soot from the burning city and the black sky was everywhere."
The fighting in Mariupol was intense. Illia Bruiev—a 19-year-old student now living in Luxembourg—told Newsweek he witnessed Russian artillery firing "24 hours a day as if they were not aiming. There were many cases of shells falling where there were civilians and no active fighting, as well as three hits on the building basement where we were sitting."
Illia, his father, mother, and 10-year-old brother siphoned water from boilers to survive, sheltering for two months in basements before emerging. "Everyone was shocked by Russia's indifferent attitude, which literally turned the city into ruins," Bruiev said.
Some Mariupolians watched the devastation from afar. Natalia Kaluzhskaya left the city for France shortly before the war with her husband, seeking treatment for his worsening diabetes. Her 82-year-old mother Elena Nikolaevna—born in Kyrgyzstan and a survivor of Soviet purges and World War II—stayed behind.
Nikolaevna lived through two weeks of intense shelling. "She was no longer afraid of explosions, but of being left alone in the ruins," Kaluzhskaya told Newsweek.
During a break in one bombardment, Nikolaevna took a bag full of important documents and water, and went outside to look for help. The first person she met was a Chechen soldier, part of the invasion force. "He led her to the checkpoint where there was a bus and civilians," Kaluzhskaya said.
Leaving Mariupol
Heavily armed and combat-hardened Russian troops gave surviving residents little option but to leave.
"There was a choice: either you go where you want with your car, or we load you onto buses and take you to special camps for refugees," Bruiev recalled. His family's car had been destroyed, but they feared that if they boarded the buses they would be taken deep into Russia and be unable ever to return.
"We refused buses and they gave us a choice: you could stay in the burnt city or walk. We called a relative who picked us up from the border with Russia in Novoazovsk." The relative provided safe haven for Bruiev's family for the duration of their time in Russia.
Those who did board the deportation buses got little information. "There was no resistance," Vlad said. "At school when studying the history of famous Ukrainian writers, I did not fully understand why and how they were sent into exile. Having survived Mariupol, I fully realize how it is."
Russian interrogators combed the displaced—especially men—for signs of military service or loyalty to the Kyiv government. "They questioned literally everything about you," Bruiev said.
"I also made a mistake when I said that I was studying at the Kyiv National University—in their opinion Kyiv is all Nazis, how could I even want to go there? After that the mood changed dramatically.
"They took away phones and looked at literally everything, even browser histories and deleted photos. I cleared everything before this, which gave them doubts about me and I was scared to death that they would restore everything. But in the end I got away with it."
Vlad went through two filtration camps in Ukraine and three interrogations in Russia. "The FSB, the GRU, DPR [Donetsk People's Republic] police, Russian customs, Russian police; they all interrogated me," he said.
The FSB, Russia's main intelligence agency, is the successor of the Soviet Union's KGB, while the GRU serves as the country's military spy agency.
"They undressed me to find tattoos or bruises from a machine gun," he said. "There was no fear... We miraculously survived and escaped from a burning apartment, slept in a cold basement on pipes, I did not feel my legs because they were frozen, I had not eaten normally for a very long time... I didn't care anymore.
"When I was told during the second interrogation that I would be forced into the DPR army, I thought, 'Do whatever you want. If they give me a machine gun, I'll kill 10 people before they kill me.'"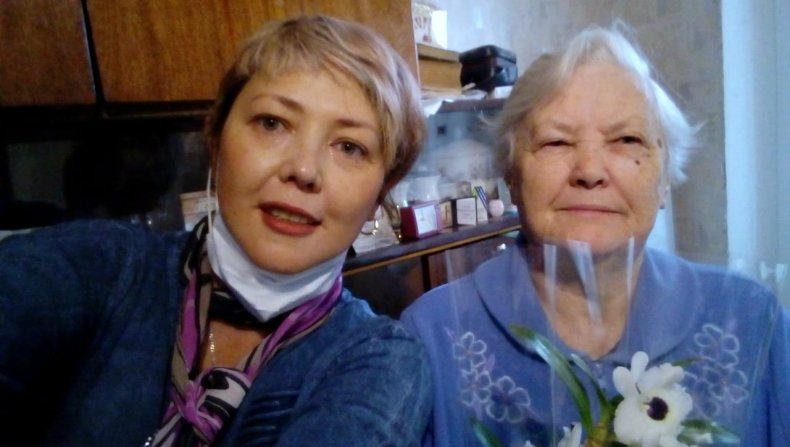 Escaping Russia
Vlad was taken first to the city of Taganrog, some 30 miles from the border with Ukraine, where he was housed for two days in a sports complex with more than 500 others. From there, he was transported to a camp in the Yaroslavl region northwest of Moscow. During his two weeks there, Vlad allied with a group of six other detainees and fled with them west to the border with Estonia.
"We were kept at the border for four hours or so," he recalled. "I was very lucky, the guy who interrogated me was very nice, and spoke to me with respect. I even complimented him...this was my fifth interrogation."
Bruiev and his family also crossed the Estonian border after around a week in Russia. They traveled via train to St. Petersburg and then by taxi, all paid for by their Russian relatives. "The fear that we might not be allowed out of Russia haunted us until we crossed the border," he said. "It was a very strong moment of joy when we finally did it."
But not all deportees had the means to flee. Nikolaevna is still in Russia, her daughter said.
"I could not get through to her until July," Kaluzhskaya said, when some Russian journalists gave Nikolaevna a cell phone allowing her to communicate with her daughter through the Viber app.
Her mother had been sent through Donetsk and transferred to a train, given the choice between continuing to the southern city Astrakhan some 500 miles from Ukraine to be "taken care of" or to "get out and leave Russia on your own."
"She went to Astrakhan as she was sick and coughing a lot, she was weakened," Kaluzhskaya said. In September, Nikolaevna was issued a Russian passport and was paid a small sum of money by the government. It is unclear whether she will ever be able to leave, though she "dreams of returning to Mariupol," Kaluzhskaya said.
Those who managed to escape west bear the scars of their experience. "My brother is quite young and this had a very bad effect on his psyche, but now he is being treated by a local psychotherapist," Bruiev said, adding he hopes to finish his college studies online and one day return to Ukraine when he has the means to do so.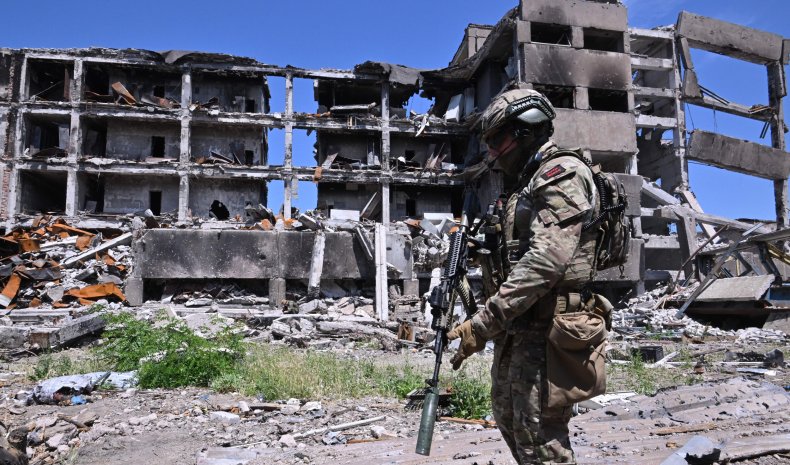 Russia framed its invasion as a liberation of eastern Ukraine, a reforging of the bond between two Slavic peoples long united by transnational empires. But the brutality of the assault and occupation have left little warmth for the "Russian world" among those forced from their homes.
"I already had a rather bad attitude towards them because they annexed our territories and often tried to hurt us with this, shouting 'Crimea is ours,' 'Donbas is ours,' and all that stuff," Bruiev said. "But still, I had good friends from Russia with whom I talked. After the invasion, I stopped communicating with everyone."
Vlad said of the occupiers: "I did not know that it was possible to be so stupid, to be so afraid, and believe in low-grade propaganda nonsense...All they can do is destroy."
"If they are not stopped in our country, they will go further to Moldova, Lithuania, Latvia, Estonia, Poland, and further into Europe," he said. "These people cannot be corrected and they will never be corrected."
Russian occupation authorities are already tearing down what is left of Mariupol. The true scale of the death and loss there will likely never be fully known. The city—and its stubborn defense by the Ukrainian army, marines, and Azov Battalion—are already a powerful rallying cry for Ukrainians in their fight.
Kaluzhskaya is among those who hope some light can come from the devastation. "86,000 people died," she said. "My best friend and her husband died, and many other good friends.
"The evil that my eyes have seen cannot be understood or imagined. Only by sowing and creating goodness and love can this evil be overcome. I try not to allow hatred in my heart."
Do you have a tip on a world news story that Newsweek should be covering? Do you have a question about the war in Ukraine? Let us know via worldnews@newsweek.com.