Susan Collins Calls Biden's Handling of Supreme Court Nomination 'Clumsy at Best'
Senator Susan Collins called President Joe Biden's handling of his Supreme Court nomination "clumsy at best."
After Supreme Court Justice Stephen Breyer announced his retirement last week, Biden doubled down on his pledge to nominate a Black woman to the nation's highest court in what would be a historic first. While many praised him for the potential progress in diversity, some have criticized the president for considering race and gender in his nomination.
Collins, a centrist Maine Republican, has long been a key swing vote for Supreme Court nominees. She has a history of crossing party lines to vote for judicial nominees during the Biden era.
She said while appearing on ABC News' This Week Sunday that she supports Biden nominating a Black woman to the court and would be open to voting in favor of "whomever he decides to nominate," adding she will decide based on their qualifications.
"I would welcome the appointment of a Black female to the court," she said. "I believe diversity benefits the Supreme Court."
But she still offered criticism of the way Biden has handled the nomination.
"The way that the President has handled this nomination has been clumsy at best," she said. "It adds to the further perception that the court is a political institution like Congress, when it is not supposed to be."
If Democrats lose a single vote on Biden's nominee, Collins could become a key player in the process given her track record of voting for Biden's nominations to lower courts.
She previously urged Democrats to take their time with the process after Majority Leader Chuck Schumer said he anticipated a "fair process that moves quickly."
"I felt that the timetable for the last nominee was too compressed," Collins told reporters on Thursday. "This time, there is no need for any rush. We can take our time, have hearings, go through the process—which is a very important one. It is a lifetime appointment, after all."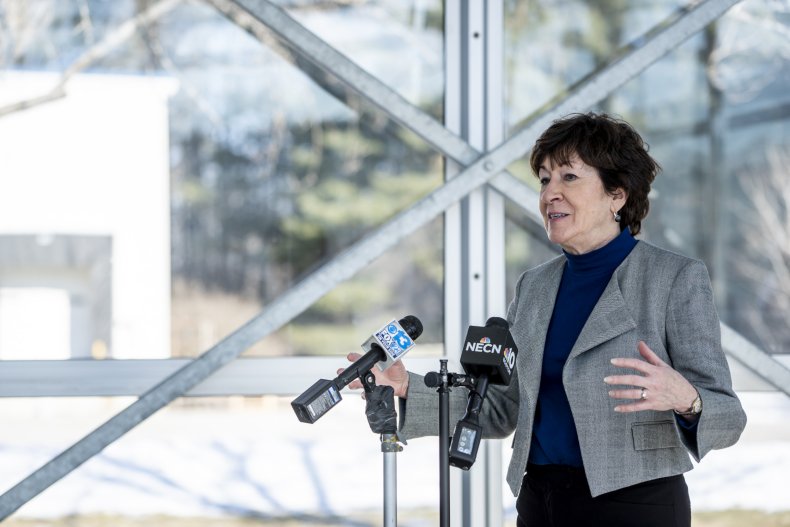 Collins was one of only three Republicans to vote in favor of confirming Judge Ketanji Brown Jackson, one of Biden's top picks for the court, to serve on the U.S. Court of Appeals for the District of Columbia Circuit last year.
She also joined Democrats in voting against Supreme Court Justice Amy Coney Barrett, a nominee of former President Donald Trump, due to the vote's proximity to the 2020 presidential election.
Newsweek reached out to Senator Collins' office and the White House for comment Sunday morning. This story will be updated with any comment.