Susan Collins Condemned by Maine County Over 'Self-Serving' Impeachment Vote Against Trump
Senator Susan Collins, a Maine Republican, has been condemned by a county in her state over her "self-serving" vote to convict former President Donald Trump in his impeachment trial last month.
Collins joined six other Republican lawmakers to vote Trump was guilty for inciting the January 6 assault by his supporters on the U.S. Capitol. Five of the seven Republicans—Senators Bill Cassidy of Louisiana, Ben Sasse of Nebraska, Lisa Murkowski of Alaska and Pat Toomey of Pennsylvania—have faced censure from their respective states' GOP over their conviction votes. Senator Mitt Romney of Utah has not been censured, and the Maine GOP will consider a censure motion against Collins on Saturday.
Ahead of the state GOP meeting, Maine's Aroostook County Republicans condemned Collins for her vote against Trump. The local Republicans described the Senate trial as "illegal" and blasted Collins' decision as "purely self-serving, vindictive and punitive." The Bangor Daily News first reported the county GOP's censure resolution.
"The Aroostook County Republicans vigorously condemn the vote put forth by Senator Susan Collins in her support leading up to and including the final vote for the impeachment of a former sitting President, President Donald J. Trump, over the incidents that took place at the US Capitol on Jan 6, 2021," the county GOP wrote in its censure resolution against the lawmaker.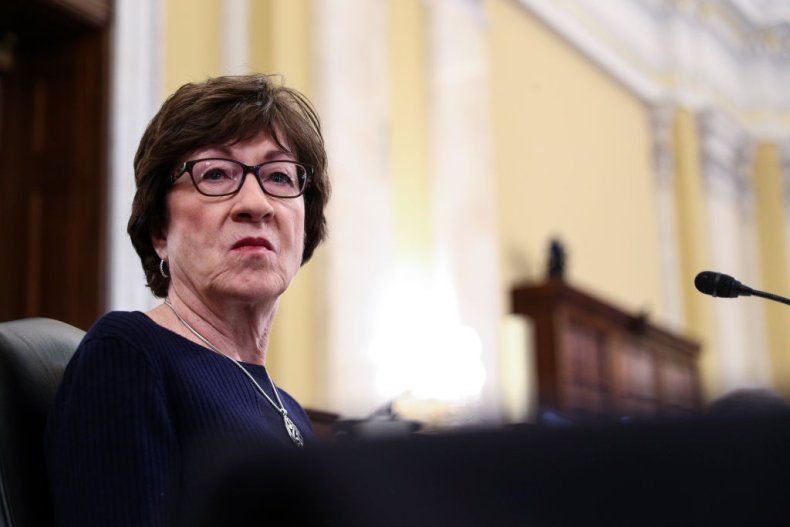 The GOP argued that Collins and the other Republican senators' votes undermine "the conservative and ethical values promoted by the Aroostook County Republicans and the Maine Republican Party and as demonstrated, is a purely self-serving, vindictive and punitive action by those establishment political objectives."
"My vote was based on my duty to uphold the Constitution and to render impartial justice, rather than on partisan political considerations. I have cast three votes on presidential impeachments; each time I voted based on the Constitution, the evidence, and my conscience—not my party affiliation," Collins wrote in a statement to Newsweek.
With a 57-43 vote, the conviction vote against Trump marked the most bipartisan presidential impeachment trial decision in U.S. history. However, it still failed to reach the high constitutional thresholds of a two-thirds majority, which would have required 10 more GOP senators to join their Democratic colleagues and vote against a president of their own party.
"That attack [on January 6] was not a spontaneous outbreak of violence. Rather, it was the culmination of a steady stream of provocations by President Trump that were aimed at overturning the results of the presidential election," Collins said in a Senate floor speech at the conclusion of Trump's trial on February 13.
"Instead of preventing a dangerous situation, President Trump created one. And rather than defend the constitutional transfer of power, he incited an insurrection with the purpose of preventing that transfer of power from occurring. Whether by design or by virtue of a reckless disregard for the consequences of his actions, President Trump, subordinating the interests of the country to his own selfish interests, bears significant responsibility for the invasion of the Capitol," the senator said.
Just before the attack on the Capitol, Trump participated in a rally near the White House, where he repeated his false claims that President Joe Biden and the Democrats had "stolen" the election. The president urged his supporters to "fight like hell" to keep him in power and told them to march to the Capitol. Hundreds of pro-Trump rioters went on to do just that—breaking into the legislative building and beating police. Five people died in the assault.
Although Trump and his supporters continue to claim that the election was stolen by Democrats, there is no evidence to back this claim. Dozens of election challenges filed by the former president and his supporters were rejected in state and federal courts—including by judges appointed by Trump and other Republicans.
Former Attorney General William Barr, who was widely viewed as one of Trump's most loyal Cabinet members, said in early December that there was "no evidence" of widespread voter fraud that would change the election's outcome. In November, the Cybersecurity and Infrastructure Security Agency, which is overseen by the Department of Homeland Security and was led by a Trump appointee, asserted that the election was "the most secure in American history."
But polls show that Republican voters remain largely in favor of the former president. Most also view Republicans who voted against Trump as "disloyal."
This article has been updated with additional comment from Senator Susan Collins.