Susan Collins Slammed for Touting 'Rapid Progress' on Gun Reform
Republican Senator Susan Collins of Maine is receiving online backlash for saying on Wednesday that lawmakers have made "rapid progress" on gun legislation talks.
Her comments came after a bipartisan group of members of Congress met to discuss measures to address gun violence in the wake of recent mass shootings like the massacre at an elementary school in Uvalde, Texas, on May 24. In that incident, a shooter identified by authorities as Salvador Ramos, 18, reportedly used an assault rifle in the killing of 21 people—including 19 children—before he was killed by law enforcement.
Following Wednesday's meeting, Collins shared her optimism about the talks.
"We are making rapid progress toward a common sense package that could garner support from both Republicans and Democrats," Collins was quoted in a Wednesday tweet from CNN's Manu Raju.
The senator's comments were trending on social media on Thursday, mainly due to critical messages.
"Susan Collins believes guns have learned their lesson," Christopher Hahn, a pundit and former senior aide to Democratic Senator Charles Schumer of New York, wrote on Twitter.
Legal commentator Tristan Snell wrote, "Does Susan Collins keep getting conned? Or is she in on the con?"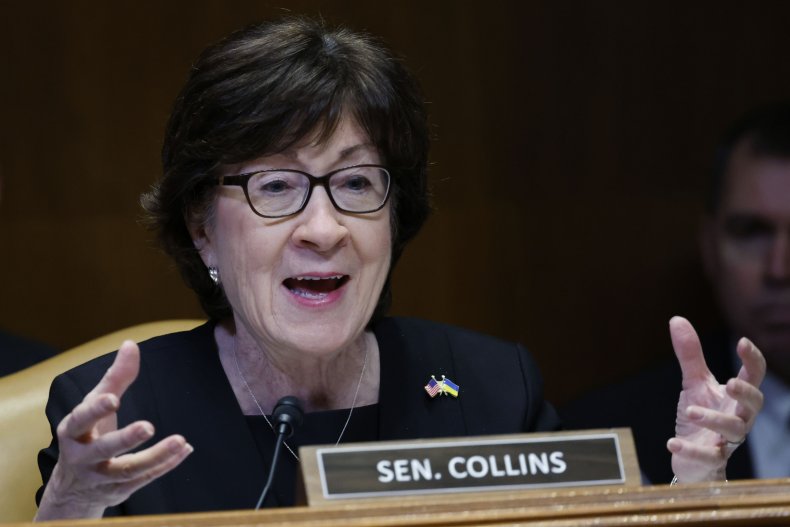 Collins was among the Republican senators who voted against a domestic terrorism bill introduced by Democrats last week following the Uvalde massacre. Her office said that she was working to possibly introduce separate gun safety legislation, the Associated Press reported.
In the past, Collins has supported other measures related to guns, including a 2013 piece of bipartisan legislation to expand background checks for gun purchases, Politico reported. She also once introduced legislation on illegal gun purchases and a bill to prevent people on terrorist watch lists from buying guns.
John Pavlovitz, a pastor known for progressive views, tweeted, "Susan Collins is a walking human appendix: just useless."
Majid Padellan, who is known as BrooklynDad_Defiant! on Twitter, said Collins "cannot be trusted."
Activist/writer Amy Siskind echoed that sentiment, writing, "Raise your hand if you trust Susan Collins (no one raises hand)."
"I have more faith in doors than Susan Collins when it comes to gun reform," said author Tony Posnaski.
The Maine lawmaker was also attacked by some right-wing voices, including the conservative author Nick Adams, who wrote: "Susan Collins is a RINO!"
Collins did have some defenders on social media, though. Writer Kimberly Morin said Collins shouldn't be criticized "for not just bending over to your draconian gun control—she's a senator of one of the SAFEST states in the country that has Constitutional Carry. She represents MAINE, not you idiots."
Collins also wasn't the only senator to express confidence about Wednesday's bipartisan meeting. Senator Chris Murphy, a Connecticut Democrat, indicated the talks went well during an interview with MSNBC.
"I've never seen more Republicans at the table willing to talk about changes to our gun laws than I do today," Murphy told the network.
Newsweek reached out to Collins for comment.