SVB Collapse Response Raises Questions About Student Loan Forgiveness
The federal government's response to the collapse of Silicon Valley Bank (SVB) has prompted some online to compare the situation to the student loan debt crisis.
SVB, a regional bank based in California's Silicon Valley tech corridor, collapsed on Friday after its customers initiated a run on their deposits. With reported assets of $212 billion before its collapse, it was the 16th biggest bank in the country and ended up becoming the second-biggest bank failure in U.S. history.
In the aftermath of SVB's failure, roughly $150 billion in deposits were left uninsured. On Sunday, the U.S. Treasury, the Federal Reserve, and the Federal Deposit Insurance Corporation (FDIC) jointly announced that the U.S. government would be backing deposits past the federally insured ceiling of $250,000 and that the bank's senior management would be removed. The agencies also claimed that the cost to backstop the deposits would not be borne by taxpayers, though the accuracy of this claim has been disputed.
The government has notably attempted to avoid using the term "bailout" when discussing its response to the SVB situation, a phrase potentially soured by taxpayer-funded bailouts given to large banks amid the 2008 global financial crisis. In the wake of the response, numerous people have taken to social media to ask why wealthier bank customers can get a bailout swiftly, while student loan forgiveness remains a politically divisive issue.
"Funny how no one worries the Supreme Court will overrule the executive branch's ability to hand out overnight bailouts to bankers and tech VCs [venture capitalists]," activist Max Berger wrote on Twitter. "The famous 'it's legal to help rich people, but illegal to help poor people' doctrine."
"Bankers and VCs? Get em their money back now!!" journalist Vince Mancini tweeted. "Student loan borrowers? Hmmm, I dunno, better wait to let the Supreme Court weigh in."
"But no #studentloanforgiveness of any kind right? Smh," author Sophia A. Nelson added in her own tweet.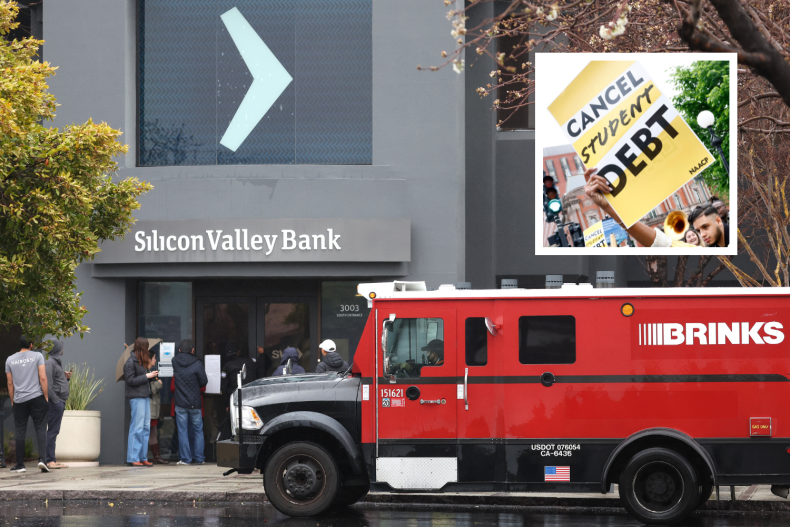 Having pledged to tackle the student debt issue on the 2020 campaign trail, President Joe Biden last year introduced a plan that would forgive $10,000-$20,000 in student loans for most borrowers. The plan has been held up in court, however, with six Republican-led states filing a lawsuit challenging it in court, arguing that it would be too costly and that Biden overstepped his executive authority in implementing it.
The lawsuit against the forgiveness plan is currently being argued before the Supreme Court, which has a 6-3 conservative majority. A decision on the matter is expected later this year.
Newsweek reached out to the White House press team via email for comment.
UPDATE 03/14/2023 6 a.m. EST: This article was updated to make it clear Silicon Valley Bank reported having assets of $212 billion before its collapse.