'SWAT': Why Was Kenny Johnson Missing from the CBS Show?
SWAT Season 4, Episode 12, streaming now on Paramount+, saw a familiar face return to the cast of the CBS procedural. In the episode, titled "U-Turn," Dominic Luca (played by Kenny Johnson) was reunited with Hondo (Shemar Moore) and the rest of the SWAT team.
This reunion came after the character spent most of Season 4 so far away from the rest of the team. At the end of Season 3, Luca was injured and required surgery on his hip. Then, he struggled to pass his fitness test, leaving fans worried that the character was set to leave.
He did, however, make some brief appearances in SWAT Season 4. The character appeared via video call from Germany in the premiere, and then had another call with the team a few months later before making his full return in "U-Turn."
Though the show explained why the character was away from the team, what was less clear was why Kenny Johnson was missing from the show in the first place. After fan speculation that he was appearing on The Masked Singer turned out to be false, fans were left wondering what had happened to the actor.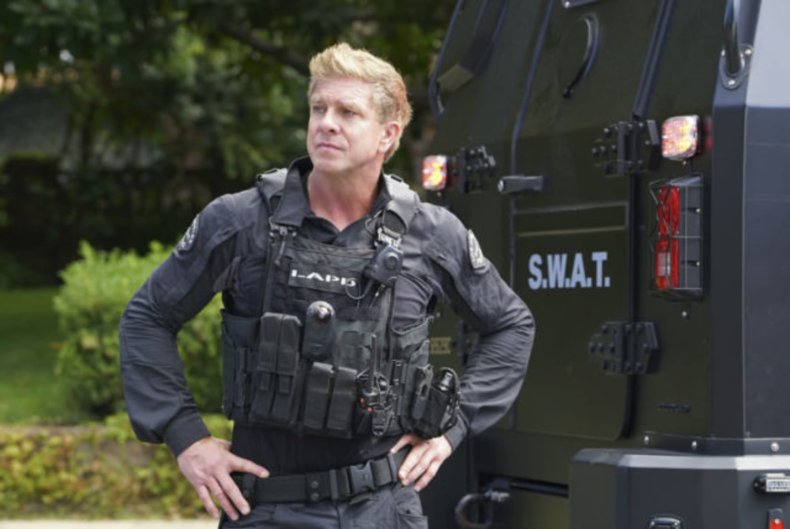 While the fictional Luca was dealing with an injury, Johnson's absence from the show came as he was engaged in legal action with Sony Pictures Television over an injury he claims he sustained in real life while being pulled through the air hanging off the landing gear of a helicopter while filming the show.
Filming for Season 4 of the show started in August 2020, just one month after Johnson filed his ruling. In real life, he also had surgery and underwent physical therapy for this injury.
This was revealed by the SWAT Writers Room Twitter account in April. They tweeted: "Gearing up to the 3-mile run scene was a real-life big deal for Kenny, who had just recently recovered from hip surgery. His hard work in physical therapy made it work."
Per his IMDb profile, Johnson was able to film a movie in the time he was off SWAT. He is among the cast of a horror movie named Howl that is now in post-production.
In early March, Johnson teased he would soon be returning to the show. He tweeted: "I'll be back in two episodes. I'm missed it like a part of my heart was missing. It actually ached." He had returned to the set of the show at the end of January.
In December, Johnson shared his uniquely SWAT method of recovering from his injury. In a tweet showing him on a shooting range, he wrote: "Swat training never ends. Trying to get better and make it fun...Luca is still in Germany training the Germans, Italians, and French."
SWAT Season 4 airs Wednesdays on CBS. Seasons 1 to 3 are streaming now on Hulu and Season 4 is streaming on Paramount+.