In Sweden, Once Lauded for Avoiding Lockdown, King Admits COVID Response 'Has Failed'
As Sweden's death toll from COVID-19 continues to rise, the Nordic country's monarch said its pandemic response strategy has fallen short in providing necessary protective measures.
Addressing the coronavirus and its ongoing impact on Sweden in a TV interview, King Carl XVI Gustaf said the mortality figures show an unsuccessful attempt at mitigation.
"I think we have failed. We have a large number who have died, and that is terrible," he said, according to the BBC. "The people of Sweden have suffered tremendously in difficult conditions. One thinks of all the family members who have happened to be unable to say goodbye to their deceased family members. I think it is a tough and traumatic experience not to be able to say a warm goodbye."
The king's comments follow roughly one month of spiking cases, and subsequent deaths, in Sweden. The nation of roughly 10 million has recorded 357,466 coronavirus infections and nearly 7,900 fatalities since the pandemic began in March, according to Johns Hopkins University data.
Both figures were significantly lower two months ago. In mid-October, after months of discernibly low transmission rates, the incidence of positive tests for the virus began to rise. Several weeks later, Swedish health officials were confirming additional daily cases in numbers four times as large as the country's previous records. Sweden's fatality toll began a steep upward trajectory around the same time.
The winter's accelerated outbreak pattern raised concerns about Sweden's virus management approach and called into question its efficacy. Sweden adopted a hands-off mitigation strategy earlier this year, declining to implement a stay-at-home order or mandate protocols, like mask wearing, to lower the risk of virus transmission. Instead, the country encouraged residents to exercise personal responsibility in interpersonal situations.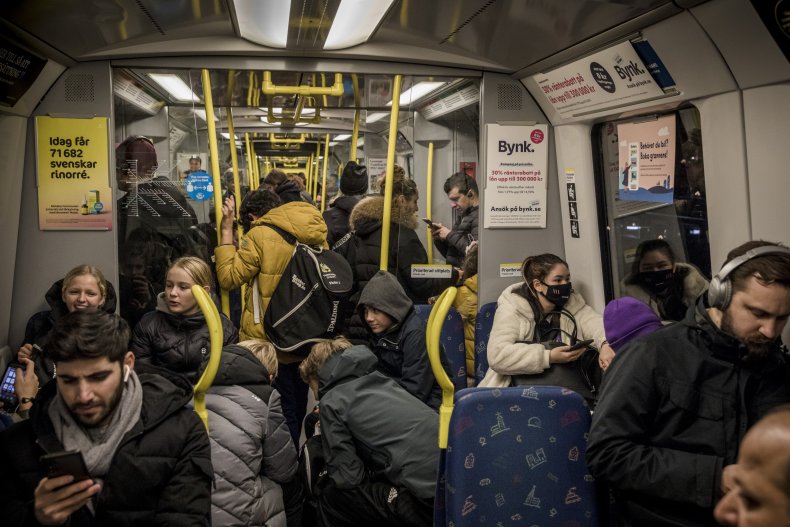 The controversial approach earned Sweden commendation from officials at the country's Public Health Agency, as well as the World Health Organization, when an extended lull in virus transmission seen throughout the summer and into the fall seemed to indicate that the nation had achieved some degree of herd immunity.
However, the spike that started to materialize toward year's end ultimately led experts to urge an amended set of management procedures, citing harrowing projections and rapidly depleting hospital bed vacancies. Health experts across Sweden recently called for increased restrictions on public gathering spaces, and even a temporary lockdown, to curb the virus's spread and its repercussions.
Newsweek reached out to the Public Health Agency of Sweden for comment but did not receive a reply in time for publication.