Obama Was 'Tormented' on Syria But Still Would Not Have Intervened Given Second Chance Says Ex-U.S. Envoy to U.N. Samantha Power
The former U.S. ambassador to the United Nations has said that President Barack Obama often lost his temper while discussing Syria when in office because he was "conflicted internally" about how to tackle the regime of Bashar al-Assad.
Samantha Power served as U.N. envoy from 2013 to 2017 during Obama's second term as president. In 2012, Obama had told journalists that any use of chemical weapons by Assad would cross a "red line" and Power was among those recommending that the U.S. act militarily following a chemical weapons attack in August 2013 in Ghouta, Syria, that the U.S. blamed on the Syrian government and said killed more than 1,400 people.
Instead, Obama struck a deal with Russia to remove Syrian stockpiles of chemical weapons which he touted as a way to get chemical weapons out of the country without having to initiate a strike.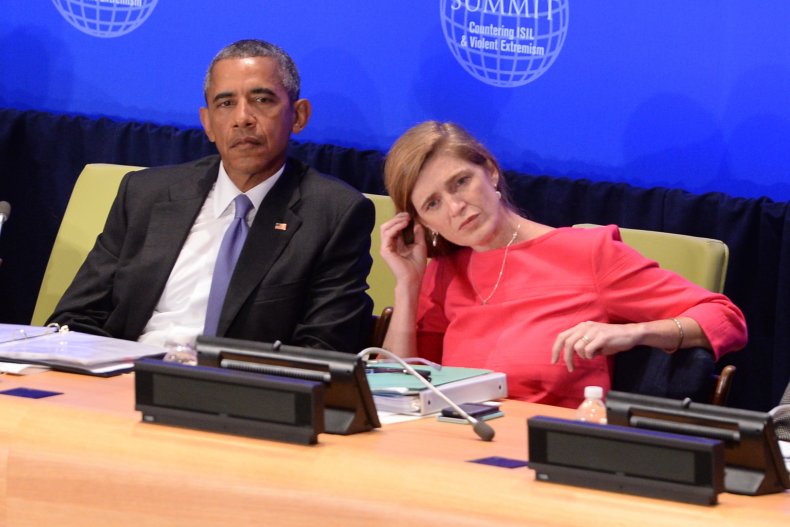 However, Obama's critics said this emboldened Russian president Vladimir Putin and Human Rights Watch says that since then, Assad's regime has still carried out dozens of chemical weapons attacks.
Last April, President Donald Trump, along with allies France and the U.K., launched missiles at Syrian targets after numerous foreign governments determined Assad's forces killed more than 40 people in a chlorine attack.
In an interview with Britain's Channel 4 News to promote her book The Education of an Idealist, Power was asked whether she thought that Obama's action was a mistake.
"Given how Syria has turned out, it's hard not to wish we had tried to incur more risk in the hopes of stemming the bleeding," she said.
When asked by host Jon Snow whether Obama's decision not to militarily intervene had led to Trump's "misbehavior in Syria," referring to Trump's widely condemned decision to withdraw U.S. troops, Power replied: "I think to lay that at Obama's doorstep would be very unfair."
"What he [Obama] would say is, 'Donald Trump carried out limited military action, and a few months later, they were using chemical weapons again,'" said Power.
"That the idea that limited military force of the kind that I and others were advocating would have resolved some of the structural issues or addressed the overall brutality of the Syrian regime, he would argue that that was wishful thinking."
Power said that, to this day, she and Obama still grapple with the consequences of that decision.
"My most difficult encounters with him were over Syria ... He would be dismissive in a way that normally he is not," said Power.
"He was so conflicted internally. It's not as if he hasn't gone over this in his mind and been tormented by it and I think the reason he lost his temper so often on that issue was because of that internal [conflict].
"I think if he had to do it all over again, probably he would do the same thing because his fears of entanglement, his sense that the American people were not with him, those beliefs have not changed."
Power also appeared to take a swipe at Trump by saying how important it is that the next president "believes that immigration is a strength."
"If you don't like what you see in terms of political polarization and you don't like the debasement of the office, and the financial enrichment that's been done on the backs of our most prized and cherished institutions, then you have got to activate," she said.