Syria's War: Six Years of Bloodshed, Violence and Destruction
What started with young men vandalizing the walls of a school with the words "It's your turn, Doctor Bashar al-Assad" in February 2011 has evolved into years of bloodshed, violence and destruction. Syria, the Arab Spring's greatest failure, is fast approaching its sixth anniversary on March 15.
The war, a battle for power between President Assad—a member of the Alawite sect of Shia Islam—Sunni rebel groups and radical Islamists, has given rise to a powerful Al-Qaeda affiliate, the Islamic State militant group (ISIS) and the biggest human exodus since World War II.
The protracted conflict, punctuated by failed negotiations and ceasefires, has left more than 300,000 people dead, forced 11 million to flee their homes, given birth to a humanitarian disaster unrivaled in the 21st century and, ultimately, extinguished the embers of democracy. Portions of Syria's ancient history lie in fragments, some of it looted or beyond repair, as does the country's largest cities, once hubs of business and tourism.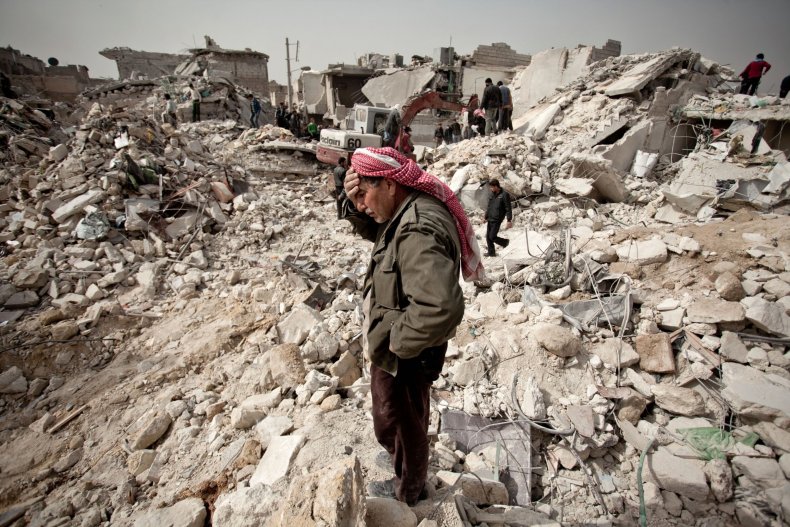 World and regional players have transformed the conflict into a proxy war, backing their respective sides as international diplomacy continues to falter. While Western nations and Gulf states provided indirect assistance to opposition groups, the direct intervention of Russia and Iran on the side of Assad shifted the balance of power. Where his seat of power in Damascus once looked vulnerable, the Syrian leader now holds all the cards.
Kurdish and Arab coalition forces, backed by the airpower of the U.S.-led coalition, are besieging territory held by ISIS in eastern Syria; at the international level, Russia has outmaneuvered Washington, working with Turkey to evacuate Aleppo and find a solution to the conflict with recognized opposition factions.
But how did we get here? Newsweek details Syria's descent into war, one that has transformed a people, a country, and a region, potentially forever.