For Syrian Refugees in Lebanon, Winter Brings Suffering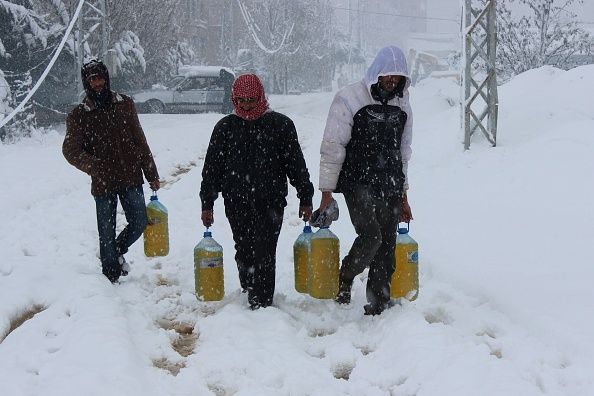 When an unexpected snowstorm hit Lebanon on January 1, it left hundreds of Syrian refugees already living in dire situations without power and wrecked hundreds of flimsy tents. Now, faced with the prospect of food shortages, thousands of Syrian nationals taking refuge in the country could be forced to leave their homes yet again in an attempt to escape the freezing winter conditions.
For many of Lebanon's one million Syrian refugees, this will be their fifth winter living in the settlements.
The New Year's Day storm, dubbed Vladimir, most intensely battered the eastern Bekaa Valley, isolating villages and cutting off more than 370,000 Syrian refugees from mountain roads, according to daily newspaper Ya Liban. During the snowstorm, people living in the northern region of Baalbek were left without power or heat for several hours and were cut off from food supplies, daily newspaper An-Nahar reported at the time. No one has died from the freezing conditions, yet.
In response, the U.N. Refugee Agency (UNHCR) has launched the Warm Their Hearts campaign to help 20,000 refugees trying to make it through the winter in inadequate shelters, including tents, insulated garages, basements and unfinished buildings. According to International Crisis Group's senior Lebanon analyst Sahar Atrache, "tens and thousands of refugees in the Bekaa Valley lack the very basic living conditions."
The aftermath of the storm, though, is just the beginning. "Syrian refugees still have to contend with numerous challenges and difficulties," Atrache tells Newsweek over email. "With the winter, they face the risks of seeing their tents flooded or destroyed by rain or wind. Heating remains one of the most important challenges, as most can't afford to buy fuel," she says.
The Middle East, and especially the Bekaa Valley, isn't unfamiliar with extreme winters. In January 2015, another snowstorm battered the area as temperatures plunged below -11 degrees Celsius (12 degrees Fahrenheit), The Wall Street Journal reported. Across Lebanon, which is host to the highest number of refugees per capita, eight refugees froze to death, including a Syrian mother of three and a 3-month-old baby girl, the International Federation of the Red Cross reported.
The UNHCR managed to provide more than 80,000 families with cash and fuel coupons prior to the storm, The Guardian newspaper reported at the time. But that still left hundreds of thousands of people with no help.
According to Atrache, one of the obstacles to getting supplies to the people who need them is the state's treatment of refugees, with Lebanese authorities impeding refugees' "internal mobility" and forcing them to live in social and economic hardship with no prospect of work or decent incomes. Overwhelmed by the number of people fleeing to its borders, Lebanon in January 2015 began restricting the number of Syrians entering the country by requiring them to obtain visas at the border.
Lack of funding is another problem, says Khairunissa Dhala, who works for refugee and migrants' rights with Amnesty International. "The international humanitarian response has been led by the United Nations," she says. "However its humanitarian appeal for the Syrian refugee crisis has been grossly underfunded year after year. This has meant that the needs of the refugees are largely unmet and the number of vulnerable refugees continues to increase."
Dhala would like to see more long-term solutions to stop snowstorms from bringing death and destruction to Lebanon. "Many refugees in Bekaa are living in flimsy tents which cannot withstand harsh weather conditions," she says. "Roofs need to be constantly mended and people are unable to afford fuel...The Lebanese authorities must allow for more permanent shelters to be built and sustainable solutions for Syrian refugees living in its territory."
In a country where the capital Beirut still experiences 25 power cuts a day, the forecast looks bleak for the thousands of Syrian refugees struggling through another harsh winter.