Taco Bell Shooting Sees Two People Killed in Alabama
Two people have reportedly been shot dead at a Taco Bell in Alabama on Thursday night.
Local media reported violence erupted following an argument, which ended with the suspect allegedly shooting dead two victims in the parking lot of the fast food restaurant on U.S. Highway 431 and Gunter Street in Guntersville.
Police Chief Jim Peterson has stated the prime suspect, who is male, is now in custody at Marshall Medical Center North, where he is being treated for non-life-threatening injuries.
Newsweek has contacted Guntersville Police Department and understands an active investigation is ongoing.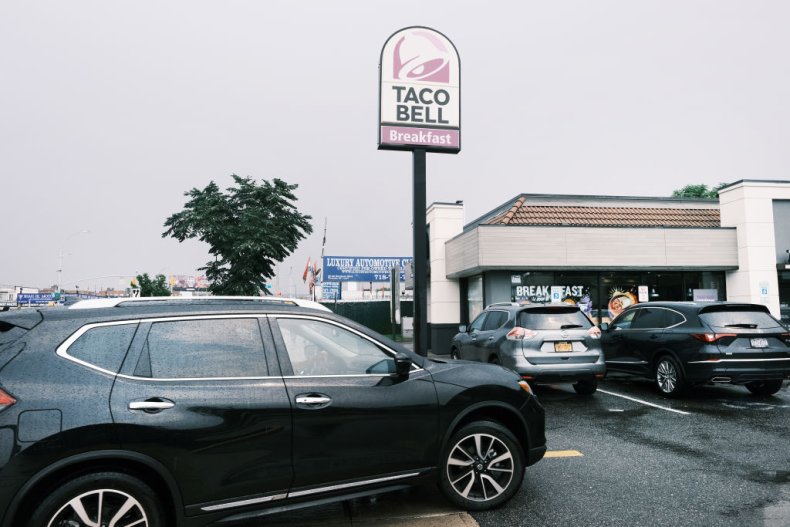 Local news outlet The Advertiser-Gleam has stated a "heavy police presence" remains at the scene of the shooting.
The report on social media adds: "Details are unclear at this time. A number of other agencies are also on scene to assist Guntersville investigators. Avoid the area if at all possible."
Police have yet still to determine a motive for the shooting.
Guntersville Police Chief Peterson said initial inquiries suggested it was doubtful either the suspect or the two victims had any connections to the local area, according to The Sand Mountain Reporter.
The identities of the suspect and the victims have not been released at time of writing.
Fast food restaurants are periodically scenes of violence.
A victim was stabbed multiple times reportedly by a total stranger at a McDonald's in Chicago in September 2021.
Police believe the assailant stabbed the victim several times in the arm, hip and chest.
Also in September, a Chipotle customer in Philadelphia reportedly pulled a gun from her purse to demand food, after being informed she would need to order her meal online.
A clip of the CCTV footage shot from inside the restaurant purported to show the suspect display her weapon and say "somebody better give me my food," before taking her order and fleeing the scene.
Another incident involving firearms was reported in Kentucky this week.
A teenager died and two others were injured following a drive-by shooting in Kentucky on Wednesday.
Louisville Metro Police Department Major Shannon Laude said in a statement that "a vehicle drove by and fired shots into the group of kids, striking two of the children by gunfire."
Laude said that both of the victims who were struck by gunfire were transported by emergency medical services to a nearby hospital.
"One of those kids was later pronounced deceased at the hospital," she said. "At this time LMPD homicide unit is investigating. We want to reach out to the public and ask if you all have any information [...]"
A spokesperson for the LMPD confirmed to Newsweek that the third teenager "suffered a graze wound."