Taiwan says it is ready to step up its security partnership with the United States after President Joe Biden signed a $768 billion defense package that encourages deeper exchanges with the island's armed forces.
The National Defense Authorization Act, signed on Monday, includes a multibillion-dollar initiative to better fund American forces in the Pacific, where China's growing military presence has become the U.S.'s principle challenge. The NDAA requires the Defense Department to produce a number of reports and analyses about Chinese hard and soft power.
Also included is a bipartisan push by Congress to improve Taiwan's self-defense, a capability that has slowly deteriorated as China devoted ever larger sums to its military spending over the decades. The law, which has already drawn Beijing's ire, wants the Pentagon to assist Taipei in investing in the right areas, while also assessing the possibility of integration and interoperability between American and Taiwanese forces.
One such area is a proposed partnership between the National Guard and Taiwan's reserves, which will be an important component of any sustained effort to fend off a future Chinese attack. Additionally, the NDAA expresses the non-binding sense of Congress to invite Taiwan to the Rim of the Pacific Exercise in 2022. RIMPAC—hosted from Hawaii every two years—is the world's largest maritime exercise.
China was twice a participant in 2014 and 2016, while Taiwan previously expressed a desire to take part.
Reached by Newsweek, a Taiwanese defense spokesperson referred to remarks by Taiwan's Defense Minister Chiu Kuo-cheng, who told reporters on Wednesday that he welcomes support in any form.
Taiwan would "do its best" and "is happy to cooperate," Chiu said ahead of a parliamentary review of next year's defense budget. "Cooperation doesn't mean accepting [every proposal] in full," he said. "We will carry out assessments."
Chiu revealed that exchanges with the National Guard were already being discussed with the U.S., although he could not disclose specifics. Cooperation with the reserve element of the U.S. military was being considered in the scope of U.S.-Taiwan defense arrangements, he said.
Chiu—Taipei's former head of intelligence—said the island was facing increasing threat and pressure from the Chinese military. Taiwan was "duty-bound" to prepare, he said.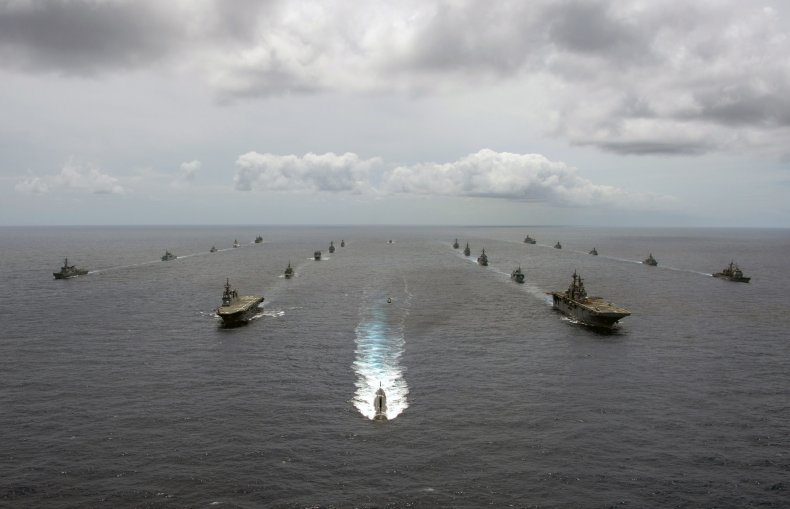 Taiwanese lawmakers on both sides of the aisle are cautiously optimistic about Taiwan's participation in RIMPAC, an unprecedented move that would see Taiwan's otherwise isolated forces training alongside decades-old American allies including Japan and Australia.
Johnny Chiang, a legislator with Taiwan's main opposition Kuomintang, told reporters he hopes U.S.-Taiwan defense cooperation helps reduce tensions across the Taiwan Strait and decrease the chance of conflict.
During a parliamentary hearing a week earlier, Chiu told Chiang that Taiwan's Defense Ministry had drafted plans for what it hopes to accomplish at RIMPAC, but assessments about the scope of Taiwan's participation would be made after the NDAA's passage—and after U.S. defense officials approach Taipei with more details.
Analysts have suggested Taiwan's navy, instead of sending its own warships, could station observers and liaison officers on friendly vessels.