Taiwan Praises Trump, Has 'Faith in Democracy' Over Election Uncertainties
Taiwan's foreign minister reserved special praise for the Trump administration and insisted he had "faith in democracy" while discussing recent election uncertainties on Tuesday.
Minister of Foreign Affairs Joseph Wu noted that the democratic island had a "very good" foundation on which to build its ties with the incoming administration.
Wu made the comments to a group of British Conservative members of parliament during an online session organized by the China Research Group, which was formed in April to help the United Kingdom shape stricter policy on China.
In his opening remarks, Wu laid out some of the challenges faced by Taipei in the Taiwan Strait at a time of growing Chinese influence in the region and escalating military tensions with the People's Liberation Army, which he said had made more than 50 incursions into the island's airspace this year alone.
"Taiwan is on the front line facing Chinese expansionism," President Tsai Ing-wen's top diplomat said. "And what is at stake is not only the future of Taiwan, but also the future of liberal democracies around the world."
"Military intimidation against Taiwan is making our lives very difficult," Wu told the group of Tory MPs, before going on to praise President Donald Trump and his team for their support for the island's 23 million inhabits.
"Luckily, we have the United States continually willing to engage with us on security issues. They are willing to provide defensive articles for us to be able to defend ourselves," he said, adding: "The current government is spending time, energy and resources to beef up our own defenses, [and] to make sure that China does not have the illusion that they can take Taiwan over very quickly."
Asked specifically about last week's presidential election and how it might affect Taiwan, Wu responded: "The United States is an old-brand democracy. As a democracy in Taiwan, we believe in institutions.
"Even though there were election uncertainties in this period of time, we have faith in democracy. Democracy is going to prevail at the end."
Taiwan, which China sees as a breakaway province, ended formal diplomatic ties with the United States in 1979, but Wu said U.S.-Taiwan relations were "very solid."
Ties between Washington and Taipei were entering into a period which many people described as being the "best ever," he said. "We have a very good foundation for Taiwan to work with the new administration beginning from January 20," he added.
A friend in need
The United States has been one of Taiwan's biggest allies while President Trump pushes a staunch anti-China policy of his own, which included a ban on Chinese telecommunications giant Huawei and increased scrutiny of influential Chinese-owned businesses TikTok and WeChat.
Multibillion dollar arms sales to Taipei under provisions of the Taiwan Relations Act have angered the Chinese leadership, which has repeatedly called on the support to stop.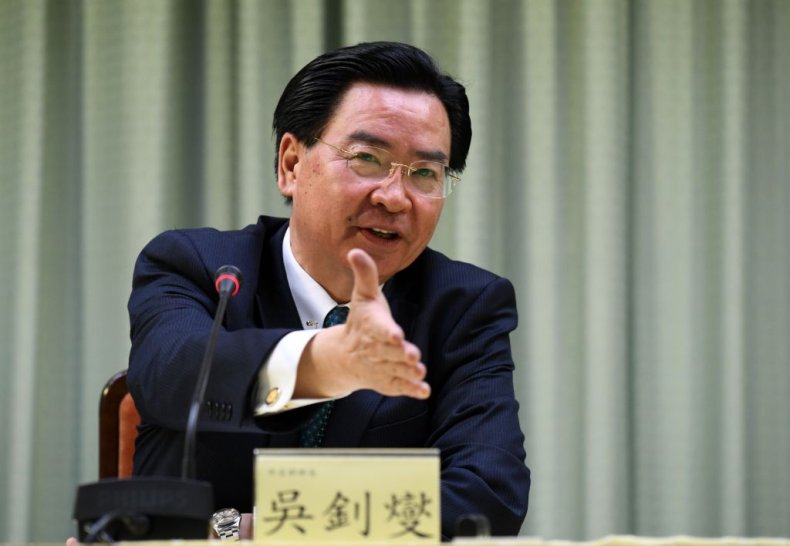 Taiwan's relations with China were "not very good," Minister Wu said jokingly when CRG chairman Tom Tugendhat MP asked how the Tsai administration was getting on with its cross-strait counterpart.
"Beijing has its own motivations," he said during the event. "It has different philosophies and values. Those values are very different from what we cherish: freedom, democracy, protection of human rights, rules-based international order, etc."
"We'll continue to build our relations with the United States," he added.
"We look forward to the new administration to continue to provide Taiwan with support in participating in international organizations, or continue to sell Taiwan defensive arms and engage in security cooperation so that Taiwan is able to defend itself," he said.
Wu said it was "desirable and ideal" for Taiwan to "peacefully coexist with China." More than 80 percent of Taiwanese residents—a "near consensus" in his words—wanted to maintain the status quo, he added.
However, he pointed to the "decline of freedom and democracy" in Hong Kong as proof of why Beijing's "one country, two systems" model would not work for Taipei.
Members of the CRG will be among those in the British parliament to scrutinize a long-awaited new national security and investment bill, which will more strictly regulate foreign investment in the U.K.'s infrastructure and key industries.
In July, Downing Street followed the Trump administration's lead in announcing a ban on Huawei and promised to remove the Chinese company's 5G equipment from Britain's networks by 2027.
The new bill means Prime Minister Boris Johnson's government shares Washington's concerns that firms with close ties to the Chinese government could potentially exploit so-called dual-use technologies for malign purposes.
Taiwan's Minister Wu said the U.K and Taiwan should "compare notes," revealing the Taiwanese government's "early" decision not to allow its telecommunications providers to become involved with Huawei.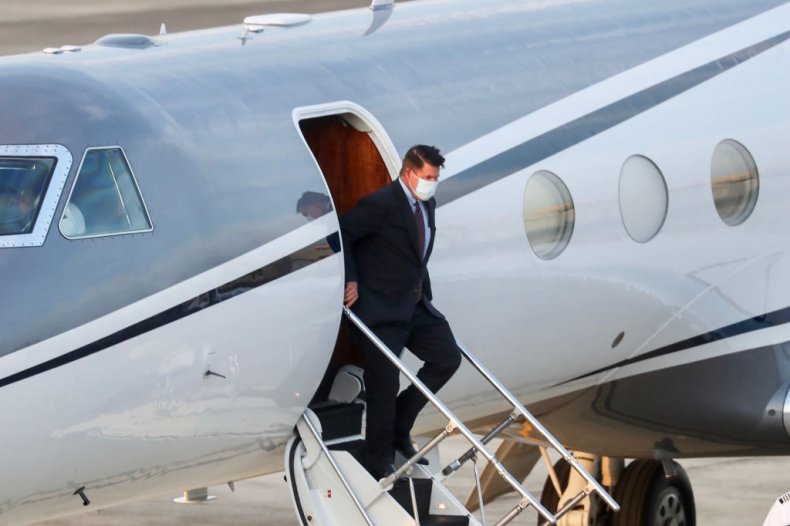 Trump's unfinished business
In another major step forward for relations between Taiwan and the United States, representatives from Taipei will travel to Washington for economic talks with Keith Krach, Under Secretary of State for Economic Growth, Energy, and the Environment.
The delegation led by Taiwan's Deputy Minister of Economic Affairs Chen Chern-chy is hopeful it can sign a memorandum of understanding—potentially leading to a bilateral trade agreement—following the talks on November 20, Wu told lawmakers at a Foreign and National Defense Committee meeting on Thursday.
The Trump administration, which drew Beijing's ire when it sent Krach to Taipei in September, faced further warnings from China's foreign ministry spokesperson Wang Wenbin on Wednesday.
"China consistently opposes official exchanges between the U.S. and the Taiwan region," he said, according to a transcript on the Chinese foreign ministry's website.
Wang urged the U.S. to "stop all forms of official exchanges and contacts with Taiwan," and to "stop elevating its relationship with the Taiwan region in any substantive way."
Beijing has never ruled out the use of military force in its efforts to reunify the mainland with the island of Taiwan, which has been governing itself for over half a century.