Taiwan Tells Citizens 'Don't Be Dismayed' By WSJ Report on Low Troop Morale
Taiwan's Defense Minister downplayed a damning Wall Street Journal report on Tuesday after the newspaper found low morale among the island's many reservists, who many expect would take up arms in the event of conflict with China.
Chiu Kuo-cheng told reporters in Taipei that he had "considerable confidence" in the island's troops. "Don't be dismayed by a foreign media report—that's not necessary. We should have confidence in ourselves," he said.
Taiwan has filled about 90 percent of the quota for its 188,000-strong volunteer force, which currently numbers 169,200, according to an April submitted by its Ministry of National Defense. Along with students, new recruits and civilian employees, they make up the country's budgeted 215,000-man armed forces.
Last October, defense officials estimated Taiwan's president, Tsai Ing-wen, could mobilize some 445,000 troops if war broke out across the Taiwan Strait today. That figure included 185,000 active service members and 260,000 reservists.
On paper, however, Taiwan has more than 2 million reserves who have been conscripted and put through varying lengths of training over the years.
More recently, a painful transition to an all-volunteer force has left new recruits receiving just four months of basic training.
The Journal's report, published Monday, included interviews with new and old conscripts who felt the reserve force wasn't technically ready to back the island's front-line troops in a hot war with China.
"Among the most pressing concerns are poor preparation and low morale among the roughly 80,000 Taiwanese who are conscripted each year and the nearly 2.2 million reservists," said the report.
One solider said his four-month training saw him sweep leaves and pull weeds. Others described how they purposely gained weight in order to fail the army's recruitment threshold, according to the paper.
The moniker "strawberry soldiers" was applied to Taiwan's young conscripts. It derives from the term "strawberry generation," a derogatory descriptor for Generation Z Taiwanese who are perceived as spoiled and work-shy.
Retired U.S. Marine Col. Grant Newsham told the Journal that Taiwan's professional force was well-trained, but he described its reserve system as a "shambles." Newsham, who has studied Taiwan's armed forces and worked with the Japan Self-Defense Forces, said the island's soldiers would benefit from training with American troops.
"I don't know what the evaluation was based on, but I have considerable confidence in our citizens and our armed forces," Taiwan defense chief Chiu answered in response to questions about the report.
"When I was a platoon leader, a senior soldier said: 'Each generation is worse than the last.' I told him there was no such thing. There is no 'strawberry generation' problem. Young people have their advantages," he added before attending a legislature hearing in Taiwan's capital.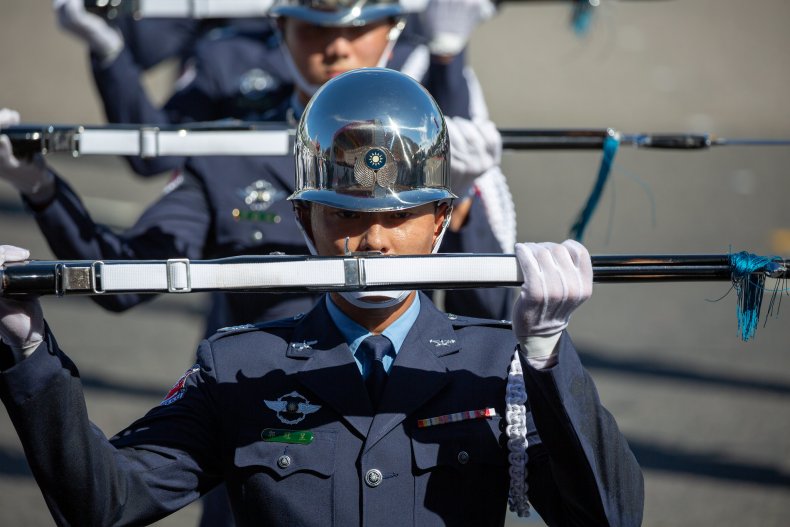 The Tsai administration has spent years seeking reforms to Taiwan's undertrained reserve forces and will launch the nation's Defense Reserve Mobilization Agency next January.
The office will govern all aspects of the island's reserve system and also include initiatives to better inform the citizenry about wartime shelters and rationing.
The myriad elements plaguing Taiwan's mobilization of its war-averse 23.5 million people include a struggle to reconceptualize the country's armed forces, which until recent decades was considered the armed wing of Taiwan's long-ruling opposition Kuomintang party—much like China's People's Liberation Army is to the ruling Communist Party—which enacted 38 years of martial law on the island between 1949 and 1987.
Tsai and her officials have sought to rebuild trust and confidence in the country's armed forces, which many believe are already facing impossible odds against a Chinese military that boasts more than 2 million active troops.
Despite backing by the United States, Taiwan has no formal ally that is legally bound to assist it in the event of cross-strait conflict. More importantly, Taipei may struggle to win the sympathies of foreign publics that perceive it as not willing to fight for its own survival.
Taiwanese Foreign Minister Joseph Wu told local lawmakers last week that the message from Taiwan's friends and partners was clear: "We cannot help you more than you want to help yourself."
Following the scathing Journal report, Taiwan Defense Ministry spokesperson Maj. Gen. Shih Shun-wen told a regular press briefing on Tuesday that the public was developing a sense of crisis and was supportive of measures to increase national defense.
"However, building a force and preparing for combat are long-term tasks and missions, and training is constantly improving with the times," he added.
Experts who spoke to Taiwan's semi-official Central News Agency said the questions raised in the Journal's report were not only ones of troop morale or readiness, but also of communicating to the public about what a 21st century conflict would look like for Taiwan.
Su Tzu-yun, a research fellow at the Institute for National Defense and Security Research, told the news service that Taiwan's public lacks an understanding of contemporary high-tech warfare. Those who experience a brief period in boot camp may mistake their mundane tasks for the army's readiness training, resulting in an absence of confidence and perceived low morale.
The graphic below, from Statista, shows the comparison of military forces in the Taiwan Strait.