Russia, China Pose 'Greatest Challenges' to Democracy Since Cold War—Taiwan
President Tsai Ing-wen of Taiwan renewed her country's call for inclusion in the United Nations on Monday by warning of the expansion of authoritarianism, aligning herself with the West's condemnation of Russia and its growing unease about China.
"At this moment, democracies and the rules-based world order are facing the greatest challenges since the Cold War," said the island's first female leader, who delivered prepared remarks at an annual summit hosted by the nonprofit Concordia, an event that coincides with the United Nations General Assembly each year.
Ambassador Linda Thomas-Greenfield, the U.S.'s permanent representative to the UN, also attended the summit.
Since Tsai's election in 2016, Taipei has aligned its foreign policy goals more closely with Washington. She has broken from her predecessor's diplomatic approach to Beijing of tacitly recognizing Taiwan as part of China, refusing talks with the island's neighbor across the Taiwan Strait unless they're conducted on the basis of political parity—a position the Chinese leadership hasn't accepted.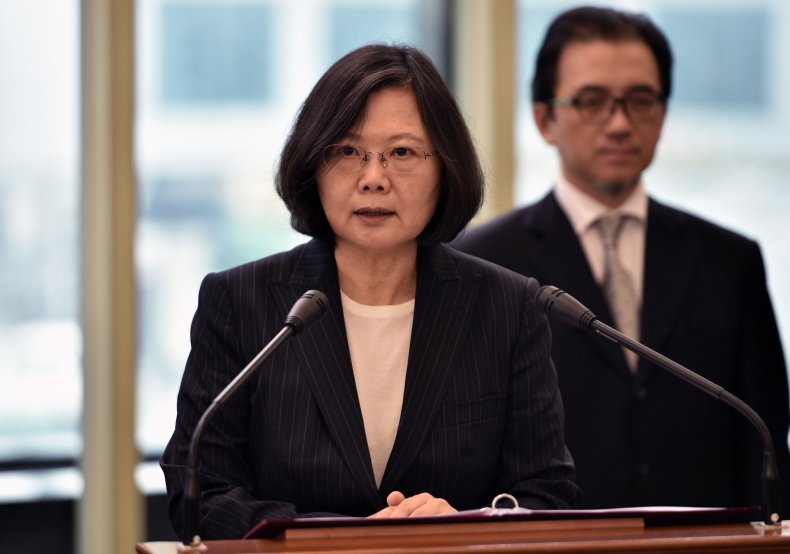 The Chinese government hasn't ruled out the use of force against Taiwan, whose government and public have spent recent months empathizing with Ukraine's plight.
"Russia's unprovoked invasion of Ukraine and the daily threats Taiwan faces are all evidence that shows authoritarian regimes will do whatever it takes to achieve expansionism," Tsai said. Beijing means to "corrode what we have been working so hard for—that is, our democratic way of life."
Taiwan's president called on fellow democracies to "educate ourselves on the authoritarian playbook, and understand that Taiwan's democracy will not be the only thing the PRC seeks to extinguish," referring to the People's Republic of China.
"Securing Taiwan's democracy is imperative in securing freedom and human rights for our collective future," she said.
Tsai's remarks are part of Taipei's annual campaign to participate in the UN. It lost its seat to Beijing at the world governing body half a century ago and is now recognized by only 13 of the 193 UN member states.
Taiwan attempts each year to secure a role in the UN and its special agencies. Washington and other Western capitals that don't maintain official ties with the island continue to back its "meaningful participation" where statehood isn't a requirement.
China openly rejects these attempts, but Taipei says Beijing's lack of practical jurisdiction over the island democracy means it can't represent Taiwan's 23.5 million people.
The 77th session of the UN General Assembly opened last week. Heads of state are taking part in the high-level General Debate beginning on Tuesday until its close on September 26.