The Taliban have reportedly prevented several planes intended to evacuate hundreds of people from leaving Afghanistan for days now, with a top Republican lawmaker describing it as a "hostage situation."
The Associated Press reported Sunday that at least four planes have been prevented from taking off for unclear reasons from the northern city of Mazar-e-Sharif. An Afghan official reportedly stated that the hundreds of passengers were all Afghans—saying that many did not have proper visas or passports. But an American lawmaker said there are Americans among those attempting to evacuate.
"This is really, Chris, turning into a hostage situation, where they're not going to allow American citizens to leave until they get full recognition from the United States of America," Representative Michael McCaul, the top Republican on the House Foreign Affairs Committee, told Fox News Sunday host Chris Wallace on Sunday.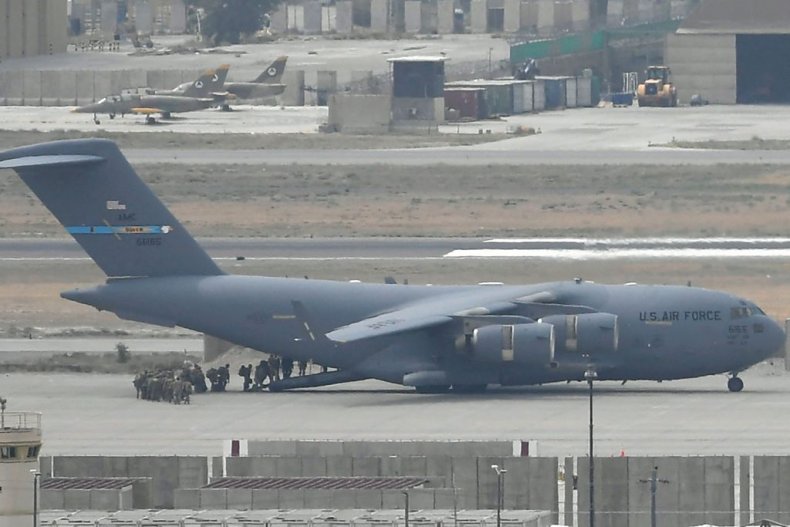 The Texas lawmaker said that hundreds of U.S. citizens were "left behind enemy lines" amid the chaotic American withdrawal from Afghanistan last month. McCaul blamed President Joe Biden, saying the commander-in-chief has "blood on his hands."
A State Department spokesperson told Newsweek that it could not confirm whether Americans were attempting to evacuate aboard the chartered aircraft due to a lack of resources and personnel in Afghanistan.
"We understand the concern that many people are feeling as they try to facilitate further charter and other passage out of Afghanistan. However, we do not have personnel on the ground, we do not have air assets in the country, we do not control the airspace— whether over Afghanistan or elsewhere in the region," the spokesperson said.
"Given these constraints, we also do not have a reliable means to confirm the basic details of charter flights, including who may be organizing them, the number of U.S. citizens and other priority groups on-board, the accuracy of the rest of the manifest, and where they plan to land, among many other issues," they added.
The State Department said that it remained "prepared to help" U.S. citizens and Afghan refugees. The federal agency also reiterated that it already evacuated thousands of people in August, after the Taliban rapidly retook control of the country.
A White House spokesperson told Newsweek that the State Department has "undertaken an extensive effort to contact American citizens who remain in Afghanistan."
They said that the Biden administration continues "to work around the clock to ensure safe passage out for any Americans who are seeking to leave Afghanistan."
The White House disputed the characterization of the issues at the Mazar-e-Sharif airport as a "hostage situation." The U.S. government has not confirmed that there are Americans among those waiting to evacuate.
According to Ascend, an NGO that teaches young women leadership through athletics, 19 Americans and two permanent residents are among the hundreds attempting to evacuate aboard the planes, CBS News reported Sunday. "We hope visibility will add pressure to force a solution. Six days of talks are not encouraging," Ascend's executive director Marina LeGree told the news network.
LeGree told Newsweek later on Sunday that her organization does not have direct contact with the Taliban or the State Department. She said it seems that the airline company and the Taliban are negotiating a price, but the organization doesn't have answers.
LeGree said she wished the State Department or the the National Security Council would "use the many relationships forged" forged with the Taliban via Qatar to pull some levers and motivate action now."
"Our government may be out of Afghanistan officially, but those relationships didn't disappear overnight. We need backchannel discussions to get the Taliban to do the right thing and let these innocent people fly away," she said.
Biden has received widespread criticism for the chaotic end to the nearly two decades-long war in Afghanistan. However, the plan to fully withdraw U.S. forces from the country was made under former President Donald Trump.
Trump's administration signed the peace deal with the Taliban in February 2020. Under that agreement, all U.S. would have withdrawn all its forces from Afghanistan as of May of this year. When Biden took office, the president pushed back the withdrawal deadline to September 11 before moving it forward to August 31. But the Taliban regained near total control of Afghanistan as of August 15—two weeks before Biden's final withdrawal date.
Despite the Taliban's swift takeover, the U.S. military maintained control of Kabul's international airport. In just over two weeks, the U.S. managed to evacuate some 116,000 people—including Americans, U.S. allies and thousands of Afghan refugees. However, some Americans who wanted to leave were not evacuated.
"We believe there are still a small number of Americans, under 200 and likely closer to 100, who remain in Afghanistan and want to leave," Secretary of State Antony Blinken admitted during a news conference on Monday.
"We're trying to determine exactly how many. We're going through manifests and calling and texting through our lists. And we'll have more details to share as soon as possible."
White House Chief of Staff Ron Klain told CNN on Sunday that "around 100" U.S. citizens were still in Afghanistan. Newsweek reached out to the White House for comment but did not immediately receive a response.
This article has been updated with comment from the State Department, the White House and Ascend's executive direct, as well as additional background information.