Target Pulling Pride Range Items 'Looks Like a Retreat'—Brand Strategist
Target's decision to remove items of its LGBTQ+ pride range due to a backlash and calls for a boycott of the chain store "looks like a retreat," a leading brand strategist has said.
The retailer will be removing items "at the center of the most significant confrontational behavior" from customers, Kayla Castaneda, a Target spokesperson, said on Tuesday.
Kelly O'Keefe, founding partner of Brand Federation, who has advised companies including Capital One, Walmart and UPS, told Newsweek that while Target was wise to take threats against staff seriously and was not retreating from its values, it was "a time for Target to stand up" and publicly affirm its support for the LGBTQ+ community—or risk losing them as customers as well.
Several brands have been the target of condemnation from conservatives over marketing advocating for the LGBTQ+ community. While experts have said such campaigns provide an opportunity for brands to appeal to consumers in new markets, critics have accused companies of alienating their traditional customer base.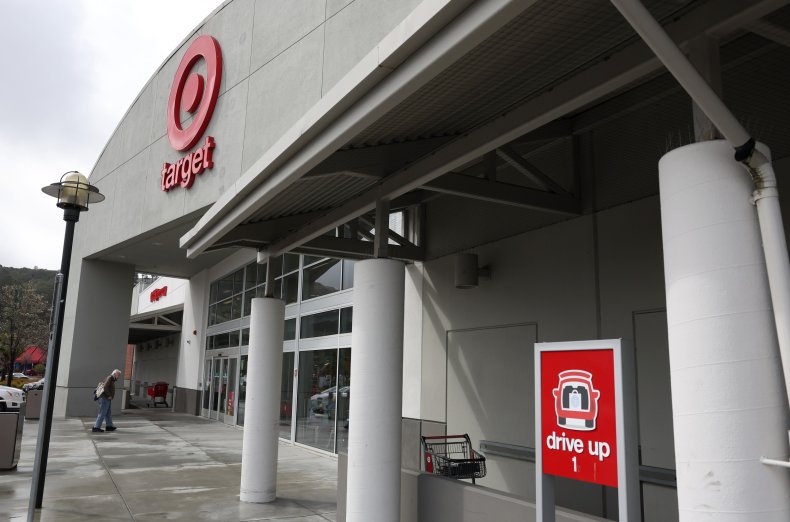 The controversies sit at the heart of the culture wars, and speak to a broader debate around the acceptance of LGBTQ+ individuals in public life.
Castaneda previously told Newsweek the decision to remove certain items from the range was due to "threats impacting our team members' sense of safety and wellbeing while at work."
"Obviously any incident that would put employees at risk is something that any company would wisely take seriously," O'Keefe commented. "This is a reflection of an unfortunate moment in our history, when one has to assume serious risk might be real."
Target will review a line of swimsuits marketed for its ability to "tuck" genitalia for transgender women, as well as some children's merchandise, Reuters reported.
Items marketed as part of the retailer's pride range that provoked outrage on social media included rainbow-colored children's clothes, a T-shirt with the slogan "trans people will always exist," and a babygrow with the words "bien proud" in the colors of the LGBTQ+ flag.
"Our focus now is on moving forward with our continuing commitment to the LGBTQIA+ community and standing with them as we celebrate Pride Month and throughout the year," Castaneda said.
"The challenge they have now is that they've launched these items and now they're put into a position of removing some from their shelves or moving them to different parts of the store," O'Keefe said, "and that looks like retreat in the face of opposition, even though it appears to be inspired by safety considerations."
He noted that Target has been "very forward-thinking" in embracing "accepting and welcoming and celebrating attitudes," and that "it doesn't feel like a full reversal in terms of their values or their conviction, more a genuine safety issue."
But perception is an important thing, and the retail giant is now facing a secondary backlash from the LGBTQ+ community for being seen to cower to the boycotters.
"That's always the threat, that you thread the needle wrong and you p*** off both sides. We saw that with Budweiser," O'Keefe remarked. "As we know, it's almost impossible to determine where their sales collapse is coming from at this point because nobody's happy with Bud Light."
Bud Light and its parent company Anheuser-Busch have been embroiled in controversy since early April, after partnering with transgender influencer Dylan Mulvaney. Its reactions to the anger have sparked criticism from LGBTQ+ groups, while beer sales plummeted nearly a fifth in a month.
"The same can happen here," O'Keefe noted. "The worst-case scenario is that the more intolerant, conservative voices that are attacking some of these efforts are not going to come back to your stores—and your core audience."
Target appears primarily to be pulling items that relate to transgender individuals—as well as one brand that has used satanic imagery in unrelated products—which O'Keefe suggested was because the transgender community was the "focal point" for the culture wars "battleground."
Asked whether it might appear the retailer was tacitly agreeing with the complaints by pulling specific items, he said: "They're certainly at risk of being perceived as not adequately supporting transgendered individuals with this move." But he added: "Does that reflect their beliefs? I don't think so."
As such, O'Keefe believes, "it's so important for them now to come out and very much affirm their support and clearly identify that these decisions have been made based on safety of individuals and not based on any retrenchment of support."
"Caving in is never good for your brand; you need to stand by your convictions," he said. "What we don't want to see is a brand that walks away when the going gets tough—because what that tells us is, that wasn't a conviction to begin with, it was just a marketing shill, and that's not good."
Newsweek approached Target via email for comment on Thursday.
Navigating the Culture Battleground
Target is just the latest brand to be targeted for its support for LGBTQ+ individuals, following similar outrage toward Bud Light and, to a lesser extent, Miller Lite, which released an ad campaign that celebrated women's historic role in beer brewing for Women's History Month.
The responses to those controversies have been markedly different: while Anheuser-Busch went silent and placed two of its top marketing executives on leave, Miller Lite's parent company Molson Coors stood by the advertising campaign and those who had created it.
"What we've seen with Budweiser and with Miller, and now Target, are different levels of support when challenges arise," O'Keefe said. "If you're a wise brand steward, you're anticipating challenges in advance and you're thinking through: How are we going to handle it should challenges arise? How far are we prepared to go to defend it? And what is our posture?"
The differing responses from the different brands raises questions for how other companies watching the waves of backlash from the sidelines might navigate their own marketing decisions in the future. But for O'Keefe it is simple: think them through first, then stand by them.
"Whatever that message is that you're sending to people about your values, you need to make sure that these are deeply-held convictions of the organization that you're willing to stick with and even fight for," he said. "Because the measure of conviction, the measure of values, is whether or not you'll continue to hold those values even when there's opposition or even when sales decline."