Taylor Greene Says Jimmy Kimmel 'Joke' Was 'Dog Whistle' to 'Violent Left'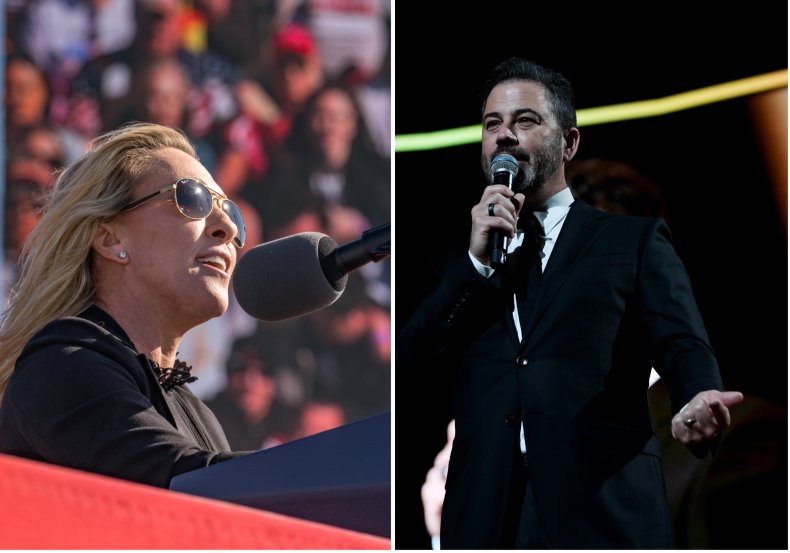 Republican Representative Marjorie Taylor Greene of Georgia has accused late night talk show host Jimmy Kimmel of acting as a "dog whistle to the violent left" by suggesting in his monologue, which is a showcase for jokes, that she could be slapped by Will Smith.
Greene announced in a tweet on Wednesday that she had filed a Capitol Police complaint against Kimmel after a Tuesday monologue joke on Jimmy Kimmel Live. Kimmel asked the audience, "Where is Will Smith when you really need him?" while discussing Greene's claim that those who supported Ketanji Brown Jackson to serve on the Supreme Court were "pro-pedophile." Kimmel responded to Greene's claim by tweeting, "Officer? I would like to report a joke."
The conflict escalated on Thursday, with Kimmel and Greene continuing to trade tweets. Greene responded to Kimmel mocking her for seeking to "report a joke" by accusing him of misogyny and racism, while alleging that his monologue had been intended to provoke violence against her instead of laughs.
"You weren't joking," tweeted Greene. "You hide your misogyny and your racism behind your 'jokes' on @ABC. This was a dog whistle to the violent left to assault me or worse, and your[sic] already inspiring fantasies of violence against me. How many new death threats will I get that are your fans?"
"The only fantasies you inspire are of silence," Kimmel responded. "Maybe you should report this to Animal Control?"
A short time later, Kimmel replied to a related tweet from Republican Representative Matt Gaetz of Florida, a close ally to Greene.
Gaetz posited a scenario of Kimmel "engaging in terrible, unprovoked violence against the Congresswoman" before writing "NOTE to @JimmyKimmel: Not only would Marjorie Taylor Greene's husband make quick work of you, but @RepMTG herself would make quick work of you!"
"NOTE to @RepMattGaetz—stay indoors. It's Girl Scout cookie season," tweeted Kimmel, likely alluding to a federal investigation into allegations of Gaetz sex trafficking a 17-year-old girl. Gaetz has denied any wrongdoing.
Greene weighed in again by responding to Kimmel's tweet suggesting she "report this to Animal Control" with a video that appeared to include two voicemail messages referring to Kimmel calling for violence against her.
"@jimmykimmel your fans called my office today in direct response to you inciting physical violence towards me," Greene wrote alongside the video. "It's not a joke. You knew exactly what you were doing. @ABC and their parent company @WaltDisneyCo should not allow your misogyny & threats of violence."
One of the audio clips shared in the video featured a man saying, "Jimmy Kimmel's right, you should definitely get Will Smith daily, every morning, lunch and dinner. You're a moron, dummy." The other apparent caller said that he would "pay good money to watch Jimmy Kimmel bash your f***ing head in with a baseball bat," adding that would be "so f***ing hysterical."
Greene's Communications Director Nick Dyer told Newsweek that the messages in the video represented "some" of the "threats" that had been "coming into our office."
Newsweek reached out to ABC for comment.
The Capitol Police told Newsweek that it "cannot confirm or discuss any potential investigations" after being contacted about Greene's alleged complaint.
Kimmel's Tuesday night monologue joke referred to the now-infamous incident that saw Smith slap Chris Rock over a joke about his wife Jada Pinkett Smith during the live broadcast of this year's Academy Awards ceremony. Greene later praised Smith for striking Rock on Twitter, calling the violent outburst an "Alpha male response." She also commended Rock, who she said "handled it like a man with no whining."
The connection between Smith and Greene was made by Kimmel after the congresswoman accused multiple lawmakers of being "pro-pedophile" by supporting Jackson, who will be the first Black woman to serve on the Supreme Court after she was confirmed in the Senate on Thursday.
During Jackson's Senate confirmation hearings, several of the chamber's Republicans claimed that she had been too lenient in sentencing child-porn cases. However, fact- checking articles published by outlets including the Associated Press and The Washington Post have deemed the claim to be misleading.