What Is Taylor Swift's New Short Film 'All Too Well' and When Will It Be Released?
Taylor Swift, it seems, knows her Swifties "All Too Well." Knowing they cannot cope without a steady drip of Tay-Tay content, the singer is set to release a new short film featuring the track from her "Red" era.
The news was broken by Good Morning America on Friday and was then announced by Swift via a 30-second trailer posted on Twitter. This tweet also revealed when the short film would be released and who would appear in it.
The "All Too Well" film is coming out to accompany the release of Red (Taylor's Version), part of the singer's project to re-record all the albums she made while signed to Big Machine Records, in order to regain control of her masters.
What Is the 'All Too Well' Short Film?
From what we can see in the trailer, All Too Well: The Short Film seems to be an extended music video for the song, incorporating it into a wider story. It will also be the debut of the "From the Vault" extended version of "All Too Well," long a Swift fan favorite.
Swift, of course, is far from the first artist to make a short film to accompany a song. Lady Gaga has produced a number of shorts to accompany singles such as the 14-minute "Marry the Night," 11-minute "G.U.Y." or the 9-minute "Telephone."
"All Too Well," however, is less likely to include prison breaks, palatial romps and nervous breakdowns than those Gaga films.
The trailer tweeted by Swift is sedate as can be. A wide shot of a very late-period Taylor Swift autumnal scene, the only action is a car driving from the background into the foreground.
Swift has written and directed the film herself. This will be the 12th music video she has directed since 2008, when she sat in the director's chair for the first time for "I'm Only Me When I'm With You." Her other credits include "You Need to Calm Down," "Willow" and "Cardigan." She also directed her Disney+ documentary Folklore: The Long Pond Studio Sessions.
The singer has revealed who will star in the short: herself, Teen Wolf actor (and recent Curb Your Enthusiasm guest star) Dylan O'Brien and Stranger Things star Sadie Sink.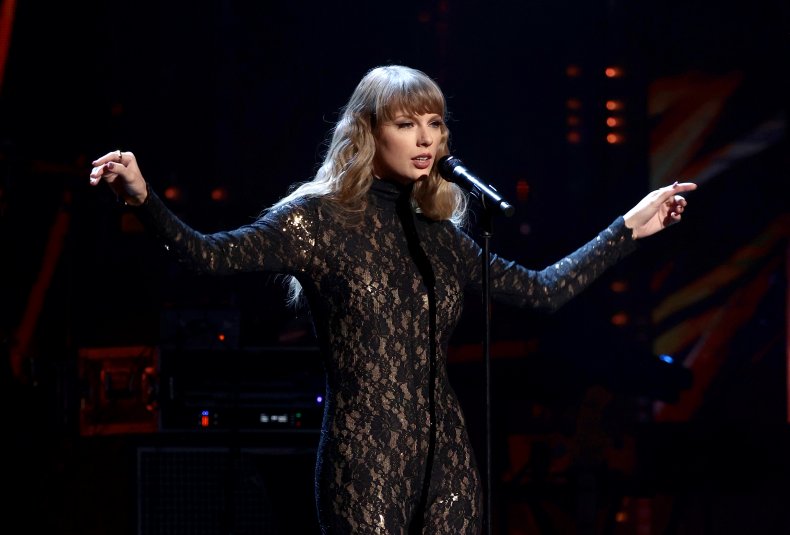 When Is Taylor Swift Releasing 'All Too Well: The Short Film'?
This was also revealed in the singer's tweet, which read: "November 12. Remember it."
Swifties checking their official Tay-Tay 2021 calendars will notice that that is the same day as the release of the Red (Taylor's Version) album. It is also the day before her latest appearance on Saturday Night Live.
The 10-minute version of "All Too Well" is one of nine previously unreleased "From the Vault" tracks appearing on the album. Alongside it are duets with Phoebe Bridges, Chris Stapleton and Ed Sheeran.