Taylor Swift Fans Call on Her to Pull Music From Spotify Over Joe Rogan
Fans of Taylor Swift are calling on the pop superstar to pull her music from Spotify in solidarity with other musicians over the Joe Rogan podcast furor.
Rogan's podcast, The Joe Rogan Experience, has been the focus of much controversy in recent weeks over his move to welcome guests onto the show who shared controversial and some say misinformative takes on the ongoing COVID-19 pandemic.
The backlash led to Neil Young issuing Spotify with an ultimatum last week that he would remove his music from the streaming giant if they didn't get rid of the show. Spotify did not yield to the legendary musician's demand and his catalog has been taken down.
Joni Mitchell spoke out in solidarity with Young on Friday, saying that she would also be making moves to have her music removed from Spotify. Bruce Springsteen guitarist Nils Lofgren has since followed suit.
Meghan Markle and Prince Harry have also publicly expressed "concerns" to Spotify over the spread of "COVID misinformation."
As a growing number of stars share their collective stance in no uncertain terms, eyes have now turned to "Shake It Off" singer Swift.
Adding Madonna and Adele's name to the list of powerhouse stars who could potentially make Spotify sit up and listen, writer and director Peter Paige stated on Twitter it was a "really bad call" on the platform's part to stick with Rogan.
"Hey @Spotify - bad call. Really bad call," Paige wrote. "Choosing the side of disinformation in the middle of a GLOBAL PANDEMIC. Wow. I hope other artists -@taylorswift13 @Adele @Madonna - will align themselves with Neil Young."
Noting Swift's sizable fanbase, journalist Carlos Maza tweeted: "The way Taylor Swift could end Joe Rogan with a single tweet at Spotify... what is the hold up."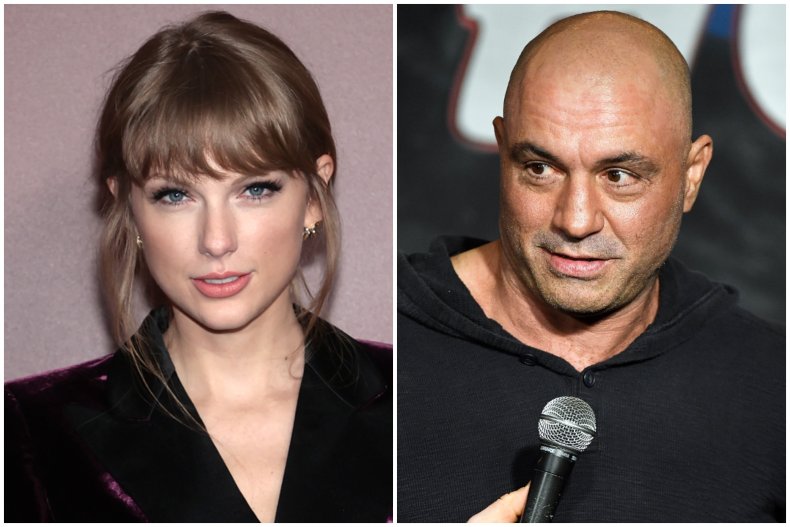 Another fan called on Swift to "punish" Spotify for sticking with hugely popular podcast host Rogan by "ditching" the platform.
Wrote the fan: "Who else thinks it would be AMAZING for Taylor Swift to punish Spotify by DITCHING them for choosing Joe Rogan's Covid lies over Neil Young's music? RT so @taylorswift13 hears you!"
Also adding the names of other chart-topping musicians, another Twitter user said: "I'd like to see Taylor Swift, Lady Gaga, and Katy Perry join Neil Young & Joni Mitchell in leaving Spotify. It's time to put the nail in the coffin. #GoodbyeSpotify."
"Wouldn't it be an absolute riot to see what would happen if Taylor Swift dumped Spotify?" another fan of the singer wrote on the micro-blogging platform.
One fan listed Swift's accomplishments while also noting the fact that Swift had pulled her catalog in its entirety from Spotify in the past.
They wrote: "Taylor Swift is the 9th most streamed artist in Spotify history — behind Drake, Ed Sheeran, Bad Bunny, Ariana Grande, The Weeknd, Justin Bieber, Post Malone & Eminem. Among the entire top 10, she was the ONLY one who removed her music from the platform (2014–2017; her peak era)."
Back in 2014, Swift had removed her catalog from Spotify and wrote in an op-ed for the Wall Street Journal that year: "It's my opinion that music should not be free and my prediction is that individual artists and their labels will some day decide what an album's price point is."
Spotify founder and CEO Daniel Ek said in a statement at the time that "our interests are totally aligned with yours," adding that the platform was "getting fans to pay for music again."
Swift, who eventually returned her music to Spotify in 2017, also famously criticized Apple Music's payment policy in an open letter, prompting the company to change its policy.
Newsweek has contacted a representative of Swift for comment.
In video shared on his Instagram account on Sunday, Rogan addressed the backlash he had received amid accusations of spreading COVID misinformation.
"I think, if there's anything I've done that I could do better, that is to have more experts with differing opinions right after I have the controversial ones," he said. "I would most certainly be open to doing that.
"I would like to talk to some people that have differing opinions on those podcasts in the future. We'll see. I do all the scheduling myself. I don't always get it right."
He also said that he is "not mad" at Young for his stance against his podcast. Rogan also stated that he has and "no hard feelings" toward Mitchell.
Making a vow to his audience, the former Fear Factor host said: "My pledge to you is that I will do my best to try to balance out these more controversial viewpoints with other people's perspectives so we can maybe find a better point of view.
"I don't want to just show the contrary opinion to what the narrative is. I want to show all kinds of opinions, so that we can all figure out what's going on—and not just about COVID, about everything. About health, about fitness wellness, the state of the world itself."