'Fearless (Taylor's Version)': Everything You Need to Know About the Six 'Vault' Tracks
Fearless (Taylor's Version) is streaming now, meaning that fans are now able to stream this new version of Taylor Swift's breakthrough album. As well as re-records of the songs from the 2008 album, this new version contains six tracks "from the Vault," tracks left off the original album. "You All Over Me" and "Mr. Perfectly Fine" were released in the lead-up to the album release. And four more tracks came out on April 9.
"One thing I've been loving about these From The Vault songs," Swift said in March on Twitter, "is that they've never been heard, so I can experiment, play, and even include some of my favorite artists."
Everything you need to know about the six 'Vault' tracks on Fearless (Taylor's Version)
"You All Over Me" (featuring Maren Morris)
The first of the "Vault" songs to be released from the new version of Fearless. Swift had first recorded the song in 2008, and that version was leaked online in 2017.
This new version was produced by Aaron Dessner, a member of the band The National who also worked on Swift's two most recent albums, Folklore and Evermore.
A number of fans have seen it as the prelude to "Clean" thanks to the lyric "no amount of freedom gets you clean." While that song is thought to be about Harry Styles, some have speculated that "You All Over Me" may be about Joe Jonas thanks to the lyrics "the best and worst day of June / Was the one that I met you." As the pair dated from July to October 2008, the timing does line up.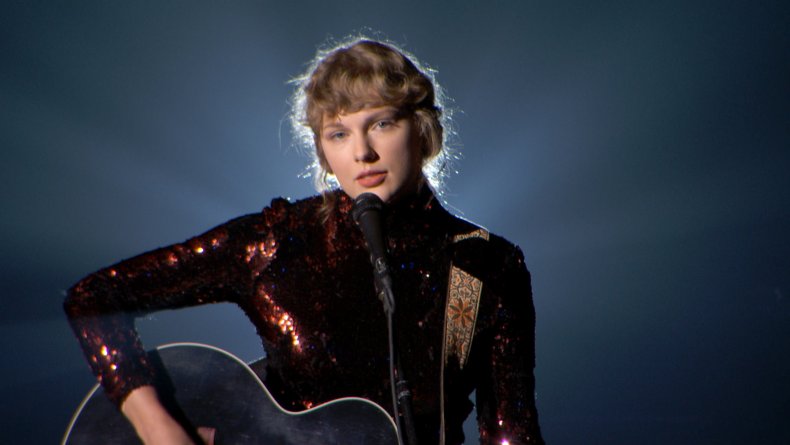 "Mr. Perfectly Fine"
The second song released from the "Vault," this new version was co-produced by Swift and long-term collaborator Jack Antonoff, who worked on Evermore, Lover and Reputation among others.
"Mr. Perfectly Fine" is another song that many think is about Jonas. Swift hinted that the song might be about the romantic drama of her past in her tweet announcing the release. She wrote, "Me in 2020: life is chill, writing songs based in fiction to avoid drama, feeling pretty grown up. My 2008 music from the vault, in a goblin voice: "REELEEEEEEASE MR PERFECTLY FIIIIIIINE."
There are some lyrical similarities between this and other tracks confirmed to be about Jonas. The line "Mr. 'Looked me in the eye and told me you would never go away'" mirrors "You looked me in the eye and told me you loved me/ Were you just kidding?" from "Forever & Always" and "You told me you loved me/ So why did you go away?" from "Last Kiss."
The song also features a line "Mr. Casually Cruel," a phrasing she would go on to re-use in "All Too Well."
Even if the song is about Jonas, his current wife Sophie Turner is among its fans. "It's not NOT a bop" she wrote on social media.
"We Were Happy"
Another song co-produced by Dessner, the 2008 version had previously leaked among fans. This new version features backing vocals from Keith Urban, with whom she also duetted on Fearless (Taylor's Version) track "That's When." This is a full circle moment for Swift, as she was his support act at the time of making the original Fearless.
"I'm really honored that @KeithUrban is a part of this project... singing harmonies on We Were Happy," she wrote on Twitter. "I was his opening act during the Fearless album era and his music has inspired me endlessly."
Another break-up song, this one was co-written by Liz Rose, her co-writer on 12 tracks from Swift's first two albums, including Tim McGraw," "Teardrops on My Guitar" and "You Belong with Me." People Magazine also compared this song to "White Horse," calling it the "cousin" of that Grammy-winning track.
"That's When" (featuring Keith Urban)
The second Urban collab sees the pair playing two exes singing after the end of the coupledom. After touring together, the pair have remained fans of each other, with Urban covering "Lover" while on tour.
Co-produced by Antonoff, the song was co-written by Brad Warren and Brett Warren, who had a country career as The Warren Brothers before becoming songwriters for country stars like Faith Hill, Tim McGraw and Martina McBride, as well as Toby Keith's novelty hit "Red Solo Cup."
"Don't You"
Another Antonoff co-produced track, many critics have called this song a precursor to her work on 1989. Particularly, they have noted similarities to "Style," another song that sees her briefly re-connecting with an ex. Or as USA Today put it, "[Don't You] lyrically sounds like if the main character of Folklore's "The 1" ran into her ex before going to therapy.
This track was co-written by Tommy Lee James, who is also one of the credited writers on "Untouchable."
"Bye Bye Baby"
Co-produced by Antonoff and co-written by Rose, "Bye Bye Baby" is like a compendium of Swift's favorite references, including driving cars, saying goodbye to former lovers and having your heart broken. This has led some to call it the most forgettable of the "Vault" tracks – USA Today, for example, called it "pretty forgettable compared to the rest of Swift's storied discography."