Ginny & Georgia on Netflix may have fans across the world, but Taylor Swift is not one of them.
A joke in the comedy-drama sees Ginny (played by Antonia Gentry) say to her mother Georgia (Brianne Howey): "You go through men faster than Taylor Swift."
This led to a response from the "Shake It Up" singer on Twitter, who wrote: "Hey Ginny & Georgia, 2010 called and it wants its lazy, deeply sexist joke back. How about we stop degrading hard-working women by defining this horse s*** as FuNnY.Also, @netflix after Miss Americana [Netflix's documentary about Swift] this outfit doesn't look cute on you. Happy Women's History Month I guess." [sic]
Clearly, jokes about Swift's dating history are a sore spot for the singer, as this is not the first time she as called out a joke on the topic.
In 2013, for example, the artist hit out at comedians Tina Fey and Amy Poehler after she did not like a joke they made about her during the Golden Globes.
At one point in the ceremony, Fey joked: "You know what Taylor Swift? You stay away from Michael J. Fox's son," (who was escorting stars off the stage that night), while Poehler added, "Or go for it. No, she needs some me-time to learn about herself."
The two hosts made dozen of jokes at the expense of celebrities that night, but clearly, this did not appease the "Bad Blood" performer. Two months later, she said of the joke to Vanity Fair: "You know, Katie Couric is one of my favorite people. Because she said to me she had heard a quote [originally from Madeleine Albright] that she loved, that said, 'There's a special place in hell for women who don't help other women.'"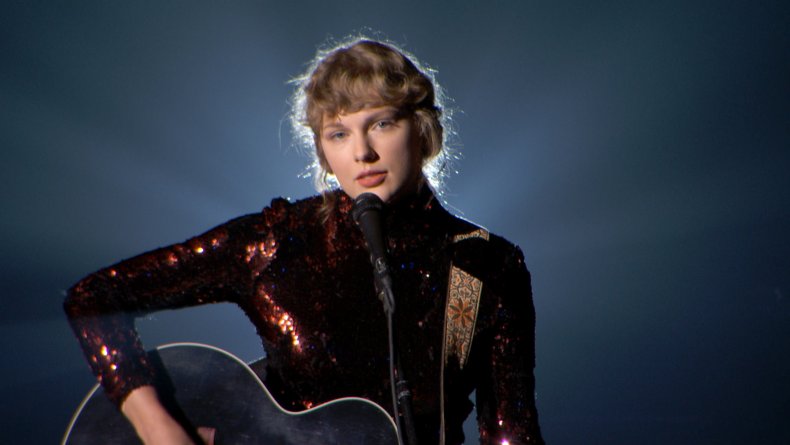 She also accused them of sexism, later adding: "For a female to write about her feelings, and then be portrayed as some clingy, insane, desperate girlfriend in need of making you marry her and have kids with her, I think that's taking something that potentially should be celebrated—a woman writing about her feelings in a confessional way—that's taking it and turning it and twisting it into something that is frankly a little sexist."
Though Poehler told the Hollywood Reporter, "I feel bad if she was upset," (and presented an award with Swift at the 2020 Golden Globes), Fey told Entertainment Tonight that she had told much harsher jokes about people who were not offended. She said: "If anyone was going to get mad at us, I thought it would be James Cameron. I did not see that one coming. It was a joke. It was a lighthearted joke. And it's a shame that she didn't take it in the crazy-aunt spirit in which it was intended."
Of course, Swift also found herself in hot water in 2016 after Swift called out Kanye West for the lyric: "I feel like me and Taylor might still have sex / Why? I made that b**** famous."
Only for his then-wife Kim Kardashian to leak a phone call in which Swift seemed enthusiastic about the lyric. This feud was still ongoing in March 2020 when a full version of the phone call was leaked online, with Swift saying it proved, "that I was telling the truth the whole time," while Kardashian criticized her for being "very self-serving."