TB Joshua Dead: Controversial Televangelist and 'Mega Preacher' Dies Aged 57
T. B. Joshua, an influential and controversial evangelist, has died. He was 57.
The Nigerian preacher died shortly after conducting a live broadcast on Saturday, according to his official Facebook page.
"God has taken His servant Prophet TB Joshua home – as it should be by divine will," a post on the page read. "His last moments on earth were spent in the service of God. This is what he was born for, lived for and died for."
His death reportedly came hours after speaking at a meeting for Emmanuel TV, the broadcast arm of the church he founded—Synagogue Church of All Nations (SCOAN).
His final words were said to be: "Watch and pray." The cause of death has not been revealed publicly.
Nigerian social commentator Japheth Omojuwa described Joshua's death as "a big loss to Nigeria."
Joshua was also a controversial figure.
Most recently, YouTube suspended his account in April 2021 over allegations of hate speech after videos showed him trying to "cure" gay people through prayer.
In response, Joshua's ministry page said YouTube had made its decision "in haste" and called on supporters to contact YouTube, Facebook, Twitter, and Instagram to express their "concerns."
Three days later, the preacher told his followers: "What happened is a blessing. I want you to help me pray for YouTube. Pray for them."
Facebook has also removed a photograph from his official page that showed a woman being slapped by Joshua, who claimed he was exorcising a "demonic spirit."
The pastor, who was estimated to be worth between $10 and 15 million by Forbes in 2011, faced numerous legal battles after a guesthouse belonging to the SCOAN collapsed in Lagos in 2014, killing at least 115 people, mostly South Africans who had traveled to see the preacher.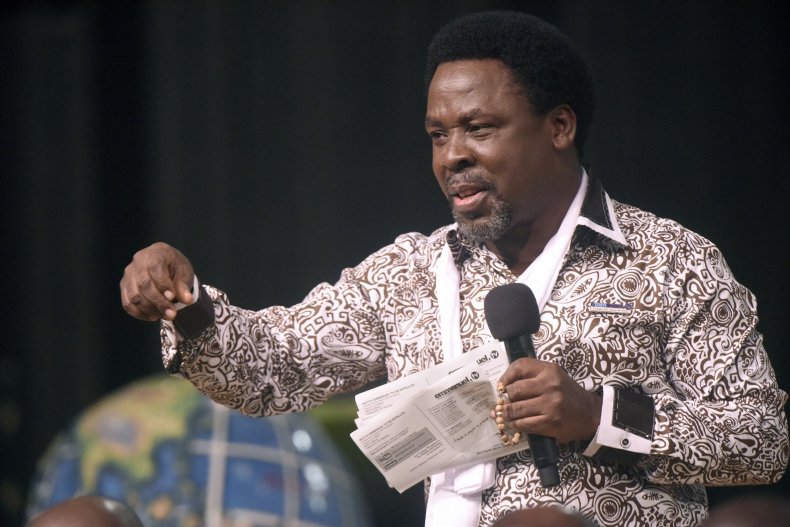 In 2016, the Panama Papers leak that exposed how many of the rich and powerful hid their wealth led to reports Joshua opened a company in a known tax haven. Joshua denied any wrongdoing.
That same year, he was left red-faced after publicly predicting a Hillary Clinton victory in the 2016 U.S. presidential election. Joshua predicted that the race would be won by a "woman," without naming Clinton—a forecast which proved to be incorrect.
The following year, Joshua again made international headlines when a South African preacher said he had stopped asking worshippers to eat live snakes after listening to Joshua's sermons.
Penuel Mnguni, who calls himself the general overseer of End Times Disciples Ministries, said that he began the practice of feeding live snakes to his followers after misinterpreting several passages in the Bible, one of which states that believers shall "take up serpents, and if they drink any deadly thing, it shall not hurt them" (Mark 16:16-18).
Mnguni gave testimony at a service at Joshua's church in Lagos, stating that he had been healed from his former ways by listening to Joshua.
T. B. Joshua would have turned 58 years old next week. He leaves behind a wife, Evelyn, and their three children.