Teacher Slammed Over 'Very Personal' Comments About a Student
A teacher and mom has gained support online after hearing a colleague make negative comments about her daughter.
The mom took to popular forum Mumsnet, where people often head to gain insight on their moral dilemmas and issues, to share her conundrum. She explained that she works at the same high school that her daughter attends.
When the topic of conversation in the staffroom turned to the bad behavior of a student, the poster was left asking exactly who the student was.
"When one of these teachers, who clearly has no clue it's my daughter she's referring to, starts going into great depth discussing one of the girls' appearance as they couldn't remember her name...all very personal comments," wrote the mom in the popular post.
After a brief memory loss, the teacher remembered the name, which is a "very unusual name and the only one in the school for use."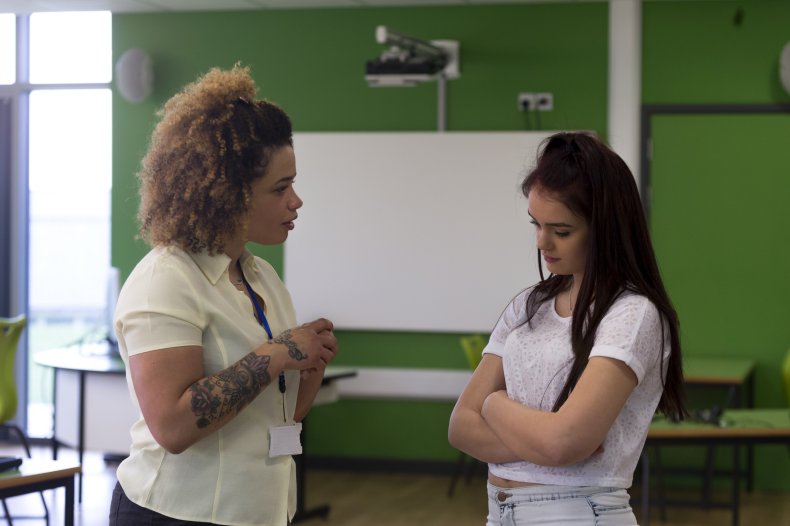 "If they had said poorly applied fake tan and skirt rolled up too short, I'd have thought 'fair enough!' I'm not overly precious about my daughter but these comments were really personal. I just sat there absolutely stunned and then walked out as honestly, I was going to lose my temper or cry if I didn't and I'm normally a really calm person who doesn't get worked up about stuff," she confessed.
The mom also admitted that she's contemplating reporting the "derogatory" comments.
Avoiding a rift between work colleagues can be essential when it comes to an easy-going life in the workplace. One study by HR advisory and research firm Future Workplace showed that 70 percent of employees said having friends at work was the most crucial element to a happy working life, while 58 percent of men even said they would refuse a higher-paying job if they didn't get along with coworkers.
Despite the importance of getting along with coworkers, Mumsnet respondents seemed to agree that this kind of behavior wasn't something to sweep under the rug.
"I agree, whilst teachers are people, discussing, in a professional and not private space, their pupils or even other staff in a derogatory manner is out of order," wrote one user.
"Some people are twats, some are v unpleasant and will say these things, but if he or she wants to say these things to another member of staff (they should obviously not discuss pupils in a way that they are identifiable to anyone outside of school) then they should not be doing so in a space where their conversation can be overheard and that includes the staff room."
Another added: "Shockingly unprofessional. Even if it wasn't your own daughter. I work in an office and if someone was derogatory about one of our more challenging clients I'd be having words directly."
One user described the situation as "very awkward," writing: "Always feel it's very off criticizing a teens appearance - they are so young and finding their way in the world we all looked pretty dodgy at 15. Even worse if it's an adult in a professional capacity. Don't know what I would do in your shoes but have a hot temper so would likely have said something at the time but not sure that's the right thing to do either."
"Not sure I'd have been able to keep my mouth shut at the time of hearing the other teacher say derogatory or very personal things about my child; or any child for that matter," pondered another mother. "She needs to be very firmly told!"
If you have a similar dilemma, let us know via life@newsweek.com. We can ask experts for advice, and your story could be featured on Newsweek.