Teacher Sparks Debate After Showing Empty Classroom: 'We Buy Everything'
A teacher's now-viral TikTok video stirred a debate in the comments section after she showed her nearly empty classroom.
Posted on July 20 by TikTok user @progressivemama, the video has since amassed more than 400,000 views. She walked through the classroom, which contained chairs, desks and some storage space.
"So frustrated going into my classroom today," read the caption of the video. "No shelves for a classroom library. The desks are weird for a Kindergarten class. No cabinets. No rug. No left over supplies or books. How much of my own money am I expected to spend?"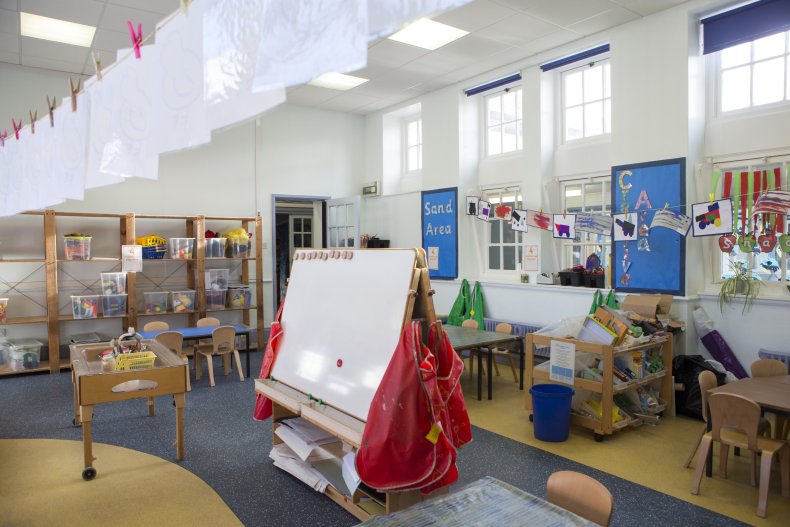 How Much Do Teachers Spend On Their Classroom?
According to a survey circulated by the non-profit organization AdoptAClassroom.org, teachers spent about $750 of their own money on school supplies in the 2020-2021 school year.
The survey also revealed that the COVID-19 pandemic made it difficult for students to have access to the supplies they need to do their work.
Because of that hurdle, 70 percent of teachers said they changed their lesson plans because they didn't have the necessary resources.
In her video, @progressivemama panned the camera around her classroom to show what was inside.
Stacked blue plastic chairs were piled in one area of the room, while desks on wheels were pushed up against the wall.
@progressivemama opened one of the storage cabinets to reveal the shelves were bare before she showed some filing cabinets and other storage space.
"This does not feel like a kindergarten classroom," she said. "There's nothing. There's not even a teacher desk."
@progressivemama thought out loud how she could best utilize one of the shelves before saying that the plan would not work.
TikToker Reactions
Her video left some viewers divided, some saying that they've worked in classrooms in worse conditions.
"That room is clean w/ nice desks, tables, & storage," a viewer wrote. "Count your blessings. I have been in rooms w/ holes in the wall & w/ mice, insects, mold."
"I've moved 5 times in 16 years and NEVER had such a clean, quality space to work with," another viewer wrote. "That furniture is amazing! I guess everything is relative."
"This is a beautiful classroom with beautiful desks and storage space...you have no idea," one viewer said.
@progressivemama was taken aback by the more negative feedback.
"I do think it is really sad all the negative comments I have received on here," she told Newsweek. "That surprised me."
However, others jumped to @progressivemama's defense.
"Comments saying that you had it worse are not helpful," a comment read. "The point is that we shouldn't have to supply or furnish our own classrooms. It's not okay."
"Yup!! That's all you get," a viewer wrote. "Desks, chairs and textbooks. That's what people don't realize. We buy EVERYTHING."
Some urged @progressivemama not to purchase any supplies herself, while others said she should talk to the school's administration and the custodian.
"How do [people] expect me to *want* to finish my degree if this is what's waiting for me," one viewer commented.
The Follow-Up Video
@progressivemama posted a second video and shared that she received donations from family and friends to furnish her classroom.
The once bare walls were covered in posters, while books lined the ledge of the whiteboard. Different games and activities could be found throughout the room and playmats lay on the floor.
Fellow TikTok users commended @progressivemama for her efforts.
"As the mom of a kindergartener, I would be proud to send my child there," a viewer wrote.
"You transformed that room," another said. "Wishing you a great year!"
This is not the first time a teacher has gone viral on TikTok.
A teacher shared a video showing the items she keeps in her classroom to keep her students safe from potential intruders.
Another teacher showed the classroom lock that was installed on the door, which started a conversation about safety measures against shootings.
One teacher's viral video showed her calling on parents to discipline their "disrespectful" children.
Update: 08/08/22 5:24 p.m. ET: This article was updated with comment from @progressivemama.