Items on Teacher's Wish List Include Intruder-Stopping Door Bar And Crayons
One first-grade teacher went viral after sharing the items she keeps in her classroom to protect her students against potential intruders.
The teacher, Kelsey Vidal or @mrsvidal, posted the series of videos to TikTok where they received nearly 2 million views in less than 20 hours. The videos can be viewed here.
In the wake of the mass shooting at Robb Elementary School in Uvalde, Texas–the most recent in a long list of school shootings–teachers around the U.S. are finding ways to protect their students in case their school gets targeted.
According to Education Week, there have been 27 school shootings in the United States this year. Since 2018, there have been 119 school shootings, with 34 occurring in 2021 and 10 in 2020.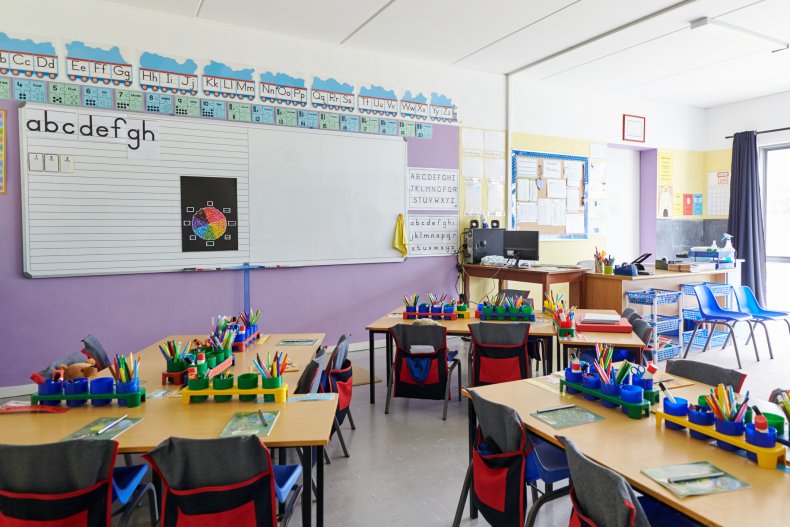 "This is a tour of my classroom safety tools I have to keep my kids safe. This is one way to survive first grade..." one video was captioned.
Vidal showed a wall of cubbies and walked over to her personal cubby which had a metal bat, a door bar, and two large backpacks.
She explained that one bag was given to her by the school district and that it's used for fire drills and other practice evacuations.
"I hope I never have to use this one and I hope it literally collects dust like it has been," she said about the second bag. "This is my active shooter, intruder backpack."
Vidal said her brother and dad helped put the bag together, which includes:
Various sized tourniquets
Medical grade scissors
Two bulletproof metal plates
Bulletproof vest
In another TikTok, Vidal shared more details about the door bar.
"This is called the Barracuda," she said, holding the large metal bar. "I actually put this on my wishlist my very first year of teaching along with crayons, books, that kind of stuff."
She explained that during training, she was told to use any nearby items to barricade the door, yet people were still able to open the door during drills.
Vidal showed the door bar in action, hooking one side onto the door handle while the other side sits in the door frame which jams the door from opening.
Thousands of viewers commented on the video, many offering other solutions such as putting a sock on the metal bat in case an intruder tries to grab it out of her hand, as well as a curtain for the door window.
"And, as usual, teachers have to provide these for themselves," one user commented.
"Should come standard in every class room in America," another wrote.
Viewers from outside the U.S. also commented on the video saying they were in awe at how much teachers in America have to do to protect their students.
"Aussie teachers watching this like we just have bug spray and a broom," one user commented.
"I am so very sorry that this is even a consideration for you going to work. I am a teacher in NZ. All I worry about is the weather," one user wrote.
"Aussie here and this blows my mind that a teacher has to think of these things," another commented.
"It's so sad that the self-proclaimed 'greatest nation on earth' thinks that this is acceptable," another commented. "No teacher should have to prepare for this."
"This is just not a thing in New Zealand!" another wrote.
"The fact that you even have to have this in your classroom is so so so sad!" another user commented. "35 yrs old here in Australia, and I've never even seen a gun in real life.
Newsweek reached out to Kelsey Vidal for comment.
In another viral TikTok, a high school Spanish teacher showed the hockey pucks she tapes to each student's desk in case of an active shooter situation.
"If you're like me you've probably been doing a lot of thinking recently about your school safety," the teacher said.