U.S. School Shootings Violate Torture Treaty: International Court Adviser
An adviser at the International Criminal Court says the trauma and harm U.S. schoolchildren face as a result of gun violence "is significant enough in scale and kind" to violate international laws, including the United Nations' treaty against torture.
Under the U.N. Convention Against Torture and Other Cruel, Inhuman or Degrading Treatment, international state parties are prohibited from committing torture or "ill-treatment." Leila Sadat, a U.S. professor of international criminal law who advises the global court's prosecutor on crimes against humanity, said that is the "correct characterization of the trauma and harm inflicted by gun violence."
In an essay published in May's Harvard Law Review, Sadat notes that the Convention Against Torture also requires international state parties to prevent ill-treatment, which the U.S. could do by implementing legislative measures to reduce gun violence. "Yet neither the federal government nor most states have done so," she wrote.
On Tuesday, an 18-year-old gunman opened fire in an elementary school classroom in Uvalde, Texas, killing 19 children and two teachers. The death toll surpassed the 2018 Parkland, Florida, shooting, in which 17 students and school staff members died and which Sadat cites in her essay. The Texas incident was the second deadliest school shooting since the 2012 Sandy Hook shooting in Newtown, Connecticut, in which 20 children and six adults died.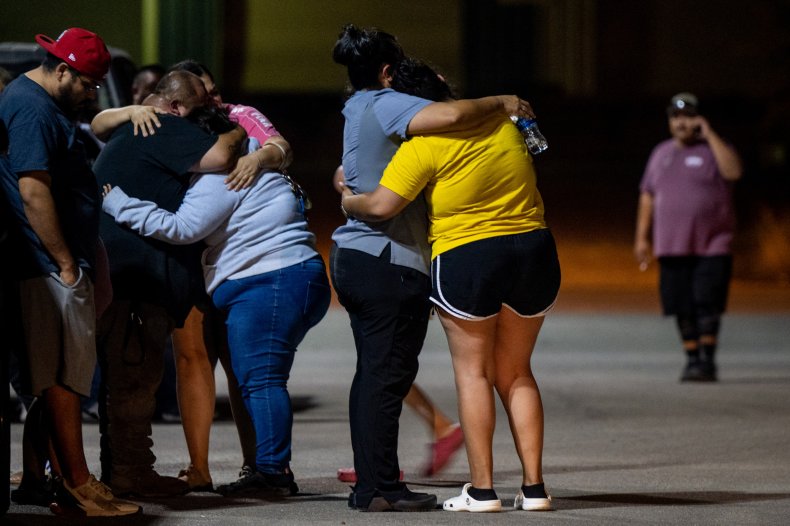 "My research has identified 32 [U.S.] states that have a right to life in their constitutions that do not relate only to prohibition of abortion but protect the right to life of everyone, including children in those states," Sadat told Newsweek.
"Thus, many state constitutions would protect the human right to life of the victims and their families, and that could be an effective tool in litigation," she continued. "International jurisprudence could influence the understanding of those state constitutional rights."
Sadat noted that the U.S. cannot be brought before the Inter-American Court of Human Rights. However, the Inter-American Commission on Human Rights could hear further petitions against the U.S. on the matter of gun violence and has already begun holding hearings on the crisis.
Sadat told Newsweek that even if international treaties have limited standing in direct use, "indirect action in state and federal courts is both feasible and likely." She added that "in any litigation in the United States, the international law arguments can support, inform and shape the understanding of the rights in question articulated in U.S. law," especially in regard to school shootings.
In her essay, she writes, "Because children are especially vulnerable and powerless, must attend school by law (and have a human right to do so), and mostly attend public schools funded and controlled by state and local governments, the state owes them a special duty of care."
Sadat notes in the essay's conclusion that nearly 3 million American children witness a shooting each year, many in their schools.
"The refusal of lawmakers to adopt reasonable gun safety laws, and to subject them to traumatizing active shooter drills and other counterproductive measures, is exposing America's children to unacceptable—and unlawful—levels of societal violence," she writes.