Teachers Union President Says DeSantis, Abbott 'Hurting People' With COVID 'Disinformation'
The head of the United States' second-largest teachers union criticized prominent Republican governors for spreading misinformation about COVID-19 on NBC's Meet the Press Sunday.
Randi Weingarten, the president of the American Federation of Teachers, said Texas Governor Greg Abbott and Florida Governor Ron DeSantis are "hurting people" by spreading misinformation about COVID-19. She added that "politics are infecting" the public health crisis of the pandemic.
"The disinformation campaign and what people like Governor Abbott and Governor DeSantis are doing, they are hurting people in terms of their public health by this disinformation campaign," she told host Chuck Todd.
Weingarten also criticized Fox News for its coverage of the pandemic, which she said spreads misinformation, but offered praise of host Sean Hannity for a widely viewed segment last month in which he said it "absolutely makes sense for many Americans to get vaccinated."
"People need to hear that," she said.
Todd also asked Weingarten about her stance on whether teachers should be required to be vaccinated against the virus.
Weingarten told him that "on a personal matter," she believes "we need to be working with our employers—not opposing them—on vaccine mandates, and all their vaccine policies." She said she is bringing her leadership together to revisit a policy passed in October about the issue.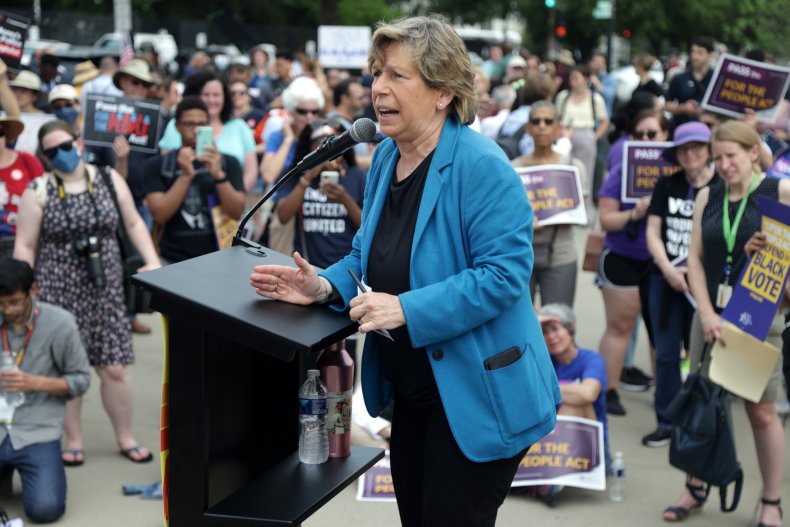 She added she understands that religious and health exemptions must be honored, and said there are ways of accommodating different needs, such as allowing unvaccinated teachers to opt for regular testing.
"You have to work together on these vaccine policies," she said.
Weingarten praised teachers for getting vaccinated, saying they are one of the most vaccinated professions. She said teachers are "heroes" who have been "trying to help in every which way."
"My members have stepped up," she said. "Ninety percent of the teacher members have actually gotten the vaccine, but I do think that the circumstances have changed and that vaccination is a community responsibility. And it weighs really heavily on me that kids under 12 can't get vaccinated."
She said the combination of vaccinations and masks will help protect children who are unable to be vaccinated. The most important goal is to get students back into schools, she said.
"The number one priority is to get kids to be back in school," she said. "We know kids need to be in school."
When reached for comment, a Fox News spokesperson pointed to a recent Morning Consult poll finding that vaccine hesitancy among the network's viewers has reached a record low, public service announcements the network has aired, and Fox News hosts and personalities touting the vaccine's benefits.
In a statement to Newsweek, a spokesperson for DeSantis responded to Weingarten's comments, saying, "Her misunderstanding of COVID data has been a running theme for the past year, and it is shameful that any child in America has been denied their right to a public education because of her political maneuvering.
"Governor DeSantis will continue making data-driven decisions and following the science. Children in Florida will be able to attend school in person this year, as they did last year, and 100% of schools will be fully open for normal, 5-days per week in-person instruction. This should be Weingarten's goal too, as an educator, but instead, she seems inordinately focused on political food fights."
Newsweek also reached out to the office of Governor Abbott Sunday morning and will update this story with any response.
The two governors have faced criticism over policies banning local municipalities and schools from implementing mask mandates as the Delta variant causes a surge in new COVID cases across the U.S.
Louisiana Senator Bill Cassidy, also a Republican, criticized bans on local mask mandates Sunday on CNN.
"I'm a conservative," he said. "I think you govern best when you govern closest to the people being governed. And if a local community is having—their ICU is full, and the people at the local schools see that they've got to stay open, because otherwise children miss out for another year of school, and they put in policy, then the local official should be listened to."
Some counties in Florida are implementing mask mandates in defiance of DeSantis' ban. Palm Beach County Superintendent Mike Burke announced Saturday that masks would be mandatory in buildings and buses during the school year.
This article has been updated with comments from Fox News and Governor DeSantis's office.